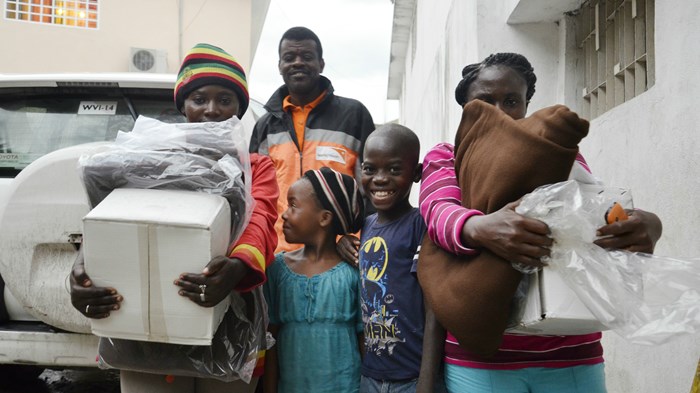 Image: Claudia Martinez / World Vision
Even the strongest Atlantic hurricane in nearly a decade was overshadowed by the weekend turmoil in the US presidential election. But while the storm has subsided, Christian humanitarian groups are still busy grappling with the aftermath.
In the wake of Hurricane Matthew, nearly 7,000 children sponsored by Compassion International in Haiti were moved to a new location after their homes were damaged. The Category 4 storm also shut down nearly a third of Compassion's 270 child development centers: of the 87 that were temporarily closed, 83 were significantly damaged or destroyed.
Three children sponsored by Compassion and 33 Compassion caregivers were killed, among the 473 officially reported deaths of Haitians. (Other sources report as many as 1,000 were killed.)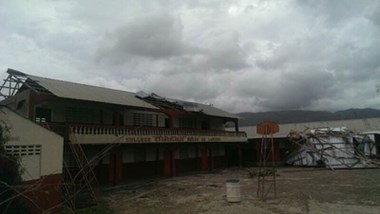 Image: Courtesy of Compassion International
"Our primary short-term priorities after partial assessment of the hurricane's impact include providing children and their families with food security and shelter, and to clean up and repair our church partner facilities in order to resume operation as quickly as possible," stated Guilbaud Saint-Cyr, Compassion Haiti's country director.
Compassion and other Christian humanitarian groups moved quickly in response to Hurricane Matthew.
About 400 World Vision staff handed out bedding and hygiene kits to those in shelters around Port-au-Prince. Before the storm hit, World Vision prepared tarps, water containers, hygiene kids, and blankets to help up to 15,000 families.
Thousands of houses are damaged and there is still a lot of flooding, said World Vision's national director in Haiti, John Hasse.
"In Port-au-Prince I see a lot of trees down, a lot of phone and electrical lines down," he stated. "We haven't had electricity for two days. And in some areas the flooding has rivers of water just flowing through the middle of the city."
The storm destroyed up to 90 percent of buildings in some locations, and the BBC reported that about 350,000 people need help. The storm also knocked the legs out from under southwest Haiti's budding economic development.
Samaritan's Purse airlifted more than 40 tons of water filters, plastic sheeting, hygiene kits, and blankets to Haiti last week.
"Hurricane Matthew has wreaked havoc on Haiti," stated Samaritan's Purse president Franklin Graham. "Our teams are on the ground helping in Jesus' name. They're going to do all they can to meet the needs of the suffering people there. Please pray for the people of Haiti as they recover from this deadly storm."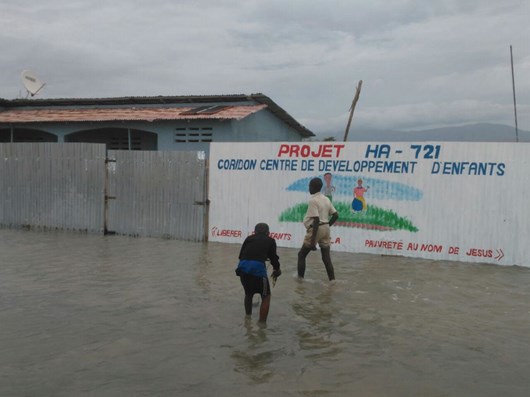 Image: Courtesy of Compassion International
The danger isn't over yet.
"Our teams are … assessing damage," Hasse said. World Vision is handing out "water purification kits—to help stem off some of the cholera and water-borne diseases which we're worried about popping up."
Cholera, which travels through contaminated water and food, was brought to Haiti by United Nations aid workers after the 2010 earthquake. It has since killed 10,000 Haitians.
"Intense rains in May and June of 2016, as well as the potential loss of immunity to cholera four years after the highest peaks of the disease have increased the number of suspected cholera cases," the Central Emergency Response Fund stated last week. "In 2016, almost 27,000 cholera cases have been reported in Haiti, and over 240 people have died. Hurricane Matthew is feared to significantly worsen the situation and increase the risk of a larger outbreak."
Cholera has killed at least 13 people in the seven days since Hurricane Matthew made landfall. The disease causes severe diarrhea and vomiting, leading to dehydration that can kill within hours if not treated.
Still, it could have been worse. The United Nations Development Program country director told the Christian Science Monitor that she was "so relieved" with the death toll numbers, which officials had expected to be much higher. Better building construction and disaster preparedness programs put in place since the 2010 earthquake helped immensely, she said.
The United Nations has asked for nearly $120 million to provide food, water, and shelter 750,000 people in Haiti.
[Editor's note: The numbers from Compassion were updated as of October 20.]