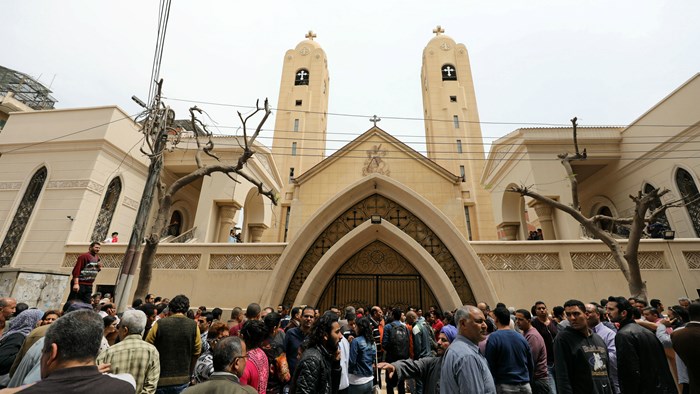 Image: Mohamed Abd El Ghany / Reuters
Attacks at two Coptic Orthodox churches in Egypt's Nile Delta killed more than 40 people and injured more than 100 others during Palm Sunday services—including the one where Pope Tawadros II was worshiping.
ISIS claimed responsibility. In February, the Egypt chapter of the Islamist extremists had released a threatening video calling Coptic Christians "our priority and our preferred prey." Soon after, about 100 Christian families fled their homes in the Sinai Peninsula amid a string of murders.
Reuters reports more details on the bombing in Tanta at Mar Girgis (St. George) Church, which killed at least 27 and injured more than 70. CNN reports more details on the Alexandria bombing at St. Mark's Cathedral, which killed at least 16 and injured more than 40. [Before ending its live updates, state media outlet Ahram Online put the final toll from Egypt's health ministry at 29 dead in Tanta and 18 dead in Alexandria.]
Nader Wanis, director of the Arkan Cultural ...
1