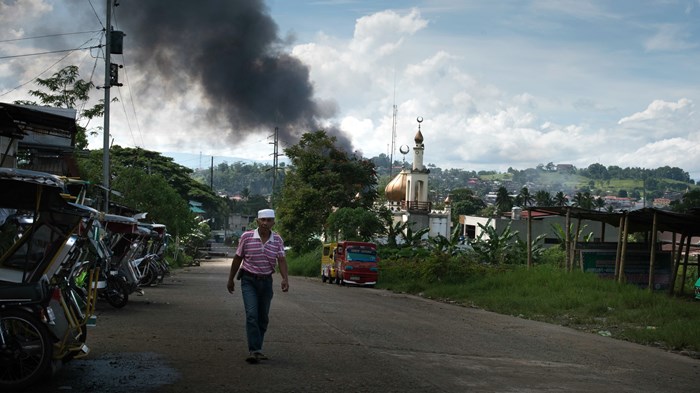 Image: Jes Aznar / Getty Images
The violence, instability, and Christian persecution that ISIS has brought to the Middle East is making its way to a besieged island in the Philippines.
More than 100 people have been killed and hundreds more taken hostage in the span of a week on the island of Mindanao, home to a Muslim minority in the majority-Catholic archipelago. Insurgents have targeted Christians and those who cannot prove themselves to be fellow Muslims. Experts believe the Islamic State is poised to create a caliphate in Southeast Asia, including this island in particular.
After the national army launched an air strike last week to flush out fighters hiding on the island, a priest being held hostage by Islamist militants in the city of Marawi appeared in a video, pleading for Philippine president Rodrigo Duterte to "consider" hostages' lives and stop bombing the city. A spokesman for the army dismissed the video, which was released Tuesday and circulated via social media, as "propaganda."
Teresito (Chito) Suganob says in the video that he is 1 of about 200 people—including professors, teachers, church workers, and children—being held hostage by the Islamists who stormed the city last week, setting fire to buildings including a cathedral and Christian college.
The militants later killed nine Christians at a checkpoint; local residents identified the victims as Christians and said they had been pulled from a truck, had their hands bound, and then their bodies riddled with bullets and left in a field.
Reports continue to emerge of Christians being specifically targeted, forced to recite Muslim prayers, and used as human shields. Edwin de la Peña, bishop of Marawi, told Catholic news agency Fides that he was "happy" Suganob was alive but "afraid of the fate of the hostages—about 200 civilians in all—now used as human shields." Suganob said that his captors are "ready to die for their religion."
AsiaNews reports that the captured priest—a chaplain at the state university—is well known as a leader in interfaith dialogue between Christians and Muslims. He and the others "have been chosen because they belong to the city's minorities," the Catholic outlet reported.
There have also been reports of acts of solidarity by Muslims toward Christians, with Muslims reportedly giving Christians hijabs, hiding them in their homes, and teaching them Muslim prayers.
The Philippine region of Mindanao is home to the Maute group, which stems from a violent Islamist movement called the Moro National Liberation Front, which sought independence for decades in hopes of creating an independent Islamic state.
"On the ground, the people are asking for prayers," a local source told World Watch Monitor. "The residents are threatened. They say homes are being trespassed, and that women not in hijabs are being taken away. The black flags are perched on top of a police car and a hospital. Social media screams with pleas for help, screenshots of texts of relatives on lockdown. One post says people must recite the shahada [Islamic profession of faith] when asked, or else be killed."
"The fighting is said to spring from a hunt for Isnilon Hapilon, local Abu Sayaff leader tagged as the head of ISIS in the Philippines. Hapilon has not been caught," the source said. "The military says things are in control now, and denies that ISIS was involved, saying the local Maute group was wreaking havoc only to get foreign attention."
The Islamist militant network in the area, the Maute Group, has pledged allegiance to ISIS. The Philippine Council of Evangelical Churches called on its members "not to view the actions of the Maute Group as normative to Islam."
"The ongoing peace talks of the government with our Muslim brothers and sisters exemplify that there abound peace-loving adherents of the Islamic faith," the council added. "We appeal to the Maute Group to engage in peaceful dialogue, instead of using violent means. We also appeal to them as fellow human beings and citizens of this nation to immediately release all hostages unharmed, which include the parish priest Teresito 'Chito' Suganob."
Herman Moldez, the Philippines country director for Asian Access, told Mission Network News that many Christians, especially in neighboring areas, have remained.
"Those who are in the mission activity and the church activity, they're just continuing on as if nothing is happening because this is not widespread; this is localized and contained," he said. "We need wisdom to be watchful and vigilant, to be prayerful of course and continue to pray that there would not be any attack to churches that will create another reaction and the whole situation would be out of control."
Although the Philippines is a majority-Christian country, the region of Mindanao, where Marawi is situated, has a strong Muslim presence and has long been home to violent Islamist groups seeking to create an independent Islamic state. Mindanao's governor said the militants in Marawi are from three groups—Maute, Abu Sayyaf, and the Bangsamoro Islamic Freedom Fighters.
CNN reported:
"What's happening in Mindanao is no longer a rebellion of Filipino citizens. It has transmogrified into invasion by foreign terrorists," said Philippines Solicitor General Jose Calida during a press briefing last week. "They want to create Mindanao as part of the caliphate."

While ISIS has yet to declare a wilayah—or state—of the caliphate in Southeast Asia as it has done in Libya and Saudi Arabia, many analysts believe it is merely a matter of time.

The influence of ISIS has spread throughout Southeast Asia in recent years, with more than 60 groups in the region pledging allegiance to self-declared caliph Abu Bakr al-Baghdadi, according to Rohan Gunaratna, head of the Singapore-based International Centre for Political Violence and Terrorism Research
Over 100 people have been killed since the Islamists entered Marawi on May 23, while, according to some reports, as many as half of the city's 200,000 inhabitants have fled.
"This is different from the Zamboanga Siege in 2013," a local source explained. "That was a case of militant group Moro National Liberation Front wanting to make themselves known to the government, saying 'We're here!' This time, the Maute Group, or ISIS—we can use the name interchangeably now—they're attacking with the intention to occupy. Marawi is strategic. It's central to Mindanao. If ISIS succeeds in making Marawi a caliphate, they can easily spread to other provinces."
The source added that the locals, "though they're used to explosions in the south, this is the first time they've experienced an armed conflict where they needed to evacuate. One Christian student [who fled the city's university] says they're traumatized by what's happening. Merely the sound of a truck gives them jitters."
"We are really in pain," de la Peña told Fides. "We do not know what the army will do and how the terrorists will react. We have asked for the help of Muslim leaders in Marawi, our friends, while the whole Catholic population is gathered in prayer throughout the country."