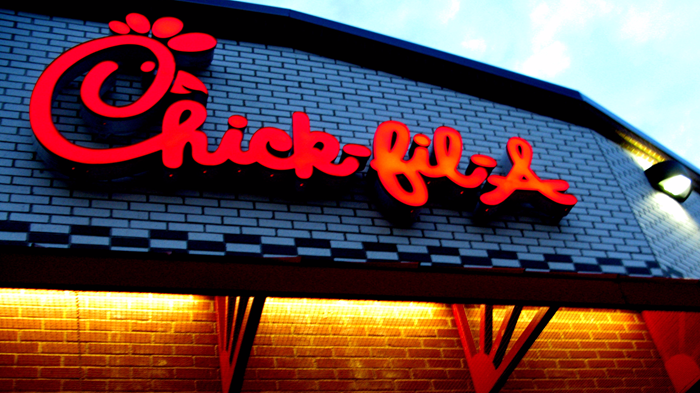 You could say Chick-fil-A is one of those fast-food restaurants with a cult following. But in this case, the closed-on-Sunday chicken sandwich chain clearly has a church following.
Evangelicals and fellow Christians have the most positive view of the Chick-fil-A brand, according to Morning Consult's 2017 Community Impact Ratings.
In breakout poll results provided to CT, 62 percent of evangelicals considered Chick-fil-A to have a positive impact on their community, compared to 48 percent of Americans on average.
Despite the 2012 boycotts spurred by Chick-fil-A COO Dan Cathy's opposition to same-sex marriage, the Christian-owned company outperformed fellow fast food restaurants in the Morning Consult poll. This was particularly true in the South, home to a majority of its 2,200 locations, as well as among millennials.
More than half of adults ages 18–34 and 35–44 rated Chick-fil-A as having a positive impact, while older age brackets were less enthusiastic.
A researcher at The Hartman Group attributed Chick-fil-A's continued popularity to beliefs that the chain had "higher-quality food, better customer service and happier employees than similar fast-food restaurants."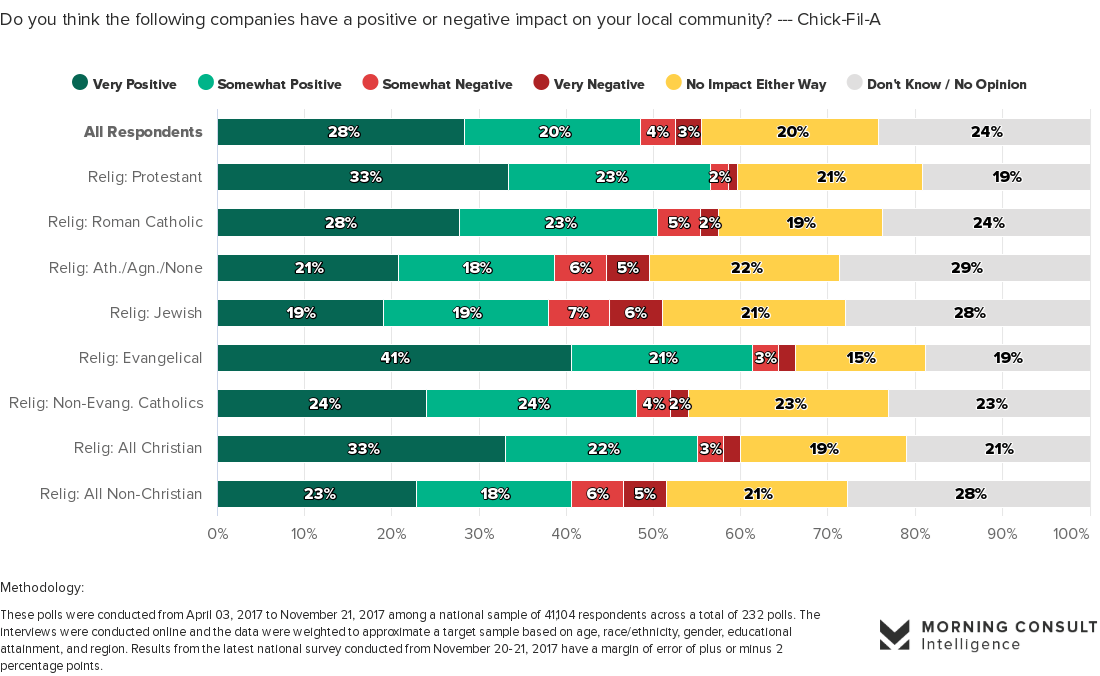 Evangelicals were more likely than the average American to see several top quick-service restaurants as having a positive impact on their communities, including KFC, Starbucks, and McDonald's.
And despite some evangelicals' outcry over Target's transgender-friendly bathroom policy last year, most evangelicals overall see the store as having a positive impact (60%)—almost as many as for Chick-fil-A (62%).

Image: Morning Consult
Unlike the other brands ranked, Chick-fil-A explicitly appeals to believers by invoking God in its mission statement. The restaurant, founded by Southern Baptist businessman Truett Cathy in 1967, sets out, "To glorify God by being a faithful steward of all that is entrusted to us. To have a positive influence on all who come in contact with Chick-fil-A."
A recent parody rap video "My Pleasure to Serve You" showcases Chick-fil-A's Christian-tinged distinctives, like its smiley homeschooled cashiers, customers' Bible studies gatherings, and employees' much-repeated line, "My pleasure."
"We're serving the chicken the Lord's way / unless it's a Sunday / my pleasure to serve you," sings Christian comedian Jaron Myers in the video, filmed at a Chick-fil-A in Missouri.
The song was viewed nearly 3 million times on Facebook within a week. Myers, an Evangel University alumnus and former worship leader, also posted a joke photo session last year of him getting engaged to Chick-fil-A.
The popular chain takes in more revenue per restaurant—an average of $4.4 million a year in 2016—than any other fast-food joint in the US, according to industry reports.
Chick-fil-A issued a statement against discrimination and shifted its charitable giving following the 2012 controversy, though the brand still carries negative baggage for some demographics—such as diners in areas where the restaurant's reputation preceded it.
"Reckoning with Chick-fil-A is complicated," food news site Eater wrote last year. "There's the social question, which is how a biblically grounded institution—whose $8 billion in sales dwarf KFC's domestic operations—will fare as it expands outside of regions where it's perceived as a beloved community cornerstone, rather than a venue whose mere presence evokes the type of anger normally directed at unqualified politicians."
Non-Christians are more likely than Americans on average to be pessimistic about Chick-fil-A's community impact, Morning Consult found. About 1 in 10 non-Christians, including 13 percent of Jews and 11 percent of people with no religious affiliation, have a negative view of the chain.