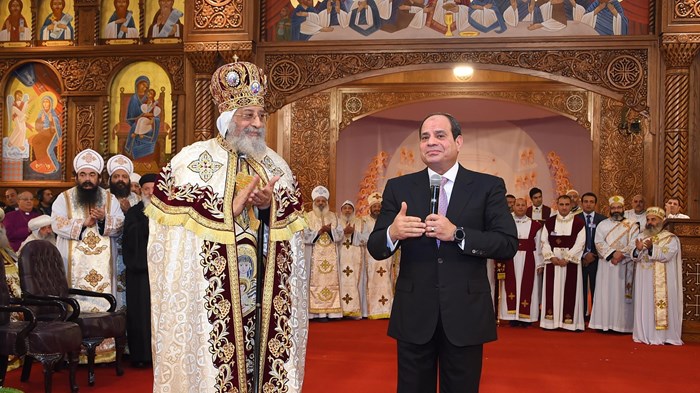 Image: Egyptian Presidency - Handout / Anadolu Agency / Getty Images
Celebrating Christmas with Egyptian Christians for the fourth consecutive year, President Abdel Fattah al-Sisi presented the largest gift under the tree: A new cathedral.
Sisi was the first president in Egypt's history to even attend a Christmas mass. During last year's celebration, he promised to build Egypt's largest church and largest mosque in a yet-to-be-developed new administrative capital.
Three weeks earlier, 27 people had been killed in a suicide bombing in a chapel adjacent the old cathedral and papal residence, St. Mark's in Cairo.
"Evil, destruction, and killing will never defeat goodness, peace, and love," Sisi said at this month's cathedral inauguration. "We are one, and you are our families. No one can ever divide us."
Coptic Orthodox Pope Tawadros II called the new church, named The Nativity of Christ, a "divine arrangement." Fifty years earlier, St. Mark's was built by President Gamal Abdel Nasser and ...
1