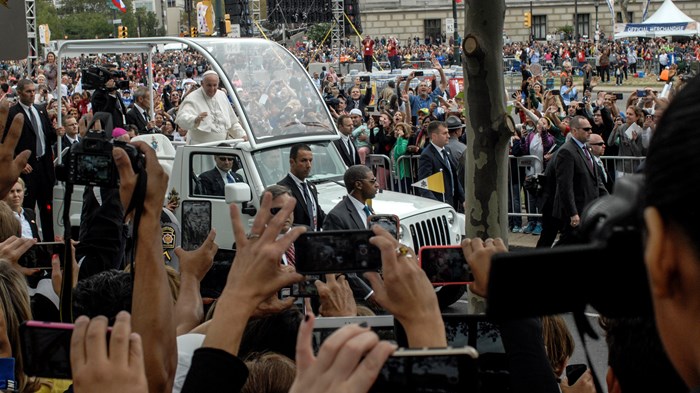 Image: DJ McCoy / Getty Images
The "Francis effect"—a phrase used to describe the presumed positive impact of Pope Francis upon Catholicism—has been used so often that it has inspired a book, a podcast, and a documentary.
But it hasn't been enough to inspire Americans to join the Catholic church—or even to encourage US Catholics to go to Mass more often.
A Pew Research Center survey released today found "no evidence of a rise in the share of Americans who identify as Catholics [22% in 2012 vs. 20% in 2017], and no indication of a Francis-inspired resurgence in Mass attendance [41% weekly in 2012 vs. 38% weekly in 2017]."
In fact, while American Catholics are still mostly supportive of Francis (84% rate him favorably, compared to 85% in 2014), fewer said he was a major change for the better (58%, vs. 69% in 2015). And fewer said the pope was doing an excellent or good job at addressing sex abuse scandals (45%, vs. 55% in 2015), spreading the Catholic faith (70% vs. 84%), or standing up for traditional morals (70% vs. 80%).
While Catholics still widely believe Francis is humble (91%) and compassionate (94%), more of them now think he's too liberal (34% vs. 19%) or naïve (24% vs. 15%).
Other American religious groups show the same small but growing discontent with Pope Francis. White evangelicals rate him lower than they did before (52% favorable, vs. a high of 64% in October 2015), as do black Protestants (53%, vs. 59% in June 2015) and white mainline Protestants (67% vs. 74% in February 2015).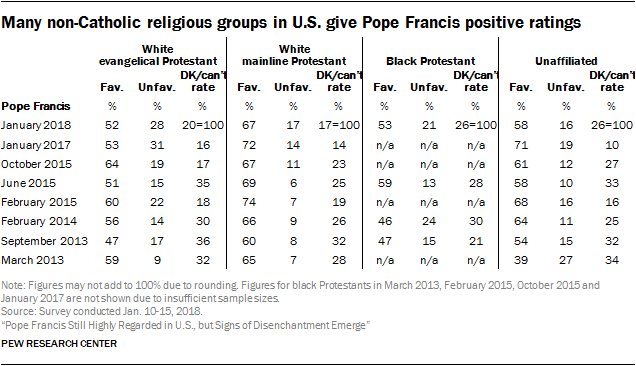 Francis' unfavorability ratings among all three are also up: from 9 percent to 28 percent among white evangelicals (since March 2013), from 15 percent to 21 percent among black Protestants (since September 2013), and from 7 percent to 17 percent among white mainline Protestants (since March 2013).
The opposite trend can be seen among the religiously unaffiliated. Since March 2013, the pope's favorability rating among the "nones" rose from 39 percent to 58 percent while his unfavorability rating dropped from 27 percent to 16 percent.
Pew dug into the growing discontent among Catholics, which appears to be coming almost exclusively from political conservatives. Those who identify as or lean Republican were much more likely to have a diminished view of the pope: 79 percent viewed him favorably, down from 90 percent in 2014.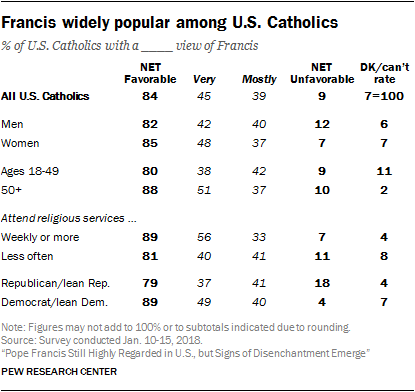 They were also far less likely to think Francis was a "major change for the better" (79% vs. 90% in 2014) and far more likely to think he was a "major change for the worse" (15% vs. 3%).
The likely reason for their discontent: More than twice as many Catholic Republicans said he was "too liberal" (55%, up from 23% in 2015). Twice as many also found him naïve (32%, up from 16%).
Meanwhile, Democrats showed "no statistically significant change in opinion" on Francis' liberalism (19% vs. 16%) or naïvety (18% vs. 14%). Their favorability ranking of him remained virtually unchanged (89% vs. 87%), though slightly fewer said he was a "major change for the better" (71% vs. 76%).
The substantial drop in Republican support is significant, given that slightly more white Catholics are Republican now (54%) than they were five years ago (50%). At the same time, the share of Catholics that are Hispanic—a demographic that usually votes Democrat—has grown (from 32% to 36%).
Those changes seem have kept the political split about the same—overall, 46 percent of US Catholics identify as or lean Republican (44% in 2013), while 47 percent identify as or lean Democrat (vs. 48% in 2013).
Interestingly, even as charges of Francis' liberalism are on the rise, so is Catholic popular support for same-sex marriage: 67 percent now approve, up from 54 percent in late 2012 and early 2013). The stance among Catholic laity on abortion, on the other hand, has remained steady: 53 percent say it should be legal in all/most cases, while 44 percent say it should be illegal in all/most cases.
The majority of Catholics said that the pontiff has done "a lot" or "a little" to make the church more accepting of homosexuality (74%), as well as divorce and remarriage (69%).
"Most Catholics seem to approve of Francis' actions in these areas," Pew stated. Three out of five Catholics said the pope has done at least "a little" to increase the acceptance of homosexuality, and that this was either "about the right amount" or they wish he'd "do more." The same number said Francis has done at least "a little" to further the acceptance of divorce and remarriage, and that this was either "the right amount" or they wish he'd "do more."
Those who attend religious services at least weekly are more likely than those who don't to say that Francis is doing a good job. They most appreciate the way he is standing up for traditional moral values (81% vs. 64% of those who attend less often), spreading the Catholic faith (78% vs. 66%), and appointing new bishops and cardinals (70% vs. 50%). They also like the way the pope is addressing environmental issues (67% vs. 50%), though they seem less sure about how he's handling the sex abuse scandal (54% vs. 40%).
"While Francis continues to get positive ratings on multiple fronts, several of these positive ratings have declined noticeably in the past three years, and the share giving him negative ratings has increased," Pew reported. Among all US Catholics, those who said he was doing an "only fair" or "poor" job of standing up for moral values doubled from 13 percent in 2015 to 26 percent today, while those who said he was doing "only fair" or "poor" at spreading the Catholic faith rose from 10 percent to 25 percent.
Overall, American Catholics aren't ready to assign Francis a legacy—or a "Francis effect"—just yet. Some said his most significant action was setting a good Christian example (9%), while others said it was his focus on helping the poor (8%) or being more accepting (9%). But a plurality said they didn't know or wouldn't answer the question (29%).