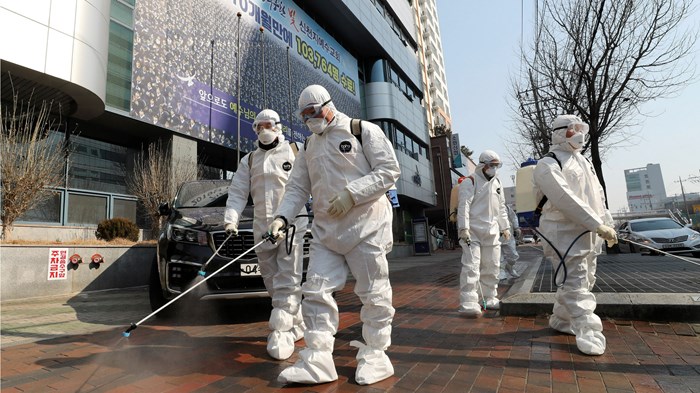 Image: Kim Jun-beom / Yonhap via AP
SEOUL — An apocalyptic sect whose leader claims he is an angel of Jesus has become the biggest cluster of coronavirus infections in South Korea, which now leads the world in cases of COVID-19 disease outside of China.
President Moon Jae-in has put his country on its highest alert for infectious diseases, ordering officials to take "unprecedented, powerful" steps to fight a soaring viral outbreak tallying 1,100 cases and 11 deaths, mostly linked to a congregation and a hospital.
Globally, more than 80,000 people have been infected in 37 countries, and more than 2,700 have died.
More than 400 of those infected have been directly linked to a single house of worship, a Daegu branch of the Shincheonji Church of Jesus, Temple of the Tabernacle of the Testimony—viewed as a cult by mainstream Korean Christian organizations—where a woman in her 60s attended two services before testing positive for the virus. Nationwide, the Korea Centers for Disease Control and Prevention ...
1