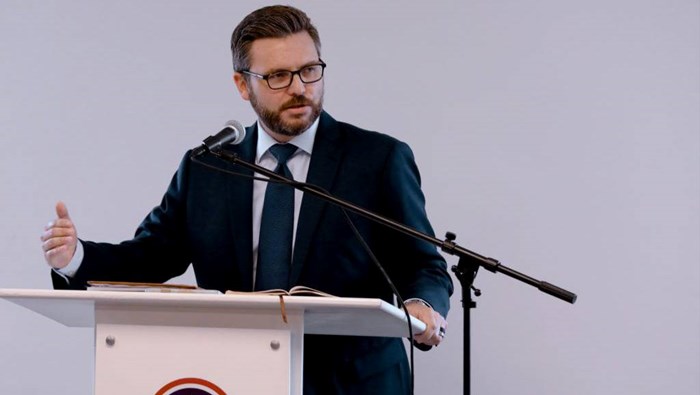 Image: Brandon Porter / Baptist Press
Writing as the president of the Southern Baptist Convention's Ethics and Religious Liberty Commission (ERLC) and the father of three children who survived the shooting at the Covenant School in Nashville, Brent Leatherwood pleaded with Tennessee's elected officials to "oppose evil and protect innocent lives" by taking action on gun reform in the state.
In a letter published by The Tennessean, Leatherwood backed a proposal by Gov. Bill Lee to enact extreme risk protection order legislation, allowing authorities to temporarily restrict weapons from people at risk of hurting themselves or others.
Leatherwood urged the lieutenant governor and legislators to overcome partisan divides to move forward, even if it requires extending the legislative session to do so.
"Yes, it is true we live in a world tainted by terrible acts and deeds, but that is never an excuse for inaction," he wrote.
"While it may not prevent every instance of this sort of violence, it will prevent some, and thereby save innocent lives. That should be more than enough reason to advance this proposal."
His discussion of the government's responsibilities to protect its citizens and their essential liberties, including the right to life, echo a thread he shared on Twitter last week in response to statistics that gun deaths among kids in the US grew 50 percent in two years.
Leatherwood, who worked as the executive director of the Tennessee GOP prior to his six years at ERLC, said "we all have a responsibility" to address gun violence as a community—including Christians who are called to love their neighbors and "law-abiding gun owners, like me."
"So as we 'weep with those who weep,' it moves many of us to work with officials and help them understand the responsibilities they have. What public policy solutions can be crafted that meet the challenges underlying these stats?" he asked. "How can the state more fully live up to its God-ordained calling to protect innocent life, especially when it is children away from parents or family at a school setting or outside the home more generally?"
After the shooting at a Baptist church in Sutherland Springs, Texas, the Southern Baptist Convention first passed a resolution in 2018 calling on authorities to consider "the societal maladies that lead to escalations in gun violence and mass shootings" and government leaders to "implement preventative measures that would reduce gun violence and mass shootings while operating in accordance with the Second Amendment."
Gun laws have not historically been a policy priority for the ERLC, which focuses on religious liberty, life issues, marriage, and family. In an ERLC podcast episode following last year's school shooting in Uvalde, Texas, Leatherwood discussed extreme isolation and online radicalization as factors in previous mass shootings. He also talked about the availability of guns:
Look, let's admit it: America, we have a unique gun culture. There are a number of instances throughout our history and even today where owning a gun makes complete sense—I own multiple guns in my household—so it's part of our history, and it's a part of our culture.

We have to understand though that there are a number of guns out there that are easy to obtain or you can obtain them illegally … [the Uvalde shooter] had access, he was upset, and no one was able to intervene.
During his announcement calling for a stronger order of protection law last week, Gov. Lee said, "It's going to require coming together, laying down our previously held positions potentially." Opponents have called the governor's suggestion a "gun confiscation plan."
Last year, Southern Baptists reaffirmed the 2018 resolution on gun violence and mass shootings, praying for leaders to "take concrete steps toward solutions that uphold the dignity and value of every human life, especially the most vulnerable among us, and to minimize the threat of gun violence throughout our society."
The ERLC and the convention are headquartered in Nashville, and Leatherwood said over a fifth of Tennessee's residents are Southern Baptist. Leatherwood is a deacon The Church at Avenue South in Nashville, a church plant of Brentwood Baptist Church.
The week after the March 27 shooting at Covenant, which killed three staff members and three nine-year-old students, Leatherwood wrote that he struggled to find the words to describe the grief. "The trauma from that day & the memories of six friends, classmates, leaders, & servants will be with us for the rest of our lives," he said.
Leatherwood also spoke up to urge society to resist accepting mass shootings as normal and commit to finding a solution.
In his letter this week, he concluded, "The Covenant School tragedy was the worst school shooting in our state's history. I am asking that you take steps now to ensure no school in Tennessee ever has to endure our nightmare again."