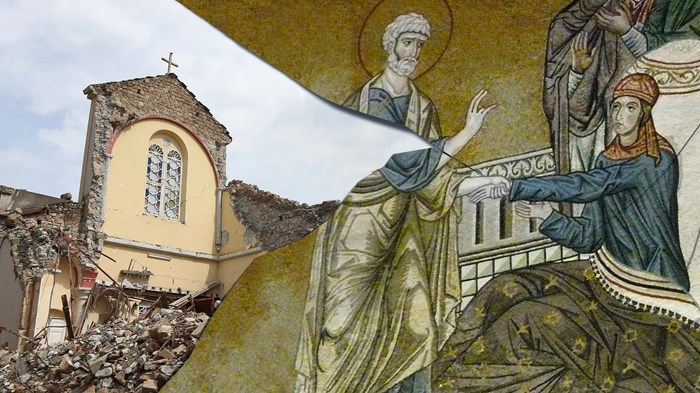 Image: Illustration by Christianity Today / Source Images: AP Images / WikiMedia Commons
Exhausted and emotionally spent at the end of a full week surveying the damage from Turkey's massive earthquake last February, Ali Kalkandelen needed hope. As chairman of his nation's Association of Protestant Churches (TeK), he felt the weight of responsibility to help his colleagues in 27 affected congregations.
Eventually, he found a template for moving forward in the biblical figure of Tabitha.
Scattered over 11 cities in a geographic area the size of England, local Turkish Christian leaders had already launched into service, supported by the larger body of 186 affiliated churches with aid, funds, and volunteers.
Kalkandelen set out from Istanbul, encouraging colleagues in Antakya, Adiyaman, and three other cities. He traversed ruined highways, lamented collapsed buildings, and tried to take stock of the task of relief.
Last on his list was Kahramanmaraş, for a personal visit. His father's home had been destroyed, and he went to check in on his many relatives there.
And there in the rubble flitted a small piece of paper.
Upon inspection it was a page from a Turkish Bible, from 2 Corinthians 1. He read verse 3–4: Praise be to … the God of all comfort, who comforts us in all our troubles, so that we can comfort those in any trouble.
The slip of paper was all the more moving because, among the population of half a million people, the city had no church and no known Christians.
"I read it with my wife, and we started weeping," said Kalkandelen. "God was talking to his church in Turkey."
Six months later, alongside trauma counseling and spiritual care, TeK provided 7,500 tents, 27,000 outfits of clothing, and over one million meals to those displaced by the earthquake. And to compensate for the destroyed infrastructure, TeK made available three tons of drinking water, 7,000 diapers, and 146 tons of coal for winter heating.
To do so required organization.
With previous natural disasters in Turkey, the church had always played a role in relief. But with experts warning that another earthquake was likely to hit Istanbul within a few years, Kalkandelen wanted a standing response. By April he had gathered leaders from the affected areas, linking them with TeK elders from across the country.
Searching for an appropriate name, the six-person committee took note of Tabitha in Acts 9. Also known as Dorcas, she hailed from Joppa—modern-day Jaffa outside Tel Aviv—and was known for her good works and charity, especially in sewing clothes for area widows. When she died, the believers called for Peter, and he raised her from the dead.
Kalkandelen recalled his scrap of paper and the shell-shocked faces of the earthquake survivors. He has delivered us from such a deadly peril, and he will deliver us again, says verse 10. On him we have set our hope.
The Tabitha committee has since met biweekly, coordinating between TeK leadership, local churches, and the Turkish government. Communicating with donors from abroad, it prepares reports and ensures financial transparency. And it approves new projects for aid, discerning how God will guide their next steps.
But there is a deeper sense of resurrection, Kalkandelen senses. Why was there a Bible in Kahramanmaraş? One hundred years ago, the city had a strong Armenian Orthodox presence. Today, nearby TeK congregations have found a local man who has welcomed them. As they serve through his network, Kalkandelen wonders, might unknown believers emerge in a rebirth of the church?
"Every believer we talked to thought they were going to die [during the earthquake], but now we feel they were raised again to serve and comfort the nation," he said. "These verses fit the Tabitha name."
He didn't know how right he was.
Turkish Protestants interviewed by CT appreciated the biblical example of Tabitha, but none had a personal connection to her story or sense of her regional importance.
Three churches in Palestine are named after St. Tabitha, while her feast day is commemorated by Orthodox and Catholic churches worldwide on October 25. The Lutheran and Episcopal denominations also celebrate her on the liturgical calendar.
With the flow of the many-streamed river of almsgiving, you watered the dry earth of the needy, states the Orthodox liturgy. Glory to Christ whom you followed as a true disciple and a spotless lamb!
Tabitha is the only woman in the Bible specifically labeled a disciple.
Celebrated as the patron saint for tailors and seamstresses, her burial site is still a place of pilgrimage today. The first recorded visit was made by an Italian traveler from Piacenza in 560 A.D., but as early as the fourth century she was depicted on sarcophagi in France, heralded as a maternal patron.
"A widow who enjoys sufficiently robust health," wrote Basil of Caesarea, commending Tabitha, "should spend her life in works of zeal and solicitude."
Scholars say that early church fathers took a skewed view of widows, warning against their reliance on charity. But the sarcophagi coincide with a change in attitude, with Tabitha becoming an exemplar of the Christian family in its social legitimization as it moved beyond Jewish circles to include Gentiles.
One sarcophagus depicts characters with clearly foreign dress, indicating non-Jewish recipients of her aid.
A study of local names in the ancient port city of Joppa indicates a mixed population that included Gentiles from Alexandria, Cyrenaica, and Cappadocia. The cloth industry was dominated by women, so it is likely Tabitha was at least a small business owner.
Some scholars have speculated that the upper room where her dead body was prepared for burial may have been the meeting place of the local church. Following her resurrection, many people believed in the Lord (Acts 9:42).
"It was not her house that proclaimed her wealth," wrote St. John Chrysostom, "but the bodies of widows furnished with dress, and their tears that were shed."
In the biblical text, scholars say Tabitha plays a linking role in the progression of salvation to Gentiles. Having been summoned to Joppa, Peter resides in the house of Simon the Tanner, wherein he has his vision of ceremonially unclean food. God commands him to eat, and then immediately Cornelius the centurion calls for him from Caesarea.
One sarcophagus depicts one of Tabitha's widows kneeling, reaching out to touch the hem of Peter's garment. It recalls the scene of the bleeding woman, doing the same to Jesus.
Commentators also describe Tabitha's name as a key to understanding one of Jesus' most obscure teachings. If your eye is good, he says in Matthew 6:22, your whole body will be full of light.
Tabitha means "gazelle," an animal cited for its keen eyesight, which ancient Jews and Christians associated with a charitable spirit. In the original Hebrew of Proverbs 22:9, for example, the word rendered as "generous" translates more literally as the "bountiful eye," which is blessed as it gives to the poor. Chrysostom wrote that "her name matched her character," while Bede the Venerable also noted the apt symbolism.
"She who had conferred upon suffering widows the assistance for living," wrote St. Cyprian of Carthage, "deserved to be recalled to life by the petition of widows."
As Turkish Christians hope for their church today.
Together with the small number of Protestants in Turkey, the overall Christian community numbers about 380,000 citizens among a Muslim population of 80 million. But Antakya used to be ancient Antioch—one of the five primary centers of the faith, where believers were first called Christians.
Just so, the Turkish church today is also being "recalled to life." Believers in modern-day Antakya keep the spirit of Antioch alive.
"The apostles did what Jesus did, and the Tabitha committee is full of modern-day apostles," said Ilyas Uyar, an elder in the Protestant Church Foundation of Diyarbakir. "We want to raise people from the dead by extending our hand to them."
Though not a member himself, Uyar gathered the statistics of all aid distributed. Relief flows primarily through the two hubs of Antakya and Adiyaman, where TeK has set up service centers that have become places of ongoing fellowship for Muslims and Christians alike.
He is especially proud of their work with neighborhood children, freeing mothers—some of whom are now widows—to rebuild life after their homes were destroyed. Through church generosity, the kids now have over 14,000 donated toys to play with.
Partnering indirectly with the churches is First Hope Association (FHA), the Turkish Protestant NGO that secured permission for Samaritan's Purse to administer a field hospital in Antakya. Over 8,000 patients were treated through the end of March, when it yielded the facility to the ministry of health.
A small team of Americans remains on the ground, supporting the maintenance of 120 mobile hygiene units—complete with shower, sink, and toilet—for up to a year.
But having distributed thousands of tents for emergency shelter, FHA board chairman Demokan Kileci is now identifying the next phase of aid.
"Containers are not coming fast enough," he said. "Tents will not work well with the coming winter cold."
In the meantime, there is the summer complication of snakes and scorpions. Addressing both issues, FHA has so far installed 170 corrugated steel units, each measuring 225 square feet, with two living quarters and a bathroom. Ongoing projects include building two schools to serve up to 120 K–12 students each, and two kitchens to provide 300 meals per day for those with celiac disease and diabetes.
As a Christian organization, Kileci said they take every natural opportunity to speak about Jesus. But while church leaders told CT after the earthquake that it would be at least six months until there can be non-exploitative gospel outreach, he said that time is still not yet.
Containers could make the difference.
"Once families feel they are settled and can breathe a little, then maybe we can discuss spiritual matters," Kileci said. "But we will see God's miracles more and more in the coming months."
Some agencies have already left the affected areas, causing people to wonder why Christians are still there—who they then ask for prayer. Other agencies are pushing an Islamic message, and people are getting sick of it, he said. Meanwhile, the government is doing "the best it can" to restore services, but with experts warning there may yet be two years of ongoing tremors, few people can return to life as normal.
For Christians, "normal" includes an emerging sense of solidarity.
Back in 2018, then-TeK leader Behnan Konutgan joined Orthodox and Catholic Turkish leaders to launch Christianity: Fundamental Teachings, a 95-page guide on essential doctrine, distributed through the Bible Society. Whereas there has been tension between the historic churches and evangelical believers, Konutgan stated the joint project has helped dispel "90 percent" of ecumenical distrust.
There are other hopeful signs of Christian unity in the country. Since the earthquake, the interdenominational SAT-7 media and satellite TV ministry has produced the first two episodes in a series of four hour-long Turkish documentaries, to highlight the cooperation between sects as it chronicles the state of every damaged and destroyed church building. And TeK, largely composed of converts from Islam, will continue the same, helping all denominations without distinction.
Then many will give thanks on our behalf for the gracious favor granted us, Kalkandelen recalls from his slip of paper, in answer to the prayers of many (2 Cor. 1:11).
Just as with the widows of Acts 9 and their beloved patron.
"The good works of the historic church in Turkey can help raise the church anew, through us, its new apostles," he said. "And once raised, Tabitha did as she did before—serve."