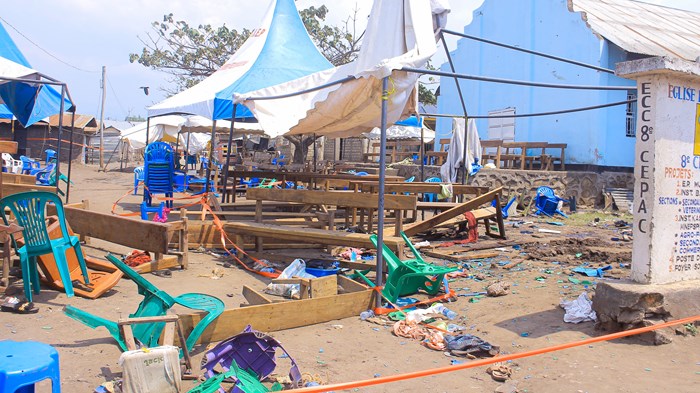 Image: Zanem Nety Zaidi / Xinhua / Getty Images
Congolese Christians are calling out for help.
In the latest attack on civilians in the Democratic Republic of Congo (DRC), a terrorist bombing killed 14 people and wounded 63 others during a baptism service at a Pentecostal church in Kasindi. Located in the mountainous North Kivu province bordering Uganda, the northeast region has already been under an official "state of siege," similar to a state of emergency, since 2021.
"The Eastern Congo has become a theater of violent extremism," said Eale Bosela, regional director for the Association for Christian Theological Education in Africa. "People are being massacred like animals."
The bomb attack was blamed on the Allied Democratic Forces (ADF), an affiliate of the Islamic State Central African Province, which claimed responsibility. Originally formed in 1995 as a mix of jihadist and insurgent rebels, it is one of over 120 armed groups in North Kivu.
Many Congolese were confused—and troubled.
"How can such a situation happen," stated Kiza Kivua, a 50-year-old farmer who lost his brother in the attack, "when Kasindi is full of soldiers?"
With an estimated 500 or more fighters, the ADF was once motivated primarily by its opposition to Yoweri Museveni, president of Uganda since 1986. Pushed across the border, the militant group now has a majority Congolese membership with many foreign recruits.
A Kenyan national was arrested by the DRC for the church bombing.
"Like so many other groups, the ADF has found refuge in the region," said Scott Morgan, chair of the Africa Working Group of the International Religious Freedom Roundtable. "But now they have taken on the mantra of attacking Christians."
They are not the only ones.
Other militant groups such as M23 and CODECO have attacked churches, said Morgan, also an analyst for Militant Wire. But the ADF has been among the most belligerent. The National Episcopal Conference of the Congo tallied 6,000 civilians killed, 7,500 kidnapped, and 3 million displaced since 2013. A United Nations report counted 370 civilians killed since last April.
The violence is curbing Christian witness. One Congolese denomination once had 54 churches in the area, now reduced to 11. Another had 25 churches, now reduced to 8.
The US State Department labeled the ADF a foreign terrorist organization in 2021. But Morgan has called for its further designation as an "entity of particular concern," a label applied under the International Religious Freedom Act against groups engaging in religious persecution.
The Church of Christ in Congo (ECC) called out to God.
"Lord, how long will you forget us?" began its statement, quoting Psalm 13. The umbrella group includes the Community of Pentecostal Churches in Central Africa (CEPAC), and unites more than 60 Protestant denominations. It denounced the "cowardly and despicable" act, asking the government to "redouble" its efforts in the area already declared under a state of siege.
Congo has been known as as a mineral conflict zone since at least 2003.
A UN mapping report described the nation's rich natural resources, which produce 10 percent of the world's copper and 17 percent of diamonds. But the electronics industry relies even more heavily on Congo. Computers and mobile phones rely on cobalt, of which 34 percent of world production is mined locally. And an astounding 60–80 percent of coltan reserves are located in North and South Kivu.
The report also listed 125 companies and individuals connected to the conflict.
"May the Lord help us to reflect deeply on the conspiracy that weighs on our nation," concluded the ECC statement.
Many local Christians judge similarly—and further.
"This is too much," said Fohle Lygunda, Tearfund's theology and network engagement manager for Africa. "The international community should break its guilty silence and cease to support an evil plan for balkanizing the DRC."
As Protestant missionaries once led the English and Americans to speak out against the colonizing King Leopold II of Belgium in the early 20th century, Lygunda asks that Christians do the same today.
Some are drawing attention to the ongoing tragedy.
Voice of the Martyrs newly labeled the DRC as a "hostile" nation in its 2023 prayer guide, released last week. Last month, Aid to the Church in Need highlighted the killing of Congolese priests and nuns in its 2022 year-in-review report. And this week, Open Doors ranked the nation No. 37 on its 2023 World Watch List of the top 50 countries where Christians experience the most persecution.
Pope Francis, who will visit the DRC beginning January 31, gave his condolences.
"Christ, the Lord of life," he prayed, "[may] those affected find consolation and trust in God."
In preparation for his visit, Francis met in December with Denis Mukwege, the Congolese Nobel Peace Prize winner, a gynecologist celebrated for his medical service to victims of rape and advocacy against sexual violence.
A Pentecostal, his hospital in South Kivu is affiliated with CEPAC.
"[This attack] can in no way be treated as a simple news item," stated Mukwege, "and must lead to a strong reaction from the state so that everyone can exercise their faith in peace."
Congo's population of 105 million is roughly 48 percent Protestant, 47 percent Catholic, and 5 percent Muslim. Thus, sources told CT they hope the body of Christ will resonate with the call to help.
"Start lobbying the international community to eradicate armed groups in Eastern Congo," said Eale. "ADF terrorists slaughter people like they slaughter goats."