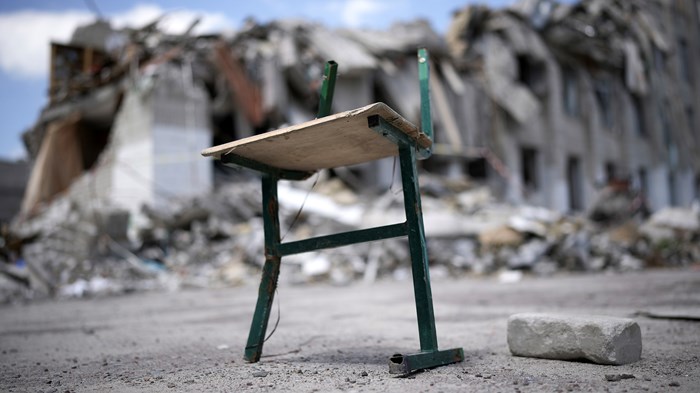 Image: Christopher Furlong / Staff / Getty
As air raid sirens blared down the hallways, Tetiana Garkun hurried her middle school students outside the My Horizons Christian School campus into the designated bomb shelter.
Located in Khmelnytsky, 200 miles southwest of Kyiv, Ukraine's capital, the school's children moved in orderly fashion—a sign of how accustomed they've become to Russian missiles targeting military installations in nearby Lviv.
They prayed, waited for the all-clear signal, and returned to their Bible class.
Garkun's own children, daughters aged 16 and 17, were similarly composed. Confident high schoolers who only a few years earlier were sharing their faith in Ukraine's secular education system, they follow after their great-grandfather, a Pentecostal pastor sentenced to death by magistrates in the Soviet Union.
Times have changed, as have education authorities.
"The government encourages us to teach our students how to be Christians and live godly lives," said Garkun. "They see that we are needed in these horrible days."
She had earlier led the students in a discussion prompted by the official state health education curriculum: What helps us live a long life?
Model answers included a good diet, avoiding smoking, and participation in sports. But amid war, these answers no longer apply, she said, and even her prepared integration of Christian material hardly satisfied her own soul. In years past, she recited Ecclesiastes 7:17: "Do not be overwicked, and do not be a fool—why die before your time?"
However, she pondered, what about when the righteous are killed by Russian evil?
"When we follow God's rules and truth, we lead happier and healthier lives," Garkun said. "But I am honest. I have doubts. And I let the children know it is okay—we can be sincere with God."
Daily devotions, regular chapel, and close-knit relations have helped sustain a teaching staff struggling to manage massive disruptions to work and family life. Garkun said her best friend, an Orthodox Ukrainian, has grown deeper in her faith since she joined the Christian school.
But across the nation, 54 percent of teachers state they need psychological support, while 61 percent of children show symptoms of severe stress. Over 3,000 schools have been damaged, with more than 400 destroyed.
Only 28 percent of students remain in full-time, in-person education.
My Horizons provides counselors and is able to remain open because of its readily accessible bomb shelter. Schools lacking such safety are required to teach online, said Tatiana Chumakova, director of the International Alliance for the Development of Christian Education (known by its Ukrainian acronym, MAPXO in Cyrillic characters or MARHO in English). So are all schools in Ukraine's eastern and southern regions, closer to the frontlines.
But so far, God has protected the burgeoning Ukrainian Christian school movement, she added. Despite being in nearly every big city, not one of her alliance's 40 institutions has joined the tallies of physical damage.
But this is not true of the war's human toll.
Countless students have been displaced, with many reenrolling in MAPXO schools in the west. The director of Word of Life School in Lviv was killed on the frontlines while serving as a paramedic. And Chumakova's own story is shrouded in trauma, dating back to 2014.
While working then at Gloria Christian School in Donetsk, she said, Russian soldiers stormed the campus and gave everyone 20 minutes to leave. The facilities were then given to the local separatist movement and turned into a military base.
For the next eight years, the civil conflict divided the nation along a mostly stable line of contact, until Russia's February 2022 invasion exploded hostilities once again. Today, she said, nearly 10 percent of Ukraine's more than 15,000 schools are located in occupied territory.
And the rest hear constant air raid sirens.
"It is difficult to conduct school activities when there are constant rocket attacks," Chumakova said. "Our only desire is that the Russians leave, and stop killing the civilian population of Ukraine."
Having relocated to Kyiv, in 2016 she was invited to lead MAPXO. It formed in part because one year earlier the European branch of the Association of Christian Schools International (ACSI) was pushed by the conflict to close its headquarters in the Ukrainian capital, shifting instead to Budapest.
At that time, Christian schools existed but could not be known as religious. Keeping a secular system after its 1991 independence from the Soviet Union, Ukraine's law of education allowed for the establishment of private schools but was subject to the separation of church and state.
Wiggle room developed in 2005, when Ukraine allowed public schools to teach morals and faith in a curriculum designed with the help of the Orthodox church. But in 2015, education that was specifically Christian in character received a boost after authorities decided it was discriminatory to allow secular citizens the right to form schools but to deny the same right to religious citizens.
The education law was amended, and Ukrainian evangelicals took advantage.
By 2021, of 89 specifically religious institutions, 70 were run by Baptists.
"The law was a real miracle of God," Chumakova said. "But it appears that it is the pastors and parishioners of evangelical churches who think more about the Christian education of their children."
The MAPXO website advises parents across the interdenominational spectrum. Its statement of faith is orthodox yet broad, while members are asked to be mindful of divisive theological positions. Eight of its schools are run by Greek Catholics, and the organization coordinates a yearly conference where all are welcome.
"Given the pressures and chaos of modern life, and the constant clash of worldviews and values," the alliance states, "your desire to protect your children is completely justified."
For Pride month, the Ministry of Foreign Affairs, the Ministry of Culture, and several leading Ukrainian companies adapted their logos with rainbow colors.
"In Christian schools we seek to live according to God's Word," said Iryna Sidliarenko, director of the River of Life school in Kyiv. "We check the curriculum, and teach our students to distinguish good from evil."
Additionally, said Garkun, many believing parents dislike pre-Christian folklore traditions that enter into secular education.
For example, Didukh is a harvest gathering where people stitch wheat stalks into dolls, understood to host the spirits of ancestors. Kupala Night is a summer solstice wreath-making festival with hints of witchcraft, she said. And even St. Andrew's Day, celebrating the apostle who brought the gospel to Ukraine, contains traditions that involve divination.
But when CT asked why interest in Christian education is growing, Ukrainian sources did not list such culture-war topics prominent among parent motivations. Alongside believers' desire for biblical integration, they cited their schools' focused individual instruction, close cooperation with teachers, and an atmosphere of love and respect.
Many parents enroll after their children suffer bullying elsewhere.
Founded in 1998, River of Life is a K–12 school with grades ranging between 5–15 students. My Horizons has 250 students, capping each class at 18. But the geography of war is pushing their enrollment in opposite directions. Amid widespread displacement, the Kyiv school's student body is down about 30 percent, while this year the Khmelnytsky campus added 70 children.
Coming from private schools in Kherson, Kharkiv, and Kyiv, new students buttress revenue. My Horizons, said Garkun, has the best reputation in her city, attracting many especially with its strong emphasis on English language instruction.
But while her husband maintains his construction work as a tile layer, her brother had to return his children to public school when his business failed. With an average tuition of $150 per month, Christian education was affordable to the pre-war middle class. Now, many are struggling.
Help came from West Virginia.
After hearing about the conflict in Ukraine, the second-grade class at Wood County Christian School in Williamstown raised $1,000 by collecting quarters. It has contributed to an overall collection of $136,000 donated by ACSI, allowing 5,000 students in over 50 Ukrainian schools to continue their education.
Others provide in-kind help. My Horizons received digital learning tools from Grace Christian School in Raleigh, North Carolina. And by September, MAPXO anticipates receiving Ukrainian-language access to the ACSI Europe Christian School Improvement Platform, worth $5,000 in development expenses.
"God is faithful," Sidliarenko said. "We keep praying, and see his miracles."
Two new schools were established during the war. But the blessings have come amid great loss.
Over 450 Ukrainian children have been killed since the war began, with nearly 1,000 injured. Two-thirds of children have been displaced by the war, 1 in 5 of whom have some sort of disability.
Concern for such children entered Garkun's grammar lesson. The curriculum called only for teaching the modal verb can, so she included those who can't—as in cannot walk, run, or think as the other children in the class.
What can we do to help them now? she asked. For in heaven, they all again can.
Service projects at the school have included teachers visiting wounded soldiers in the hospital, as students prepare care packages. And within the constraints of their parents' poverty, they raised money to provide care for a local girl with cancer. And somehow, amid all the national suffering, the student worship team continues its praise.
Garkun's own daughters named "love" as My Horizon's distinguishing feature.
"We are blessed as a family to have our kids in such a school," she said, "to see God everywhere, in everything."