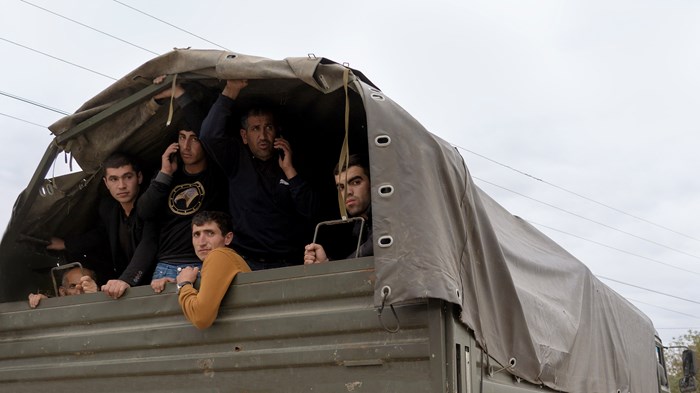 Image: Astrig Agopian / Stringer / Getty / Edits by CT
Suddenly, more than 80 percent of people in Nagorno-Karabakh have fled.
Last week the unrecognized Armenian republic, called "Artsakh" by its 120,000 residents, suffered an invasion by Azerbaijan, which is recognized internationally as sovereign over the enclave nestled in the Caucasus Mountains.
At least 32 people were killed in the assault that violated a Russian-backed ceasefire, with at least 68 more killed six days later in a suspicious fuel depot explosion.
But more than the death count, fear of genocide is driving people to flee—more than 100,000 as of Saturday evening, according to Armenian officials and the UN [updated Sept. 29]. Though the enclave is home to around 400 holy sites now at risk of erasure, one official stated that 99.9 percent of Artsakh's Armenians will cross the border to Armenia, the world's first Christian nation.
The same crossing had been blocked by Azerbaijan since December 2022.
Near-starvation conditions ensued, with humanitarian aid allowed entry one day prior to the Azerbaijani offensive. The Artsakh government issued a decree to dissolve itself as of January 1, ceding control of a territory it declared independent after the fall of the Soviet Union in 1991.
Armenians controlled Nagorno-Karabakh since 1994, after a three-year war resulted in the deaths of 30,000 people, displacing an additional 100,000 in mutual exchange between Armenia and Azerbaijan. Peace talks faltered since then, as they continued to fail after 2020, when a 44-day war resulted in Azerbaijan reclaiming much of the enclave. A further 7,000 were killed before the Russian ceasefire.
Azerbaijan has promised that Armenians in the territory will be integrated as full citizens with equal rights, joining other non-Azeri ethnicities which comprise 8 percent of the population. In the Shiite-majority nation with a substantial Sunni minority, the small Christian community generally reports overall freedom of religion.
The European Parliament and Minority Rights Group, however, have stated that Azerbaijan's ethnicities suffer discrimination. Artsakh Armenians fear much worse.
Imagine if 80 percent of Hartford, Connecticut, suddenly fled to New York.
The Armenian diaspora is stunned. The Armenian Apostolic Church has declared a worldwide day of prayer for October 1. And on October 5, Europeans for Artsakh has called for a rally in Brussels, to coincide with planned peace talks between the Armenian prime minister and the Azerbaijani president.
Like many, Hrayr Jebejian is at a loss. The general secretary of the Bible Society in the Gulf, also a Lebanese-born Armenian, resides in Kuwait and spoke to CT about his overall state of depression—but also his enduring trust in God.
How has the loss of Artsakh impacted you personally?
I am an Armenian. No matter how objective or balanced I seek to be, there is a lot of emotion. It is depressing. Even as a believer I am trying to pull myself together, so that I can continue to live my everyday life. It is affecting me that much.
I want to work, but I have no motivation. I have friends in Artsakh, I've been checking in on them, and they are traumatized. A teacher there told me: How can we stay, when there is a sword over our head?
Did you have hope when humanitarian aid was first allowed in?
I was closely following developments, and all the suffering from the blockade. Thirty thousand kids live there! And international experts said that ethnic cleansing was taking place. I can't say this outcome wasn't expected. It was expected.
But it all happened so fast.
From a political perspective, Artsakh had an elected president and parliament. Azerbaijan is a dictatorship, passed from father to son. If you put the Armenians into the middle of that, when they were used to democratic opposition and criticizing the government, it will be very difficult for them.
We don't know how many people will stay. But there is no trust.
But the ancestral land and ancient monasteries are so important to Armenians. Are there voices calling for them to stay anyway and insist on the promises of equal citizenship?
There is a strong desire to stay. For 33 years, the people of Artsakh believed in, worked for, and built up their homeland. They have a fierce sense of belonging, more than even many Armenians have to Armenia. But if you must choose between life and death, you choose life. Yet life there is no longer promising, anything can happen to those who remain. And that is why the mass exodus is happening.
But is it rather a choice between life and fear of death?
The fear of death is real. Nothing Azerbaijan has done suggests they will be treated with respect. There was a blockade for nine months!
Armenians can fault the international community for not stopping the blockade, or the military invasion. But will the world permit their outright killing? Is the fear that Artsakh will become like Rwanda?
Yes. If for nine months they starved our people, and the world issued empty words, it only serves as encouragement for Azerbaijan to continue the mistreatment. Yes, the international community is insisting on the rights of the Armenians. But can we trust these words, or will they be empty also?
So what now?
We don't know, and we are depressed. We had a beautiful homeland, and we lost it. But one thing is to insist on proper vocabulary.
The media in the West called the Armenians in Artsakh "separatists." This is Armenian land, and when it was placed by Stalin under Azerbaijan, it was as an autonomous republic—it was never part of Azerbaijan. And when the Soviet Union collapsed, Artsakh wanted independence, just like all the other republics. Why could Kosovo and other small territories become a nation, but not us?
These were not mercenaries or terrorists, they were the official army of the republic, defending their homeland. We are upset, because history is not being told correctly.
Must the land now be officially surrendered?
What can we do? A small army went up against the huge Azerbaijani military, backed by Turkey, allied to the West.
Given these large powers with an unfriendly history toward Armenia proper, might the loss of Artsakh improve the chances for peace?
That is a good question.
The present Armenian government is trying to achieve a peace deal with Azerbaijan. But what will be the terms? We are very concerned. What kind of peace can you make with a nation that does not believe in peace? Will they respect Armenia's borders?
Every so often the president of Azerbaijan says that Armenia doesn't exist, that Armenia is Azerbaijani land. But our history begins 7,000 years before Christ, while Azerbaijan existed only 150 years ago. Are they genuine in making peace? Time will tell.
What are your Christian obligations toward Azerbaijan?
Now is too early to answer this question.
The time will come to think about healing, about coexistence—with justice. And I don't want to be selfish, but I am praying for Armenia. I cannot stand the pictures of children crying, leaving their homes. The real trauma will start now.
Just as with our earthly fathers, we can have ups and downs with our heavenly Father. This is normal. But he is still our Father. We believe in him, he loves us, and we love him. He is patient with us, he knows our heart, and he will not leave us in the valley of the shadow of death.
What is God asking of Armenians right now?
I know that God will not abandon us. We have lived through many miseries, many massacres. I was born in Lebanon because my father was deported from his homeland in Turkey. Twenty-five members of my family were killed.
But God was with us, throughout.
I believe we will not only continue to live, but also show the world that life comes in contributing to the good of all. Armenians have given much to the world, and this treatment of us is not right. But the smell of oil is stronger than the smell of humanity.
But which will endure in the end: oil or humanity?
I thank God that I am a believer, that I have Jesus in my heart. This gives me hope, even though I am depressed. But I remind myself that Jesus is with me, and he will help me to come out of it.
And with his strength, I will continue to be an advocate for my nation.