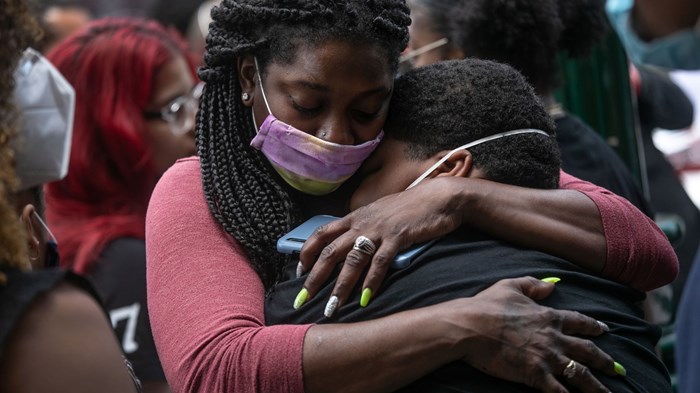 Image: John Moore / Getty Images
Pastor Lorenzo Neal had the first panic attack of his life on a hot summer night during the pandemic. He imagined it was what a heart attack would feel like. His neighbors called 911.
As the pastor of New Bethel African Methodist Episcopal Church in Jackson, Mississippi, he was carrying a lot of burdens through the pandemic.
He has pastored New Bethel for 14 years, and said his 130-member church lost several key members to the virus, including a mother and son who died within two weeks of each other. Neal himself contracted the virus early on and was sick for more than a month. On top of that, he was initially shouldering the entirety of virtual worship himself.
"I was doing too much," he said. "I was already seeing a therapist for some other things, but once that came to light, we were able to explore some areas that needed to be addressed." He asked his congregation for prayer without specifying what he was experiencing in his own mental health, which he said is common in Black faith communities. His anxiety has since calmed.
COVID-19 hit Black congregations harder physically and brought a heavier mental health burden to Black or African American pastors, according to a new study on the impact of COVID-19 on the American church from Arbor Research Group and ChurchSalary, a sister publication of Christianity Today. But the study showed Black churches also had more unity about pandemic health measures and lower closure rates.
In interviews with CT, a number of Black pastors affirmed the study's findings. The pastors dealt with a disproportionate amount of sickness and death while carrying the additional burden of ministering in their communities after the murder of George Floyd. Other ministry demands cropped up too: Married couples needed a lot of counseling during the pandemic, they said, and then local health officials came to the pastors to convince their congregants to get the vaccine when it became available.
Pastor Jerry Young is the head of the National Baptist Convention and has also pastored in Jackson, Mississippi, for 50 years.
"I do not know of anything that has adversely affected the church as much as COVID has," he said. He said the mental health of pastors "has not been sufficiently diagnosed or attended to." But he added that the pandemic also "caused a lot of people to become a lot more serious about their walk with the Lord."
Black Americans experienced higher rates of COVID-19 and death than white Americans, according to analysis of data from the Centers for Disease Control and Prevention by KFF.
In May 2020 in New York City, for example, African Americans counted for 28 percent of coronavirus deaths, even though they made up only 22 percent of the population. COVID-19 also killed a number of bishops in the Church of God in Christ (COGIC), the nation's largest African American Pentecostal denomination. COGIC urged its church leaders to follow government directives and follow scientists' advice.
"The last three years brought a level of unraveling that was unusual," said bishop D. A. Sherron, the pastor of Global Fire International in Brooklyn, New York. Sherron lost five family members in the first COVID-19 wave. "It really, really took a toll on everything."
The ChurchSalary study also found that Black or African American congregations were the most likely to have a positive response to pandemic health measures and were less divided about health measures, which "may have insulated them from the kinds of internal COVID-19 conflicts that negatively impacted so many other churches," ChurchSalary found.
Two-thirds of Black congregations interviewed for the study had an "extremely positive" reaction to pandemic health measures, compared to only 29 percent of multicultural congregations and 20 percent of majority-white congregations. Black congregations were among the most likely to still mask and practice social distancing indoors in 2022.
The study also found that the ethnicities that were the "least polarized" in response to health measures also had fewer church closures. But most Black congregations also saw a decrease in attendance. Pastors said that some of their congregants still watch services online, though they're trying to get people to come back.
Young, the head of the National Baptist Convention, said he wrestled through health measures alongside his pastors as a pastor himself, deciding to pause in-person worship for a time. He felt he couldn't have services and tell people to decide individually whether to come or not.
"People would have kept coming because the pastor says, 'Come,'" he said. "I made a decision for the people entrusted to my care."
In interviews with CT, Black pastors described other changes because of the pandemic. They saw congregants develop deeper relationships with God.
"Many lives were lost," said Steve Smith, the administrative bishop for New York's COGIC churches. "But somehow it has brought us to deeper depths with God, and greater expectations that the God of the Bible will manifest." Smith said he noticed congregants take up "habits of practice in the presence of the Lord—prayer, silence, solitude."
Pastors reported becoming more engaged with congregational care themselves.
Pastor Frank Williams, the former president of the National African American Fellowship of the Southern Baptist Convention, leads two churches in the Bronx, Wake-Eden Community Baptist Church and Bronx Baptist Church. During the pandemic, Williams was checking in on congregants and praying for them, particularly nurses working on the frontlines. The church deacons would call people in the church regularly and report back to the pastors about who was called and when.
"Through the pandemic, ministry became more, for me, about the people, and not about the tasks of the vision," Williams said. "Sometimes we can lose focus on the people because we are so focused on a destination. … People mattered beyond what they can do and provide to the ministry."
Still, attendance numbers are not back to where they were before the pandemic at his churches. Some people who used to attend in-person tell Williams that they're continuing to watch online.
Black pastors said that, like many other pastors, they had an added burden of shifting services online when many Black churches weren't prepared technologically.
At the start of the pandemic, Williams learned how to use video production software and set up cameras in his home to stream church services on Sunday—"no one could come over to help." It was anxiety-inducing but also "exhilarating," he said. The worship team would record songs at home and send them to him, and he would use movie editing software to compile the songs to add in at the right parts of the live service.
Smith said that in New York's COGIC churches, there were many pastors who were "mighty men of God" but had "minimal training in technology." Many churches did not have an online giving platform, he said, and some had to close due to lack of funds or because the pastor died from the virus.
Now, he says, most New York COGIC churches have an online presence, and "the awareness of how much we need the younger generation," he added, saying some pastors reached out to their grandchildren for technology help.
Overall for Black pastors, ministry burdens were greater, but their churches found ways forward through the toughest pandemic months.
In the Bronx, Williams officiated seven weddings in his church, mostly in outdoor parks. And he buried his senior deacon, a mentor throughout his whole adult life, who died of the virus in isolation at a hospital in the deadly first wave in New York City. The same day that he did a small funeral service for the deacon, he had to take his wife to the hospital with a bad case of COVID. She eventually recovered.
The church voted to create a "regathering team" that would have the power to make decisions about meeting during the pandemic. "Once we had that in place, the members trusted the process," Williams said. "They trusted the members on the team."
Other than the death of the senior deacon, the church mostly felt indirect impacts of the virus. One member at Wake-Eden lost 11 members of her family to COVID "in short order," Williams said.
The church hosted a forum on processing grief. Williams preached about domestic violence, and about watching for "how isolation is affecting your relationships."
Then, just as Williams' two churches were recovering from COVID losses from the first wave, George Floyd was murdered. For a Black church, racism was not an unexpected topic to address; every year in February, the Bronx churches did an event on "the reality of Black life." So they held several forums about social justice in that June and July, modeled after the February forums. The first one lasted four hours because "people needed to talk," Williams said. The churches also helped facilitate a march of pastors in the Bronx.
"There was so much emotional pain in those months," Williams remembered. "You had to lean on each other and lean on God, and keep doing what has to get done."