5 Passages Your Pastor Wishes You'd Stop Taking out of Context
How we get them wrong and what church leaders can do about it.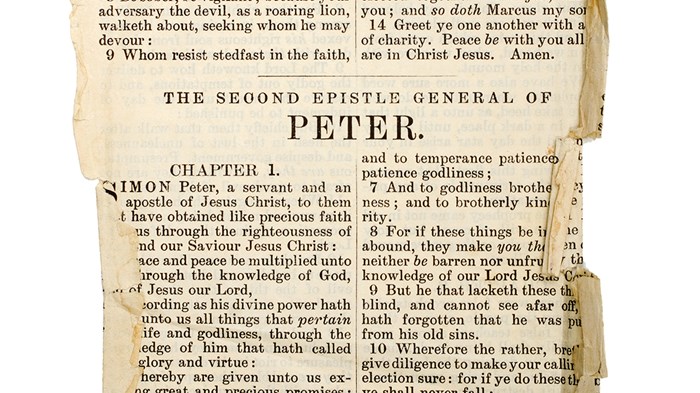 Chris Maxwell, director of spiritual life and campus pastor at Emmanuel College in Franklin Springs, Georgia, recalls a troubling episode during his pastoral tenure in Orlando: "In March 1996 I almost died of encephalitis. A group of people came to visit me and read Matthew 7:17–18: 'Every good tree bears good fruit, but a bad tree bears bad fruit. A good tree cannot bear bad fruit, and a bad tree cannot bear good fruit.' For them, admitting I had brain damage and needed medicine was lack of faith. This was the reason I became sick and wasn't being healed. I told them, 'If that caused my sickness I would've been sick long before.'"
John Koessler, professor and chair of pastoral studies at Moody Bible Institute, is all too familiar with scenarios like this. "I find that people tend to be one-sided in their handling of the Bible. They 'lean into' certain texts or truths to the exclusion of others. Some focus only on a portion of a verse. Others use one text to cancel out another."
This isn't surprising to most church leaders, who often see verses plucked from their homes to serve other purposes. To better understand these tricky situations, I asked several pastors to share the misused passages that make their skin crawl and how people in ministry can model healthy biblical interpretation.
Jeremiah 29:11
"For I know the plans I have for you," declares the Lord, "plans to prosper you and not to harm you, plans to give you hope and a future."
An entire cottage industry has developed around this decontextualized verse. It adorns t-shirts, knickknacks, and the walls of our churches, written in graceful, soothing script. "Having worked with college students," says Ben Connelly, who co-leads The City Church in Fort Worth, Texas, "I heard this verse time and time again as discouraged graduates struggled to find jobs. Christian friends and family would pat them on the back, lift their downcast chins, and recite Jeremiah 29:11."
Yet when it's lifted from our coffee mugs and placed back into context, we discover a difficult truth about Scripture: the Bible was written for us, but not everything in it was written to us. In an interview with Christianity Today, Eric Bargerhuff, director of the Honors Program at Trinity College in Florida and author of The Most Misused Verses in the Bible, said, "Most people overlook the context of the verse because it speaks to what they want to hear for their life. This was a corporate promise given to the nation of Israel." Connelly elaborates: "Only after promising to leave his people exiled in a foreign land for seven decades (Jer. 29:10) does God make the declaration we're familiar with."
The Bible was written for us, but not everything in it was written to us.
So should we avoid sharing this verse with those in despair? Not necessarily. Abram Kielsmeier-Jones, pastor of Union Congregational Church in Magnolia, Massachusetts, says, "Certainly the God who knew us before we were born desires to give us 'hope and a future.' Even if the immediate context is not addressed to individuals, might not the general truth still hold that our God (even 'my' God) desires to offer hope and a future to each of his children?" If so, this passage presents a key teaching moment for church leaders. "There is comfort in this verse, and let's never forget that God does have a plan," says Connelly. "But we need the context to remind us that God's goodness is true whether we find a job tomorrow or if his plans include 70 years of trial and oppression."
1 Corinthians 13:4–7
Love is patient, love is kind. It does not envy, it does not boast, it is not proud. It does not dishonor others, it is not self-seeking, it is not easily angered, it keeps no record of wrongs. Love does not delight in evil but rejoices with the truth. It always protects, always trusts, always hopes, always perseveres.
"When I sit with couples to help plan their wedding ceremony, this passage is on the list of Scripture readings almost every time," says Tracey Bianchi, worship and teaching pastor at Christ Church of Oak Brook. "The desire to use this passage to express fidelity, love, and commitment is a wonderful impulse. There's just one catch: Paul was not specifically writing about romantic love."
What did Paul have in mind? "We must consider chapter 12 and the wider story of the Corinthian church before heading to 'Love is patient, love is kind,'" says Bianchi. "Paul precedes chapter 13 with a rebuke of the Corinthian church for the misuse of their spiritual gifts. They must work together in unity. No person is expendable.
"By the time we get to the chapter we know so well, Paul is ready to paint a picture of love in a unified community. He concludes chapter 12 with this verse: 'And yet I will show you the most excellent way.' Chapter 13—the 'wedding passage'—is a glimpse of this 'excellent way.'"
For pastors who encounter this passage in wedding prep, Bianchi suggests saying something like: "It's wonderful you chose this passage. Dream with me for a moment about how amazing it would be if this love were for a world much larger than your relationship. Consider what hope a marriage like this could bring to others."
Romans 13:1
Let everyone be subject to the governing authorities, for there is no authority except that which God has established. The authorities that exist have been established by God.
Every four years in the US, nearly half of the country laments the presidential election results. This passage becomes a hurdle for those deeply upset by the established government. For this reason, "Americans, regardless of our political orientation, like to ignore this text or excuse our way out of it," says Scott Wenig, Haddon W. Robinson chair of biblical preaching at Denver Seminary. "We focus mostly on the exceptions—when should we not submit to a government—like Hitler and the Nazis."
What would it look like for disgruntled citizens to read this verse in context? "I suggest we take the text at face value," says Wenig. "Paul wrote this for Christians in Rome living under Nero's regime. If it applied in that context, it's tough to argue it shouldn't apply in a democracy like ours. There may be times when we shouldn't follow the guidelines, but those are rare, not the norm." Pastors can play a role in guiding people to take the context of this verse seriously. "Get on with the task of living out the kingdom, loving our neighbors, and praying for our leaders (1 Tim. 2:1–2). Set an example by praying for our government and all the folks who get up and go to work there, locally and federally."
Is there a healthy way for Christians to express displeasure with governing authorities while still submitting to them? Wenig suggests: "Pay due respect, give honor, pay taxes, and then work within the system for constructive, peaceful change. Don't blow up the system! That's not biblical or good for anyone."
Matthew 7:1
Do not judge, or you too will be judged.
"The most surprising time I heard this verse thrown out was from a man who came to me to discuss pursuing a divorce," says Connelly. "After I walked—lovingly, I hope—through the biblical teaching on divorce, he nodded, then crossed his arms and declared, 'Judge not, pastor, lest you be judged.'"
Koessler has seen people misuse the phrase "God is love" (1 John 4:8, 16) in a similar way. "The result is a kind of functional universalism that does not understand the Bible's theology of grace within the larger framework of divine justice." How should these verses be interpreted? "John's statements about God's love have implications for Christian behavior," says Koessler. "The focus is on family resemblance of those who are God's children through Jesus Christ. It is not an absolute prohibition against evaluating others but an admonition to apply the same standard we use on others to ourselves first."
Most people who misapply verses aren't off course by much—only a few degrees.
In fact, at one point, Paul actually charges Christians to judge each other: "What business is it of mine to judge those outside the church? Are you not to judge those inside? God will judge those outside" (1 Cor. 5:12–13). Connelly concludes, "We should care enough about our brothers and sisters to lay down our people pleasing, 'speaking the truth in love' into their sin to help them 'grow to become in every respect the mature body of him who is the head, that is, Christ'" (Eph. 4:15).
3 John 2
Beloved, I pray that in all respects you may prosper and be in good health, just as your soul prospers (NASB).
Sometimes misinterpreting a passage boils down to decontextualizing a single word—in this case prosper. "This passage has typically been used as a proof text that God is mandated to bless in a very specific way—usually financially and materially," says Ernest Gray, senior pastor of Keystone Baptist Church in Chicago and assistant professor of Bible at Moody. "Human beings misunderstand the place of suffering, and Christianity in the West tends to idolize success. We struggle with viewing the Christian life from a triumphalist perspective: 'I'm a Christian; therefore I'm entitled to victory in every way.'
"The Christian life can be filled with significant gains and joy, but it is not necessarily tied to narrowly construed ideas of success, such as financial gain. The danger of this verse lies in its ability to overpower narratives of ordinary human beings who experience suffering, loss, and setback."
Pastors can help people navigate this tricky passage by doing a little homework. Gray suggests looking up the word that's translated as "prosper," and finding how it's used in other New Testament texts (e.g., Rom. 1:10 and 1 Cor. 16:2). "The idea embedded in the text," Gray explains, "is that John wishes Gaius spiritual and emotional wellbeing." Bargerhuff sees this trend throughout Scripture: "God's promises are spiritual promises, not promises of instant gratification. Though God does bless us in many ways, he has not promised us our best life now."
Helping People Course Correct
Although misused verses might make church leaders grind their teeth, Caleb Lindgren, associate theology editor at Christianity Today and former copyeditor with the Bibles and reference team at Tyndale House Publishers, has some comforting news. "Most people who misapply verses aren't off course by much—only a few degrees." A pastor's job, then, is to be a lighthouse, modeling healthy biblical interpretation at every opportunity.
Maxwell envisions each passage as a single room. "Don't neglect the rooms around it, the house, the neighborhood, the city. If we only talk about the couch without acknowledging the whole den or community or world, we fail to understand and honor the text."
And when all else fails, it's okay to lighten the mood. "Sometimes I use humor to calmly stress the importance of reading verses in their biblical context," says Maxwell. "Philippians 4:13—'I can do all this through him who gives me strength'—doesn't mean I can hit every three pointer I shoot—as much as I'd like to."
Kyle Rohane is managing editor of CT Pastors. He lives in Wheaton, Illinois.