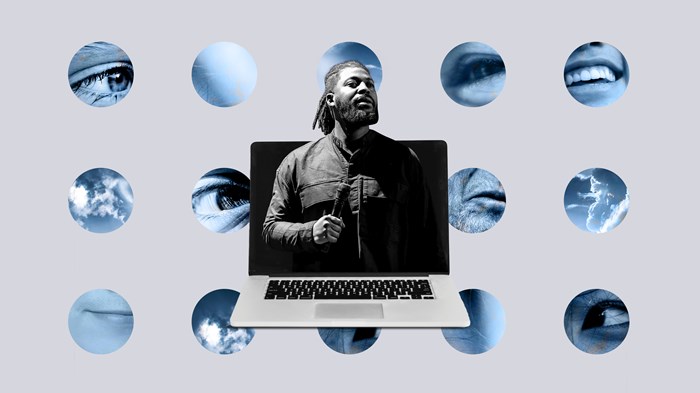 Image: Illustration by Rick Szuecs and Mallory Rentsch / Source images: Damion Hamilton / Lightstock / Kari Shea / Unsplash
We see you, pastors.
It has been a long, confusing, challenging, tiring, and (dare we say) unprecedented season of church ministry. Your love-hate relationship with technology grew. Your frustrations mounted, especially over having to say farewell to deceased loved ones with physical-distancing restrictions in place. You got creative with the Eucharist and other sacraments (praying you weren't violating any biblical or denominational teachings). To borrow a sports analogy, you took to the field without a playbook during a pandemic.
We see you.
We see you, ministry leaders, who stand for truth and justice even as those words are relativized, minimized, or rejected. You did not excuse or justify treasonous acts such as done at the Capitol by people who paraded with Jesus banners, crosses, and Confederate flags. Instead, you rightly denounced white supremacy and the spreading of false conspiracy theories.
We see you, veteran clergy, who have been doing ministry for many years and finally found your rhythm, only to have your rhythm completely disrupted. We see you, newer pastors, who were itching to follow God's call to serve the church, suddenly bombarded with more than you bargained for.
We see you, sister clergy, who have been getting the side-eye ever since God called you to pastoral ministry. You've dealt with much more than we men could ever know, but you continue to give God glory through your devotion and service.
We see you, pastors who took that call to a struggling church longing to relive its glory days. You were expected to make the church great again, as if it all depended on you.
Pastors, we see your love for God and for God's people. You have not been abusive, despite those who shamefully exploited the honor of our calling and took advantage of the vulnerable. You have championed the weak. You did not embezzle, philander, or twist Scripture to your benefit. You have been faithful to Jesus. Thank you.
We see you.
"We see you" can sound ominous, especially from the mouths of the judgmental.
I know how ominous "We see you" can sound. You hear it spoken from the mouths of judgmental people. They saw you do something—or fail to do something—out of sync with their expectations. They scrutinized your hours in the office, your kids, your meals, your housekeeping, your lawn care, your car, your attempts at recreation—and much more.
Part of their criticism comes from the shadow cast by megapastors popularized by "Big Evangelicalism." You get compared to them when they do well ("Pastor So-and-So preached on that same passage as you, but theirs was much better! You should listen to their sermons."). You get compared when they do badly ("We mustn't celebrate you too much, Pastor; you'll get a swelled head and fall into sin.").
Pastors find the spotlight because of their God-given abilities, natural charm, and strong communication skills, combined with conventionally attractive features. Add the unexpected opportunity to be in the right place at the right time and meet the right people, and suddenly a humble pastor finds a stage and sometimes does well.
But other times, as has happened on numerous occasions, famous pastors fall. We look for an obvious cause, but the culprits are many. Recent reports about the well-publicized sin of pastor Carl Lentz of Hillsong Church in NYC cited his extramarital affair. Pastor Rich Villodas of New Life Fellowship in NYC rightly pointed out that some of what challenged Lentz might also plague pastors who are not as well known, such as taking oneself too seriously, "narcissistically centering themselves in the church family system," or not being accessible to church members and developing a sense of entitlement.
As a seasoned pastor aware of the hardship clergy endure and absorb when doing well, but also saddened by those who have failed, I offer my own encouragement and caution:
Cease the comparisons. I say this to myself, because … Instagram and Twitter! Oh my, getting few likes and seeing others' apparent greatness can make me feel insignificant and unappreciated. But I know God works mightily through those easily overlooked. Consider Ananias from Acts 9:10–17. Being a low-church Protestant, I learned only recently of January 25 as the Feast of Ananias of Damascus. Remember his critical role of ministering to Saul of Tarsus? Scripture is filled with such unsung heroes, as is the church. You may be one of them.
Prestige is not the point. James 4:6 and 1 Peter 5:5 each cite the Greek version of Prov 3:34, "He mocks proud mockers but shows favor to the humble and oppressed." Pride seeks self-elevation, while humility elevates others. Humility is not humiliation, but it works to build solidarity.
Eyes are on you. Knowing that God and his people are watching, whether to imitate or to judge, helps us pay attention to how faithfully we live. We'll never be perfect, but we can be honest about our struggles, fears, and temptations, as well as honest in our repentance when we sin. Being watched entails being held accountable, but being watched also grants us the privilege of shaping disciples who follow us as we follow Jesus Christ.
On my most recent trip to Rwanda and Kenya, I taught in a few places and caught up with several friends I've known for years. At one point, two of those friends, Christian leaders, treated me to a safari. We had a wonderful time with terrific food, amazing views of animals, and the majestic sight of Mt. Kilimanjaro without any cloud cover (a rare treat). Yet, the greatest blessing was when the two men, without prompting, casually shared lessons they'd learned from me over the years—some lessons I'd forgotten or even not realized I'd taught. I often doubt my effectiveness, but in that moment, knowing I had been watched and found helpful was welcome affirmation. Glory to God.
We see you, pastors. God sees you too. And as pastors, we also need to keep an eye on ourselves. To be seen is to be acknowledged and recognized; to be watched is to be evaluated by others but also is self-reflective. It takes numerous eyes to keep us faithful, humble and fixed on Jesus, the pioneer and perfecter of faith (Heb. 12:2). With Jesus, we can see ourselves as we truly are, beloved and enabled to serve to the glory and goodness of God and Christ's church.
Rev. Dr. Dennis R. Edwards is associate professor of New Testament at North Park Theological Seminary and a columnist at Christianity Today. You can find him on Twitter at @revdrdre.