We Saw Your Satire
Why the Oscars' boob song made us laugh.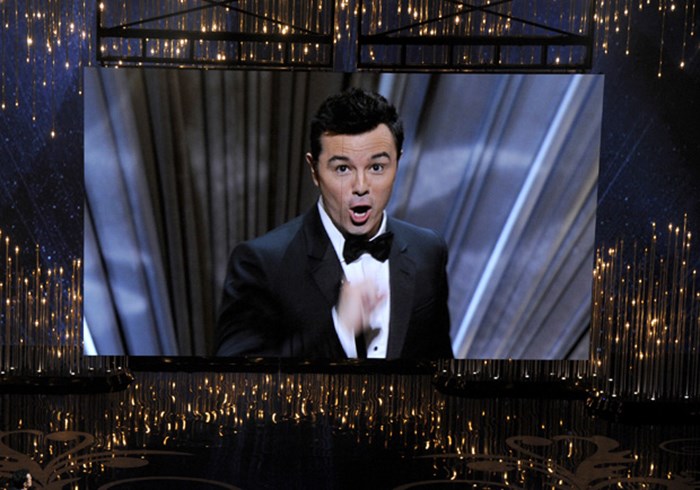 Image: Chris Pizzello / Invision / AP
After the Oscars, the world seemed divided into two parties: those who thought host Seth MacFarlane's song, "We Saw Your Boobs," was hilarious and those who, well, weren't quite so amused.
Count me among the greatly amused.
That should surprise no one who knows me, or has read here of my fondness for art both high and low, or understands my appreciation for language. As a like-minded friend live-tweeted, "Boobs is just such a funny word!" Indeed it is.
To recap: MacFarlane, creator of the crudely humorous show Family Guy, opened the Oscars with an ode to female actors who've bared their breasts in their films. Outrage—along with a follow-up tit-for-tat video that turns the gender tables—ensued.
At worst, the song was merely the puerile snickering befitting a 13-year-old boy.
At least, it was Oscar-appropriate burlesque.
At best, it was even more: biting social satire.
Skipping over the MacFarlane-as-adolescent interpretation ("What do you expect from the creator of Family Guy?"), let's consider the act as burlesque. Burlesque humorously caricatures a serious work by making it ludicrous or even vulgar. It would be hard to get a better textbook example of the genre than MacFarlane's song, which reduced serious film scenes, some involving rape and abuse, to the exposure of the actresses' breasts. The entrance of the cabaret dancers, a staple of burlesque, cued us to the song's context within a ...
1