This Rockabilly Christian Life
Retro style and the inescapable, human longing for times gone by.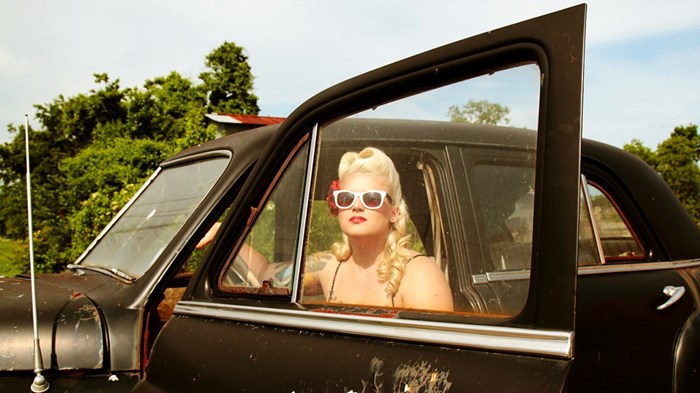 Image: xshamethestrongx / Flickr
My rockabilly friends hoard 1950s-era fiberglass lampshades and Formica-topped tables. They drive clunky, chrome-trimmed, gas-guzzling cars that have no seatbelts and sometimes leave them stranded on long trips. The guys sport gabardine suits and greased-back pompadours. The gals carry '50s Lucite purses and wear full-skirted dresses with armfuls of bangles. They swing their dance partners to thumping music played by tattooed upright bass players.
Walking into these events, a retro dance or hot rod car show, it feels like traveling back in time. These 21st-century folks live and breathe the culture of the 1950s. Yet again, in our seemingly endless cycles of American nostalgia, everything old is new again.
The '50s revival is popping up everywhere, from television shows like Mad Men to fashion runways. This spring, GQ declared rockabilly the style trend for 2014. Models sported pompadours, cuffed jeans and embroidered western shirts. Even musicians are showing bits of vintage rock 'n roll style. A writer for Modern Salonnotes, "Then it was guys like Johnny Cash, Elvis, and Carl Perkins driving the trend… today, it's Bruno Mars, David Beckham, and Henry Holland."
Some cultural critics attribute the obsession with this time period to a collective longing for simpler times when "American" values were more clearly defined. In her blog for Ms. Magazine, Amy Williams suggested, "The late 1940s and early 1950s tend to be remembered ...
1