Taking the Charleston Shooting Personally
Why Black Americans—and this time, white Americans too—can relate to the Emanuel Nine.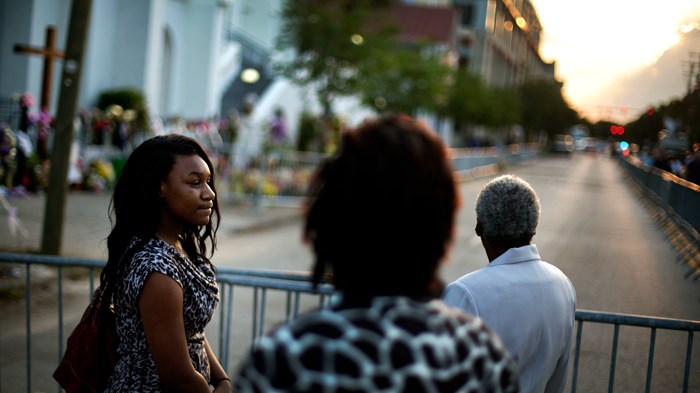 Image: David Goldman / AP
In the days following the murder of nine people at a church Bible study in Charleston, we're seeing Americans engage in a real and meaningful conversation about race. We're seeing them take seriously the call to take down the Confederate flag, a longstanding symbol of division and white power.
Despite the shooter's efforts to start a race war, we are finally seeing the country come together in to grapple with its racial past in a way we've long avoided. I imagine we'll see a more united America emerge from this grieving and reckoning.
But after months and years of declaring #BlackLivesMatter, why has this event been the one to stir us? To start, the Charleston shooting hits especially close to home, symbolically and emotionally, for African Americans like me.
Many African Americans, even those raised in the North, have ties to South Carolina. More than half of black Americans have ancestors who came as slaves through the state's coastal ports including Charleston, according to historians.
Within my family, there are black Fergusons in South Carolina to this day. (Our branch migrated to North Carolina; my father was born in Wilmington. I grew up in New York, where my parents, Southern transplants, met and married.)
Even more significant, though, is Mother Emanuel itself. A historic black church, it represents both a force against American slavery and oppression and a beacon signifying the rights of African Americans to worship freely. ...
1