What Love Looks Like at 2:07 A.M.
It's different—and sweeter—than I once thought.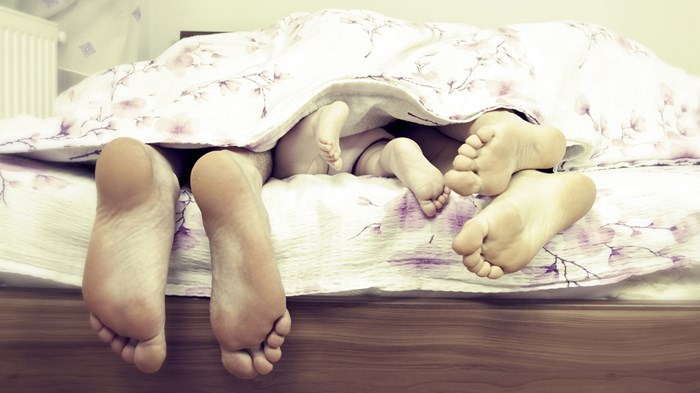 Image: MELIS / SHUTTERSTOCK.COM
Mumma, I frowed up."
We wake to the pitiful words of a filthy tiny girl who promptly throws up again all over our bedding and my maternity jammies.
It's 2:07 in the morning.
This is what we do without exchanging a word: I take care of the girl—washing her sturdy, small body in warm bath water, then finding clean jammies and snuggling while he takes care of her sheets and the carpets, opens windows, and starts the laundry. Together we make a warm little bed on the floor next to our bed with the old toddler bed mattress, we switch sides of the bed so I can be closer to the little sickie, and then we are all back asleep, exhausted. It's our sick kid rhythm, developed over the years, and in particular over this past two weeks of on-again-off-again stomach flu for one tiny.
Nearly 16 years ago, we built our love on the set times of our togetherness: Let's meet after class, let's go out for a date tonight, and I'll see you at 8 o'clock, okay? We went for long drives and talked about the future together. An unrepentant morning person, I signed up for 7:50 A.M. classes, and, even though it went against his natural night owl tendencies, he woke up early just to eat breakfast with me. At that point, love looked like 7:20 in the cafeteria, black coffee in hand.
In the hours leading up to curfew, we parked on lonely backroads to kiss until we were too dizzy to drive, listening to the songs on the radio. We were at the mercy of late-night DJs or ...
1