Dating: Are We Doing It Wrong?
How Tinder and courtship are hurting my game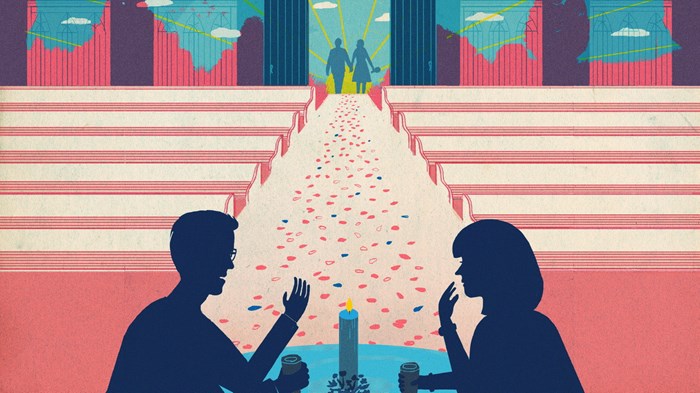 Image: ARTWORK BY MIKE ELLIS
The dating apocalypse is upon us! At least that's what a recent Vanity Fair article, "Tinder and the Dawn of the 'Dating Apocalypse'," claims. Is it true? Are we really in a "dating apocalypse"—or worse, a "marriage apocalypse"? Is that why, at 26-that-basically-rounds-up-to-30, I can be hopelessly alone on a Friday, despite being willing to split the check, carry the conversation, and even indulge an anecdote about your pet rat? Surely, there's a better way.
As Nancy Jo Sales bleakly describes the dating scene and the effects of hookup culture, I can't help but see a correlation with a seemingly opposite phenomenon in the church: courtship. It seems that the impetus behind hookup culture and the desires that drive courtship may not be all that different.
The Holier Version of Hooking Up
In the world that Sales details, men and women sit side by side at a bar, and instead of exchanging wry glances and shy smiles, they're ...
1