Six Ways Men Can Support Women's Discipleship
Male clergy and laity who want to enable women's ministry often don't know how to get involved or what to do.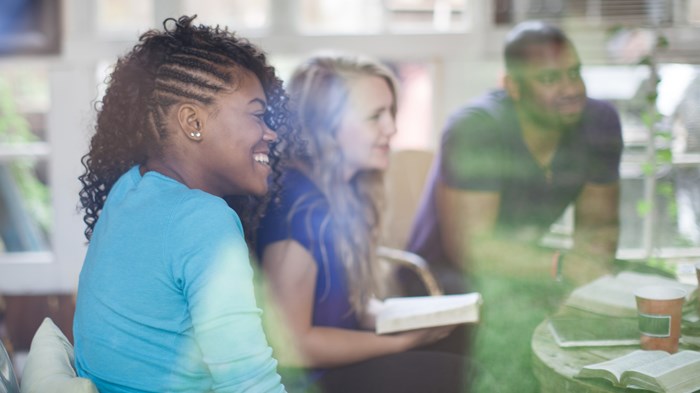 #AmplifyWomen is a two-month-long series running on CT Women, designed to generate a new conversation about women's leadership and discipleship. In the last four weeks, we've addressed ecclesial accountability, mentorship, platform, and hospitable orthodoxy. Today, Trillia Newbell invites men in the church to support women's discipleship.
When I first became a Christian at the age of 22, there were two things that I couldn't wait to do: learn about the Lord and share about him with others. As I dreamed about my future, I determined that I wanted to become a biblical counselor. I told a pastor about this desire, knowing that it would require more education through a counseling program, most likely at a seminary. His response to me was, "Well, you are probably going to be a mom."
He was right. I did become a mom, one of my greatest joys and gifts in my life. Still, his statement deterred me from pursuing a counseling degree. Although I don't hold any grudge against that pastor—he was doing the best to counsel me at the time—nonetheless his initial response was ill-advised and unhelpful.
My experience reflects a larger, more widespread challenge inside the church: Male clergy and lay leaders have the power to impact and support women's discipleship, but many of them (by their own account) fall short. "When you consider how many ministries and committees depend upon the genius, generosity and sweat of our sisters," writes pastor Thabiti Anyabwile, "it's almost criminal that most any pastor you meet has no plan for discipling the women of his church apart from outsourcing to a women's ministry staff person or committee."
When men don't engage in ministry to and for women, women tend to function as a parachurch ministry within the confines of a local church. And if they don't find discipleship in their own churches, they go elsewhere. "Christian women increasingly look to nationally known figures for spiritual formation and inspiration," writes Kate Shellnutt, "especially when they don't see leaders who look like them stepping up in their own churches."
For men who want to remedy the problem by actively encouraging, supporting, and participating in women's discipleship, they often don't know how to get involved or what to do. My female ministry friends and I hear frequently from men who ask us, "How can we support women's discipleship?"
According to Russell Moore, president of the Ethics and Religious Liberty Commission, we need to encourage both sexes to think beyond the stereotypes. "Men are not defined, in their totality, by what it means to be husbands and fathers. Women should not be taught only on their callings as wives and mothers," says Moore. "That's certainly the case when it comes to cultural stereotypes of 'what women want.' Women, like men, need doctrinal truth and practical wisdom. There are many kinds of women represented in Scripture, and we should equip both the Marys and the Marthas, the Jaels and the Lydias."
After speaking with close to half a dozen pastors and even more women's ministry leaders, I offer the following invitations to male clergy and laity:
1. Read discipleship books written by female authors and stay in conversation with women.
For Anyabwile, who decided to only follow women on Twitter for 2017, it's essential to listen to and learn from the women around you. "Find some trusted women in the congregation from whom you can learn," he suggests. "Sitting at the feet of some godly women will help round out a pastor's understanding of the congregation and hopefully affect the content and application of his main ministry of preaching/teaching God's Word."
Anyabwile recently posted a series of questions on Twitter aimed at male clergy: "Pastors," he asked, "how many books do u have on ministry to women? How many books do you have by women on any subject? How many have you read?" Writer and speaker Jen Pollock Michel reports that she often hears "from women that their pastors have not read [books by] women and don't know what to recommend."
Men benefit from reading women, and women benefit, too. For example, when women—both seasoned believers and new believers—are searching for discipleship resources, well-informed men can point them to trusted, faithful, and orthodox female authors and communicators. More generally, church resource tables and libraries should include female authors. "I encourage Christian men to gladly, humbly, confidently read books by women," writes Tim Challies. "Don't read them with fear or suspicion, don't read them to simply screen them for your wife or your congregation, but read them to learn, to grow, to know God better. Trust that God dispenses gifting, ability, and wisdom to men and women alike."
2. Enable the older women in your church to disciple the younger women.
Titus 2 instructs older women to train younger women in the church. Although men cannot and should not control or dictate the pursuit of women toward one another, they can foster an environment for developing these mentoring relationships. This Titus 2 model needs to be a part of the core culture of the church, because you can't support what you yourself aren't teaching, thinking about, and encouraging others to do. "Every male leader in the church ought to be certain older women in the congregation receive instruction in the faith and are equipped to teach younger women," Anyabwile told me.
Kori Porter, Ministry Fellow with Christian Union at Princeton, affirms the importance of using the pulpit to encourage one-on-one discipleship but suggests that pastors take it one step further. "I have seen this done from the pulpit, but I think the most effective way is to extend an individual charge," Porter told me. "Pastors would need to know the women in their congregation in order to identify women who would take up the charge and pursue the call of discipling others."

Writer Jasmine Holmes agrees. "If they're pastors, they can be actively involved by creating a space for women to minister to one another outside of the sermon on Sunday morning," says Holmes. "If they're laymen, they can be encouraging the women in their lives to take full advantage of these discipleship opportunities."
3. Offer some discipleship courses that are integrated rather than always gender-segregated.
The Titus 2 model of women helping women grow in the Lord is an essential part of ministry to women. Women need one another. And yet it's also beneficial for women to have equal access to larger, mixed-gender discipleship opportunities.
As you do programmatic planning for Bible, development, or other discipleship training, keep in mind that not all of these teaching spaces need to be gender-specific. When possible, offer them to all members of the congregation (along with childcare support, if possible). "Many women are unsure of how to use their gifts in discipleship or teaching, but they are eager to learn and serve others," says Melissa Kruger, women's ministry coordinator at Uptown Church. "Inviting women into these training opportunities communicates, 'You are needed in the body and we want to help you minister effectively to others using the gifts you've been given.'" She attends a church that offers a "how to teach the Bible" course. "Both men and women are encouraged to attend," she told me.
4. Whenever possible, support women in their pursuit of theological training.
Having theologically trained women is just as beneficial to the church as having theologically trained men. When women are formally equipped in various areas of discipleship, it's to everyone's benefit. "There is no such thing as a church where only one gender flourishes," J. T. English, pastor of The Village Church Institute, told me. "Therefore we should encourage the theological, biblical, and professional development of women in our congregations."
However, seminary is out of reach for many women, writes Marybeth Davis Baggett. "Changing these conditions," she says, "will require innovation both corporate and individual, as well as a renewed vision for discipleship." Baggett proposes solutions that include both formal seminary education and online resources, including iTunes U (which offers video courses uploaded by seminaries) and New Testament courses through Calvin College's Christian Classics Ethereal Library. Many seminaries—including The Southern Baptist Theological Seminary, Southeastern Baptist Theological Seminary, and Reformed Theological Seminary—as well as other parachurch organizations like The Simeon Trust have launched programs that make it easier for women to access education.
5. Actively include women in the development and implementation of your ministries.
Amanda Edmondson, women's ministry director at Sojourn Community Church in Louisville, Kentucky, suggests that "when pastors or leaders are gathered to talk about or make plans regarding discipleship for the church, make sure you have women present to participate in the discussion and to collaborate with." Too often, says Edmondson, "discussions around discipleship are done without the consideration of hearing from the women in the church or women leaders."
For a local church, support will mean investment beyond just relationships. "This means budgeting for women's ministry, programs, women's cohorts, or even to send women on staff or women's leaders to conferences," says Edmondson. "I speak to churches too often who have budgeted to send pastors to conferences but not their women's ministry leaders or women who are leaders in the church."
6. Look for specific, concrete ways to disciple a few individual women in your congregation.
In the coming year or two, I will begin working toward a biblical counseling degree, so although it's taken me 15 years, I have not been deterred from full-time ministry. More often than not, I have been encouraged and supported in the work of ministry. This, however, is not the case for all women.
"Most pastors and leaders would say on paper they value women's discipleship," says Wendy Alsup, author of Is the Bible Good for Women? "But that is different than active support. I have felt actively supported by my own pastors for years, and it has made a tremendous difference in my ability to use my gifts confidently in ministry." Alsup went on to say that "men, particularly male leaders, will actively support women's discipleship when they see them, value them, and then help them grow in knowledge of God through practical input and help." These practical means of support have included reading her past manuscripts and talking with her about ministry opportunities. "They have proactively discipled me well," Alsup shared, "asking insightful questions and pointing me to helpful resources that develop my understanding of Christ and the Bible."
Support and encouragement doesn't necessarily need to revolve around teaching or training. A friend of mine recently shared with her pastor, Jedidiah Coppenger of Redemption City Church, about her desire to attend photography school and how she felt led by the Lord to wait. In response, he prayed with her and also found ways for her to use her photographic gifts at church events. (I should note that her excitement and joy—evidence of the encouragement, support, and affirmation she received—brought me to tears.) "Wisdom, competency, and everything that is needed for high-impact ministry aren't gender specific," says Coppenger. "God has gifted all of the body of Christ to advance the kingdom of Christ, and he intends for all of his gifts to be utilized."

Coppenger suggests pastors should start praying for women in their church, getting to know them, listening to them, and empowering them.
And if you've done all you can, and don't know what else to do? Stay in conversation, says Andrew Wilson, teaching pastor at King's Church London. He suggests that if pastors still sense ways in which male discipleship is working and female discipleship is not, then "the best thing (I think) is simply to ask women why that is and then do our best to fix it. My guess is that in most cases, if we do something about that, we will probably enhance the discipleship of men in the church, as well." He believes that "the ways in which we can support the discipleship of women are almost identical to the ways in which we support the discipleship of men."
God could have designed creation in many different forms, but he deliberately chose to use men and women to fulfill his purposes. He could have commanded that churches be divided and segregated, and yet he gives us a beautiful picture of a diverse body with many parts at work (1 Cor. 12). We are meant to function as a whole—each distinct part coming together to operate as one.
As someone interested in growing women's discipleship, my intent is not to browbeat male leaders but to inspire and encourage them in the work of this ministry. What most women desire is to be in partnership with men and to see the gospel proclaimed and the church built for the glory of Christ. Isn't that what we all want—growth together?
Pastor, leader, and layman, we are for you. We need you—and you need us.
Trillia Newbell is the director of community outreach for the Ethics and Religious Liberty Commission for the Southern Baptist Convention. The author of Enjoy: Finding the Freedom to Delight Daily in God's Good Gifts, Fear and Faith: Finding the Peace Your Heart Craves, and United: Captured by God's Vision for Diversity. Trillia lives with her husband and two children near Nashville, Tennessee. You can find her at trillianewbell.com and follow her on Twitter at @trillianewbell.