Telling Penny About When She Was Born, and an Interview with Family Life
What I wish I could have said to Penny about how I felt after I learned she had Down syndrome...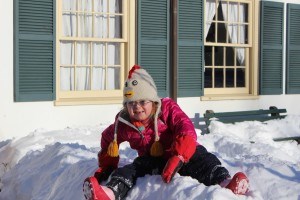 Yesterday, Penny had a two hour delay from school. We took Marilee and William to their school, ran a few errands, and then shared a snack at our local coffee shop. She jumped in a few puddles in her snow boots (we still have about 18 inches left from last week's blizzard, along with sloppy melty stuff all over the place), and she asked if we could spell words. We talked about school that day. We told stories. As she often does, she asked me to tell the story of when she was born. I went through my normal narrative, and when I got to the point after she was born and she looked so beautiful and we just loved her loved her loved her, she said, "I don't want to hear the next part."
The next part is when I tell her that the doctors told us she had Down syndrome, and we felt sad and scared, until we learned more about Down syndrome, and about her, and we didn't feel sad and scared anymore.
I don't want to hear the next part.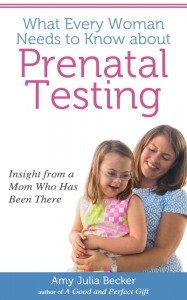 I cried when Penny said she didn't want to hear it, not because I still feel sad or scared, but because I wish that I had been prepared to welcome her without that sadness or fear. I wish I lived in a culture in which her life could be immediately celebrated as easily as my other children's. And I hope we are making some small steps towards becoming that culture, in which we recognize that every baby's life is fragile and uncertain, and every baby's life could involve suffering, and every baby's life could involve great joy.
I didn't tell her the rest of the story yesterday. We just shared our blueberry scone and she spelled "night" and "school" and "mailbox."
Part of the work I'm doing in response to Penny is to write and talk a lot about prenatal testing and the questions parents could ask themselves before their children are born in order to be better prepared for whoever comes into their lives. I had the opportunity to talk with Martha Manikas-Foster of Family Life Radio last week, and our conversation is now available as a podcast. She was interviewing me in response to my new ebook What Every Woman Needs to Know About Prenatal Testing, and we talked about how women can use prenatal testing to be prepared when their children arrive, and also about how women can make responsible choices to decline the testing. The podcast of our 30-minute conversation is available here.
In addition, shorter portions of our conversation will be part of Family Life's mid-day broadcast today. You can tune in around 12:20 to hear more.
Support our work. Subscribe to CT and get one year free.
To add a comment you need to be a registered user or Christianity Today subscriber.
Recent Posts
Telling Penny About When She Was Born, and an Interview with Family Life