Winter Makes Neighbors out of People
A prodigal daughter of the Midwest learns to love God more through a long winter.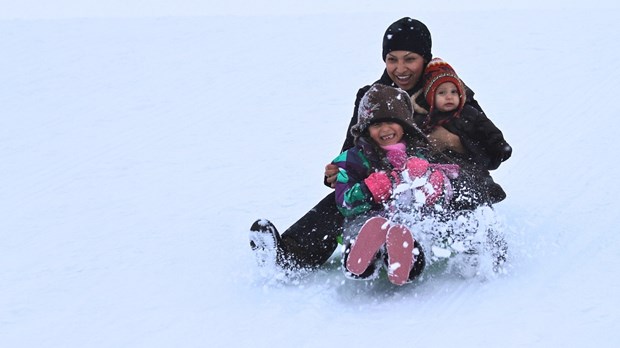 Image: courosa/flickr
As I mentioned in last week's post with Eleven Books to Help You Embrace the Snow, I have had a hard time enjoying the reality of living in the Northeast this winter. When I saw my friend Katherine's status update on Facebook about loving this winter, I reached out. Katherine is also a pastor and a lovely writer, so I asked her to explain to me why she is loving this long cold stretch. What she wrote brought tears of gratitude to my eyes. So for all the rest of you who are, like me, bracing for another storm, maybe Katherine's story can help us to see grace even in the snow days:
I grew up just beyond the reach of the Lake Erie snow belt. I dreaded winter so much that I could make myself shiver just thinking about it - a handy trick on long, muggy August afternoons. I dreaded winter so much I wouldn't even let myself enjoy the glories of autumn. Instead of seeing beauty in the red and golden leaves, I braced myself for the slow descent into chilly misery. My family barely dabbled in winter sports, so I didn't even have the thrill of sledding to buoy me through until springtime. I stayed in-state for college, torn between wanting a warmer climate and wanting to be close to my parents. After four years of scraping ice from my windshield and scheduling my classes according to how far I'd have to venture out onto the frigid campus, my graduate school discernment process was a breeze.
So it was that a few weeks after our July wedding, my husband and I set westward for sunny Southern California. I'd visited the seminary in February, and been transfixed by the novelty of gazing up at the mountain snowpack while wearing a light jacket. I was thrilled to be out of the grinding Midwestern cold for good. But when we pulled up to campus, exhausted from our cross-country road trip, the mountain range wasn't there. Granted, I hadn't grown up around mountains and was therefore unaccustomed to their nuances, but I was relatively sure that mountains did not pick up and move. Had someone at this seminary put their mustard-sized faith to the test, and triumphed? As I squinted at the blank, hazy sky where I knew they'd been, I could make out a faint outline of Mount Baldy, all but obscured behind a veil of thick smog.
The case of the missing mountains was the first of my many California disillusions. California is a great state, beloved by many, but it didn't suit me. At all. I've never felt so Midwestern in my life than during my seminary studies. I was too pale, too friendly with strangers, too terrified by the freeways, too hot in the summer, and - gasp! - too warm in the winter. I found I missed the drama of the changing seasons. I longed to feel the relief of summer, the freshness of fall, the unbridled joy of a hard-earned spring. I didn't miss winter - I wasn't that bad off - but oddly enough, I missed the camaraderie that comes with hating winter.
We didn't return to the Midwest right away. I finished seminary, and accepted a call to serve a church in Los Angeles County. I loved my church - and the ocean two blocks west of it. I doubt that any outdoor activity will ever top roller skating on the boardwalk. But the Midwest was like a magnet for us. When our daughter was born we knew we couldn't resist much longer. We had to go home.
My interview at the church outside of Chicago was, quite fittingly, in February. I was drawn to the church but still unsure if I could handle returning to a world that turned cold and gray for months at a time. It snowed during the weekend we visited, and we'd forgotten how to drive in it - how to walk in it! But the call was clear. I accepted the invitation to join the ministry staff and decided I would just have to learn to live with the weather. When they asked me what color I wanted my office to be, I chose the shade of gray-blue not because it was lovely (though it was) but because the paint chip was labeled First Snowfall. Still, I was glad that my start date was set for late spring; it gave us time to prepare ourselves.
Our first winter back in the Midwest was, to put it mildly, not mild. We had unseasonably cold temperatures and an enormous blizzard. It was the morning after that big snow that my heart started to melt for winter. My California-born kid was delighted by the snowdrifts. We made snow angels while my husband began the enormous task of digging out our driveway with a shovel. It was slow, hard work, and he was just about to take a break when neighbors showed up to help. Three men made quick work of it. (I would have joined in, but I was newly pregnant and not a little queasy.)
I have learned there are things I need to thrive in this season. I need my knee-length down parka, my fleece-lined boots, my top-of-the-line tires. I need a sled and a seven-year-old who is eager to whisk down a hill with me. I need a well-timed trip to the local indoor waterpark. But just as importantly, I need neighbors.
Winter makes neighbors out of people. We're all in it together. And it's this neighborliness - a virtue that is central to the Christian faith - that has made me love winter after all. I need to know that when the temperatures drop so low the schools close and our only entertainment is flinging mugs of boiling water off the front porch, we'll be able to bundle everyone up and go to our next door neighbors' house for a hot supper and a respite from cabin fever. I need to know that faithful churches keep opening their doors to offer shelter to the homeless, and that the support services center where my husband works extends its hours when the cold is extreme.
The apple doesn't fall far from the tree; my Illinois-born kid doesn't want anything to do with winter. Still, I point out the beauty of the season to my children - a beauty so stark and resonant it turns up time and time again in biblical literature. In Psalm 51 we pray to be cleansed as white as snow - a metaphor the songwriters of Over the Rhine set to music on their most recent winter album; in a song that shares the title of my favorite paint chip, they write, "This old dirty city/ Is cleansed of its sin/ We're all light-hearted lovers/ We're all beautiful beggars/ We're all innocent children/ As soon as it snows".
Winter is hard - no doubt. I cringed knowingly as I read my friend Jessica Mesman Griffith's haunting essay, "A Winter Soul," in which she confesses that her southern spirit is utterly broken by winters in the "Way Up North" of Michigan. I don't know that kind of winter, and would never romanticize it. Yet I'm learning to proclaim what I've learned anew, as a prodigal daughter of the Midwest: there are plentiful gifts to be found in this hard season, gifts of wisdom, community, even joy. I trudge through the slush, salt caked onto my boots and the skin under my mittens cracked and bleeding, and I murmur the words of Psalm 74 under my breath, a reminder, a prayer: It was you who set all the boundaries of the earth; you made both summer... and winter.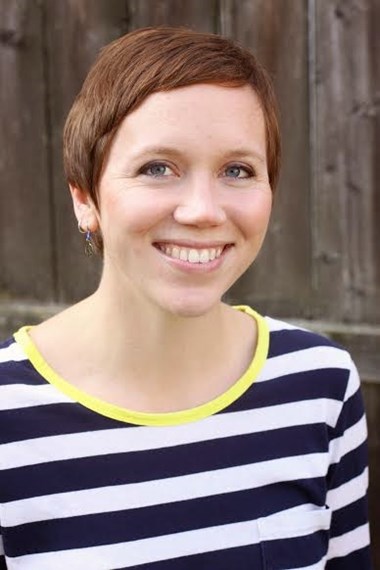 ​​Katherine Willis Pershey is an Associate Minister of the First Congregational Church in Western Springs, Illinois. She is a ​frequent contributor to the Christian Century and​ The Art of Simple​, and is the author of a memoir, Any Day a Beautiful Change: A Story of Faith and Family. She and her husband, Benjamin, have two daughters.
Support our work. Subscribe to CT and get one year free.
To add a comment you need to be a registered user or Christianity Today subscriber.
Recent Posts
Winter Makes Neighbors out of People