This month sees the centenary of the death of an English general, Sir Henry Havelock, for whom, when the news reached New York and Boston, flags were flown half-mast on public buildings and on the shipping in the harbours. "A purely voluntary tribute," commented the New York Times, "paid to his memory by a people to whom he was a stranger, who were in no way interested in his career and to whom even his name was unknown six months since. It was a tribute of respect which even the Duke of Wellington did not command."
Havelock's life still has a message for the English-speaking peoples. He had swept to fame for his exploits in stemming the tide of the Indian Mutiny, which was spreading havoc and massacre. At the moment of triumph, when the world was celebrating the relief of Lucknow, he died there on November 24, 1857, at the age of sixty-two. Were this all, General Havelock would have little relevance for today. But it was not simply as a soldier but as a Christian general, a Christian hero, that Britain and America took him to their hearts. For a whole generation Havelock was revered as the pattern on which young men should mould their lives.
Saint And Soldier
Havelock, converted by a brother officer on their voyage to India in 1823, had an outstanding purpose: "It was the great object of my ambition to be surpassed by none in zeal and determination in the path of my duty, because I was resolved to put down the vile calumny that a Christian could not be a meritorious soldier." In the steamy heat of Burmese jungles, in the excitements and privations of the Afghan and Sikh wars, and in the devastatingly dull years of routine soldiering in a climate which science and medical progress had not yet made bearable, he proved his point. Since Havelock, no one has seriously maintained that "it is impossible," as a commander-in-chief had once remarked when blocking Havelock's promotion in earlier days, "to profess to serve God and the Queen, to be at once a 'saint' and a soldier."
Havelock failed to reach high command as early as he deserved because he lacked funds, and the purchase of rank was the contemporary method of promotion. During his long years of subordinate service, however, he contributed more than any other man of his age to the moral and spiritual welfare of servicemen.
For Temperance, Dignity
The prevalent attitude to enlisted men was that of Wellington: "the scum of the earth recruited for drink." Havelock, "in the very teeth of ridicule and opposition" began a temperance movement. It was so successful in combating drunkenness that it spread throughout India; the fact that in the later nineteenth century the British soldier in India could get coffee rather than rum in the canteen was due to him.
Officers did not treat soldiers as individuals, and considered that they had no responsibility for troops outside parade hours, except to punish crime. They cared nothing for their welfare, and chaplains were almost non-existent. Havelock began Bible readings and evangelistic services for his men. He built chapels and prayer rooms, and it is small wonder that his own company became known as "Havelock's Saints," for despite the dire prophecies of his opponents discipline did not suffer, his Colonel testifying that Havelock's men were the "best behaved in the regiment." Thus, because of his Christian faith, Havelock was one of the first officers to treat his men as individuals, not mere cogs in the military machine.
His influence went even wider, for in 1833 he petitioned the Commander-in-Chief for freedom of worship to Dissenters. Roman Catholics could be excused from the Church Parade, which was always Church of England, but not Dissenters. As a result of the petition of this then unknown officer, freedom of worship was accorded to all in the British Army, at home and abroad.
When Havelock became famous in the crisis of 1857, hundreds of humble soldiers who had served with him must have told their neighbours of what sort he was. In no other way can be explained the spontaneous acclamation of Havelock as above all else a Christian. Before he died he knew that his plain unvarnished witness, his long endurance in face of disappointment and calumny, had received the reward he most coveted—a national exaltation of Christ.
Henry Havelock should be set beside his contemporaries, Robert E. Lee and Stonewall Jackson, and beside Gordon of Khartoum, as a Christian soldier. He was not however, an eccentric like Gordon or austere and reserved like Jackson.
After his death a spate of biographies appeared on both sides of the Atlantic, fashioning him in pure white marble, a man of forbidding moral perfection. If that had been so he would have little message for the present age, which has no patience with unreality. But Havelock was not an angel but a Christian, a sinner saved by grace—human, and therefore a sinner to the end. His hopes and fears, his tendency to melancholy, his money-worries, his loneliness when parted by the exigencies of service from his wife, daughter of the great missionary Joshua Marshman, are all shown in his private letters which were recently discovered. Through them shines also his faith: "I have Jesus Christ to trust to and his presence to comfort me. Yet in this mortal state we do feel keenly. Pray for me."
The inscription on Havelock's grave, still to be seen at Lucknow, proclaims that his character was "the result of the influence of the Holy Spirit on his heart, and a humble reliance on the merits of a crucified Saviour." Growth in grace continued to the end, and it was the final flowering of his character in circumstances of extreme provocation which at last brought his eldest son, a few days before Havelock's death when they were serving together, to give his heart to Christ after long years of stubborn resistance.
Havelock's life, in its excitement and interest, must appeal to young men on both sides of the Atlantic. His is a character that may be extolled as an example, and one which will attract. The vast majority of Christians serve God in ordinary avocations and Havelock's example will help them to do it.
His secret was the friendship of Christ. And that remains his message. "It is a happy thing beyond description," he once wrote, "to have a heavenly Father and a powerful Friend in whom to put our trust."
J. C. Pollock is Editor of The Churchman, a quarterly journal of Anglican theology. He holds the M.A. degree from Trinity College, Cambridge. During World War II he served in the Coldstream Guards. His most recent book, The Road to Glory, published in England by John Murray, is the story of the distinguished Christian general, Havelock of Lucknow, of whom he writes in this article.
Have something to add about this? See something we missed? Share your feedback here.
Our digital archives are a work in progress. Let us know if corrections need to be made.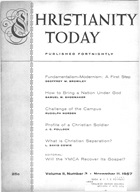 This article is from the November 11 1957 issue.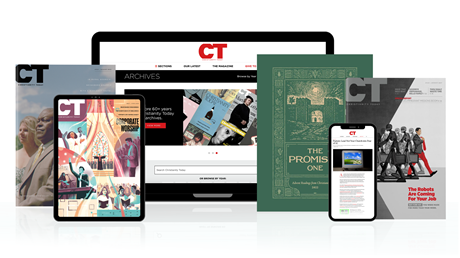 Annual & Monthly subscriptions available.
Print & Digital Issues of CT magazine
Complete access to every article on ChristianityToday.com
Unlimited access to 65+ years of CT's online archives
Member-only special issues
Subscribe
Profile of a Christian Soldier
Profile of a Christian Soldier