In the last day, that great day of the feast, Jesus stood and cried, saying, If any man thirst, let him come unto me, and drink (John 7:37).
Great Day of the Feast—A few days after the ceremonies of the great day of the Atonement, in which solemn expiation was made for the sins of the people, the Feast of Tabernacles was celebrated. This feast commemorated the passage of the Israelites through the wilderness, and was celebrated with such joy that both Josephus and Philo call it "the holiest and greatest feast." It was kept for seven consecutive days, from the 15th to the 21st of Tisri, and the 8th day was celebrated by a holy convocation. Each morning a vast procession formed around the little fountain of Siloam down in the valley of the Kedron. Out of the flowing waters the priests filled a large golden pitcher. They proceeded to the temple and one of the priests poured the water upon the altar. As the water was poured the people joined in the song of praise, "God is my song, He also is become my salvation! Therefore with joy shall ye draw water out of the wells of salvation."
In the midst of this magnificent festal rejoicing, Jesus cried aloud, If any man thirst, let him come unto me and drink. It is the cry which resounds throughout the whole of Scripture and which had already been laid upon the kindly lips of prophets. Jehovah's invitation, "Ho! every one that thirsteth, come ye to the waters," Jesus here distinctly appropriates to himself. In this cry the Lord Jesus delights to reveal his readiness to save all souls needing salvation, from the time of his pronouncing those blessed who thirst, in Matthew 5:6, on to the word in Revelation 22:17, "Let him that is athirst, come; and whosoever will, let him take the water of life freely!"
Quenching Of Thirst
He stands there on the great day of the feast, and around him are men who for seven successive mornings have witnessed acts and uttered words telling, though they know it not, of the true satisfaction of spiritual thirst, and thinking of the descent of showers on the thirsty ground, and in some vague way of the Holy Spirit's presence. They are as the woman of Samaria was by the side of the true well. For every one who really knew his need, the source of living water was at hand.
C. J. ELLICOTT
Christ calls on the thirsty soul to come and take of that water freely. How pleasant to find that all this is in harmony with the grand invitation of the Evangelical Prophet, "Ho, every one that thirsteth, come ye to the waters, and he that hath no money; come ye, buy and eat; yea, come, buy wine and milk without money and without price,"—showing the same spirit pervading as well the Old Testament Scriptures as the New, illustrating the unity and harmony of the whole Book, and pointing to the fact that from the very beginning the same salvation has been preached as the pure and free gift of God.
P. W. GRANT
Thirst, like hunger, is something of which we are acutely conscious. It is a craving for that which is not in our actual possession. There is a soul thirst as well as a bodily. The pathetic thing is that so many thirst for that which cannot slake them. Their thirst is for the things of the world: pleasure, money, fame, ease, self-indulgence; and over all these Christ has written in imperishable letters, "Whosoever drinketh of this water shall thirst again." But in our text Christ is referring to a thirst for something infinitely nobler and grander, even for Himself. He speaks of that intense longing for Himself which only the Spirit of God can create in the soul.
ARTHUR W. PINK
The expression thirst is to be here referred to that strong and quenchless desire which springs up in the soul, ill at ease through the upbraidings of a wounded conscience and a sense of the hollow and deceitful nature of earthly good, for something better, more substantial, and congenial with the cravings of the immortal spirit within. Under the imagery of one thirsting for water, which everywhere, and especially in countries like Palestine where the want of water is so frequently experienced, would be well understood, our Lord proffers to all such persons that which will forever satisfy the longings of the soul and give it permanent rest.
JOHN J. OWEN
He who thirsts is just the man who is conscious that he needs something to make him happy, and who is desirous of obtaining it. It does not matter whether he be right or wrong in the estimate he has formed of that, the want of which, he thinks, is the cause of the uneasiness he feels, and the attainment of which, he thinks, would remove that uneasiness. He may be thirsting for that which, instead of quenching, would inflame his thirst. He may be desiring and seeking that which, were he to obtain it, would make him still more miserable. To bring him within the range of our Lord's invitation, it is enough that he thirst—that he is destitute, and desirous, of happiness.
JOHN BROWN
When our Lord represents himself as the fountain which can quench the thirst for happiness of all mankind, he intimates that he is capable of making men, however miserable, truly happy,—that he can supply all the wants, satisfy all the desires, of the human soul. Man has a mind, and, as an intellectual being, he is naturally destitute of the knowledge of the truth about God, which is necessary to the true happiness of a being constituted as he is. Jesus is the great revealer of God; he is the truth. Man has a conscience; and as an accountable, guilty being, he needs pardon and acceptance with God. "The blood of Jesus Christ cleanseth from all sin." Man has a heart; and he needs a suitable object on which to place the affections of supreme veneration, and love and confidence; and God in Christ is the suitable and satisfying portion of the heart, the appropriate object of the supreme esteem and entire confidence. Man is weak, and he needs strength; and Christ can "strengthen, with all might in the inner man." Man is mortal, and needs deliverance from death, and the grave; and Jesus is "the resurrection and the life."
JOHN BROWN
Gracious Invitation
Jesus is no longer visible upon earth; but he has promised his spiritual presence to abide with his word, ordinances, and people, to the end of time. Weary and heavy laden souls have now no need to take a long journey to seek him: for he is always near them, and in a spiritual manner, where his gospel is preached.
JOHN NEWTON
It does not appear that those to whom our Lord spoke in person were so much perplexed as many are now, to know, what coming or believing should mean; he seems to have been understood, John 6:30; 19:36, both by friends and enemies. Many questioned his authority and right to exact a dependence on himself; but they seemed to be at no difficulty about his meaning. Coming to him implies a persuasion of his power, and of their own need of him help. They knew that they wanted relief, and conceived of him as an extraordinary person empowered and able to succour them. They depended on him for salvation, received him as their Lord and Master, professed an obedience to his precepts, accepted a share of his reproach, and renounced everything that was inconsistent with his will, Luke 9:23–61.
JOHN NEWTON
Come signifies our approach to an object or person. It expresses action, and implies that the will is operative. To come to Christ means, that you do with your heart and will what you would do with your feet were He standing in bodily form before you and saying, "Come unto me." It is an act of faith.… Make sure that nothing whatever is substituted for Christ. It is not come to the Lord's table, or come to the waters of baptism, or come to the priest or minister, or come and join the church; but come to Christ Himself, and to none other.
ARTHUR W. PINK
And drink—It is here that so many seem to fail. There are numbers who give heart-exercise, or a conscious need of evidence of an awakened conscience, of Christ; and there are numbers who appear to be seeking Him, and yet stop short at that. But Christ not only said, "Come unto me," but he added, "and drink." A river flowing through a country where people were dying of thirst, would avail them nothing unless they drank of it. The blood of the slain lamb availed the Israelite household nothing, unless the head of that household applied it to the door. So Christ saves none who do not receive him by faith.
ARTHUR W. PINK
Whosoever drinketh of the water I shall give him shall never thirst; but the water that I shall give him shall be in him a well of water springing up into everlasting life.
JOHN 4:14
Have something to add about this? See something we missed? Share your feedback here.
Our digital archives are a work in progress. Let us know if corrections need to be made.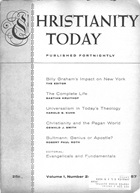 This article is from the September 16 1957 issue.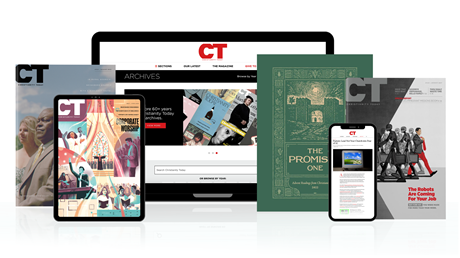 Annual & Monthly subscriptions available.
Print & Digital Issues of CT magazine
Complete access to every article on ChristianityToday.com
Unlimited access to 65+ years of CT's online archives
Member-only special issues
Subscribe
Bible Text of the Month: John 7:37
Bible Text of the Month: John 7:37