SPECTATORS
Americans are all screened these days—by the TV set. The screen separates a few hyper-tense performers on a ball diamond or in the studio from spectators relaxing in the bars, living-rooms and dens of the forty-eight states. Never have so many lost so much to so few.
Fortunately some have escaped the contour chair of spectator sports. Even the country club has members who will occasionally desert the TV lounge for an afternoon on the links. As the coach has often reminded us, the school football program still demands self-discipline for the glory of Alma Mater and several thousand paid spectators. Progressive education has not affected squad scrimmages!
Off the athletic field, discipline is rare. This fall school teachers face again the relaxed teens in loafers with the loose look and desperately resume the struggle in a strategic position much deteriorated from the long summer truce.
A preacher can sympathize. The stifled yawns of relaxed worshipers are symptoms of spectator Christianity, slumped smugly in the sanctuary. The most evangelical parson might be tempted to prescribe for his flock the rigor of the canonical hours that summon monks to prayer.
Discipline should begin with the preacher. If he prays more in public than in private and makes fewer calls than any doctor, insurance salesman or Fuller Brush man, he needs self-examination. A popular style of preaching is the stream-of-consciousness method, a flexible, freeform discourse in which the preacher passionately or pompously says whatever comes into his head. The cure is the discipline of the study. Scientific exegesis of the Scriptures and a return to the bracing richness of the creeds can bring new meaning to preaching.
Lazy Christianity that avoids hard thinking and hard work will never reach America's spectators with the gospel.
EUTYCHUS
NIEBUHR AND GRAHAM
A subtle movement is on to discredit Billy Graham and his message before the world and the Christian church. Dr. Reinhold Niebuhr has become the spokesman for Protestant enemies of the Graham crusades: In Life magazine (July 1, 1957) Dr. Niebuhr accuses Graham of "simplifying the issues of life" in his crusade sermons. From his theological citadel of New York's Union Theological Seminary he denounces Dr. Graham's evangelism declaring that (1) he "exemplifies a typically frontier American evangelism"; that he (2) has "neglected to explore the social dimensions of the Gospel," and that (3) "this new evangelism is much blander than the old."
Dr. Niebuhr attacks "frontier American evangelism" because of its condemnation of the "old self" and its emphasis on the need of "decision for Christ." But this is precisely the method which brought the Christian church into existence, preserved her and made her spread out to the ends of the earth. The apostolic message and method was the same Graham is carrying to the world today.
It was not the liturgical priesthood nor the theological Pharisees or Saducees which promoted Christianity, but those "frontier" men of Galilee who were personally regenerated and therefore able to carry the message of new life across national, racial, cultural and social frontiers of their day. This same frontier evangelism saved Christianity in the Middle Ages from the liturgy and formalism of dead Romanism. It saved Protestant Europe in the eighteenth century, through Wesley, Whitefield and others, from national, social and religious corruption. It is not present-day liturgical Rome nor Niebuhr's modernized theology which can save America from corruption and destruction, but new life in Christ Jesus brought to us through the channel of what the Bible says. There is no other way to change men's lives, morally, socially and culturally, than grafting of Christ's new life into the "old self" life.
Can Dr. Niebuhr prove his assertion that "Such evangelism, with its continual emphasis on the individual saving his own soul, neglects to explore the social dimensions of the Gospel"? Individual regeneration is the only effective way to reform society. Only in the heart of individuals who are open to the Gospel seed can a better ethical and moral standard be planted.
Communism is progressing on the very same principle, that reform is built on small cells of individuals having accepted unconditionally the tenets of communistic ideology. While Niebuhr is working with abstract formulas for reform of New York's teeming millions, hundreds of them are individually "converted" each week to Communism through surrender of "self" in "decision for" Karl Marx.
We wonder if Dr. Niebuhr has ever taken the time to hear a whole sermon by Dr. Graham. If he had, how could he say "This new evangelism promises a new life, not through painful religious experience but werely by signing a decision card." After having heard Graham a dozen times in soul-searching messages demanding complete change of moral and ethical life toward men, in repentence toward God, my impression is that not since Savonarola have men heard an evangelist who has thundered so much against spiritual as well as social sins.
Can we wonder at Dr. Niebuhr's assertion that "relatively few New Yorkers attend the Garden meetings" when we consider that nearly two thirds of New York's population are of the Jewish race or Roman Catholics? Dr. Niebuhr, who wants to be spokesman for its 8 per cent Protestant population, warns both Jews and Gentiles against Graham. Roman Catholic leaders are glad to mingle their voices with his. The greater part of New York's religious life is encased in formalism, a shell which Dr. Niebuhr's theology has not been able to crack.
God is in the process of breaking open this shell of estrangement from him. Through united prayers of Christians around the world God is tearing down the temple walls which New Yorkers have erected for their mammon and bacchus worship. A few days ago I went to call on a new convert whose name and address had been mailed to me from the Garden Crusade office. I found him in one of Brooklyn's swank apartments. This prominent Latin American businessman said to me, "My wife is a strong Catholic, but I have frequently attended Billy Graham's meetings. I have given my heart to Christ."
If Dr. Niebuhr would dedicate more of his time to the "narrow" channel of "frontier evangelism" and less time to filling the "chasm between Christian pietism and modern scientific culture," he would find with Graham that the approach to life's problems is not "too simple and narrow," for both the man in the street as well as the erudite scholar may find solution to all life's problems in the presence of Christ the Saviour and through what the Bible says. Director of Evangelism OLAV EIKLAND Latin Evangelical Free Church Brooklyn, N. Y.
ROMAN CATHOLIC GAINS
"Roman Catholics are increasing by leaps and bounds in America" seems to be a belief of many Protestants.
It simply is not true, and it is surprising that so few Protestants are familiar with the statistics which are to be found, incidentally, at periodic intervals in "Information Service" of the National Council of Churches.
Here are a few figures: In 1906, Roman Catholics were 37% of all church members in the USA. In 1956 they were 34%. In 1906, Catholics were 16.5% of the whole American population; in 1956 they were 20%, an increase of 3.5%. During that time much of the immigration was Roman Catholic. During the same fifty years, non-Catholics increased from 24.3% in 1906 to 40% in 1956, for a gain of over 15%. In other words, from 1906 to 1956, Protestants and Jews increased at a ratio of 4 times as rapidly as Roman Catholics.
Two other items are significant: 1. of the 531 members of Congress, 94 or 17.5% are Roman Catholics. 2. of the 48 governors, 5 or 9.6% are Roman Catholic.
Interpretations of these statistics may vary but at least there are the figures.
WILLARD JOHNSON
Barrington, Ill.
• The present population of the United States is 171,000,000. The Roman Catholic population of the United States is between 32,000,000 and 33,000,000 at the present time. The United States has 223 archbishops and bishops.
In 1906, according to the Catholic Directory on file at Catholic University Library, the Catholic population of the United States was 12,651,000. At that time the total population of the United States was close to 80,000,000. (It was 75,900,000 in the 1900 census.) At that time there were 104 bishops and archbishops.
In 1857 the Catholic population of the United States was 2,064,000. At that time there were 29 bishops and archbishops. The U.S. population, as a whole, was about 25,000,000 (23,190,000 in census of 1850).
In the last 50 years the Catholic population has increased about 275% while the whole U.S. population was increasing about 212%. Therefore, a contention that the non-Catholic population of the United States is increasing more rapidly than the Catholic is not borne out by the facts. However, Roman Catholic statistics include everyone ever baptized in a Roman Catholic church and there are a certain percentage who have lapsed from the church.
The Catholic membership in Congress is now 96 out of 531, the highest it has ever been, except for a brief time this session when it was 97 (prior to Sen. McCarthy's death)—ED.
REVIVALISM'S RESIDUE
I hesitate to ask you to print a rejoinder to R. J. Rushdoony's review of my book, Revivalism and Social Reform, (June 24 issue) lest I appear ungrateful for the many kind things he did say. But the more critical portion of his essay identifies me, personally, with the doctrines of the men whom the book describes. I fear the result will be that many of your readers, whose fellowship I cherish, may think that I am now outside the pale of evangelical fellowship. So please accept this brief apology and confession of faith.
I certainly do not rejoice in the triumph of the Social Gospel in American Protestantism. I regard the seizure by radical liberals of the proprietorship of the parable of the Good Samaritan as one if the great ironies—and falsehoods—of our time. Similarly, the doctrine of America's "manifest destiny" is odious to me. For most of my short life I have held to the a-millennial "variant of the beliefs which [William] Miller's demise discredited," without regard to who "spawned" it. Far from being blindly prejudiced against Calvinism, I have taken heart at every movement in recent scholarship or piety which has opened up an avenue to the reconciliation of Wesleyan and "Calvinist" evangelicals. Our division is the least defensible of any which affiict modern Christendom.
But the facts are that in the mid-nineteenth century revivalist churchmen did identify the Kingdom of God with the American dream. They were largely postmillennialists. They did blaze the trail which Social Christianity later followed. They nourished the ecumenical spirit. Christian perfection made remarkable headway among them. And they nearly all believed that old school Calvinism was a superannuated theology, closely identified with the reaction against political and social democracy. All this was as true of Presbyterian, Congregationalist and Baptist revivalists as of their Lutheran, Low Church Episcopal and Methodist brethren.
I thought these things important and tried to tell the story which lay back of them with accuracy and enthusiasm. That the writings of old school Calvinists, so long quoted by secular historians as typical of "Christian" opinion, were in fact a minor current quite outside the mainstream of American religious life in the period, seemed important to point out. This applies to Warfield's later studies of perfectionism, too, though the reviewer could not but have noticed that the stricture which he deplores was also applied in the same sentence to the work of a recent Wesleyan scholar and referred only to their inadequate treatment of "the social dynamics of the movement" (p. 238).
Mr. Rushdoony's statement that the chapters on the rise of Christian perfection contain a genealogy which omits reference to the black sheep of the family will, I think, seem strange to those who read the book. Please note the uncomplimentary facts recorded concerning Asa Mahan (p. 111), T. C. Upham (p. 144), the Free Methodists (pp. 129–132), W. E. Boardman (p. 234) and Bishops Janes and Hamline, architects of the Methodist bishops' policy of silence on slavery (pp. 211–212). All these were clearly in the "second blessing" camp. I doubt if the reviewer seriously believes that "sexual communism" is an inevitable concomitant of Arminian or Wesleyan revivalism. But just to make sure all the evidence was in, I referred to John Humphrey Noyes (who was neither an Arminian nor a Wesleyan) and the Oneida community five times (see index).
One final note. The "something", as the reviewer put it, to which I referred as being potentially "as dry as Johnathan Edwards' bones and just as sterile of saving compassion" was (p. 92) Arminian Orthodoxy. But I hasten to acknowledge that such a reference even to that dear Calvinist's bones was unfortunate, especially if it leads any to suspect that I have not read Perry Miller on Edwards!
TIMOTHY L. SMITH
First Church of the Nazarene
Boulder, Colo.
THE RISING TIDE
At 80, after 57 years in public Christian work, I can truthfully say your magazine met a long felt need in our library.… Being now retired, a good, sound paper is a good companion.…
JOHN O. FERRIS
Crystal Bay Presbyterian Church
Wayzata, Minn.
Have something to add about this? See something we missed? Share your feedback here.
Our digital archives are a work in progress. Let us know if corrections need to be made.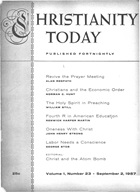 This article is from the September 2 1957 issue.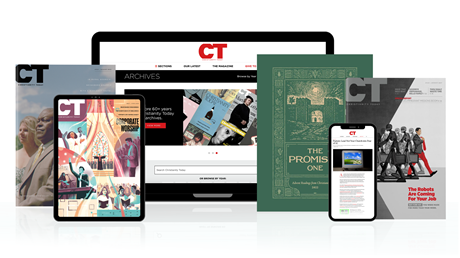 Subscribe to Christianity Today and get access to this article plus 65+ years of archives.
Home delivery of CT magazine
Complete access to articles on ChristianityToday.com
Over 120 years of magazine archives plus full access to all of CT's online archives
Subscribe Now
Eutychus and His Kin: September 2, 1957
Eutychus and His Kin: September 2, 1957