He that is joined unto the Lord is one spirit (1 Cor. 6:17).
How close does Jesus Christ come to the lives of those who have trusted in him? Is he spectator solely, or is he an active participant in the lives which believers live? If a participant, does he help only at points and at moments, with intervals and absences between, or is his influence continuous? And if continuous, how close does he come? Is there some inner life connection? Are our lives somehow so related to his that, could we scan the inner foundations where the two join, we should find ourselves in some manner actual sharers of what he is?
Men may hesitate before such questions, but there is no hesitation in the New Testament Scriptures. Whatever the mystery involved, there is no fact which the New Testament sets before us more variously or plainly than our vital union with Christ. The Spirit of the Lord is represented as so interpenetrating and energizing the spirit of the believer that the two are—oh, the marvel of it!—"one spirit" (1 Cor. 6:17). This is not metaphor, but fact. Not a figurative "oneness," a harmony of spirit, an identity of aim, but a literal oneness of life. Union with Christ is represented not as loving Christ, following his precepts, sympathizing with his aims. In this sense I might be one with Martin Luther or George Washington. The believer is one with Christ in a sense far deeper than that in which he is one with patriots, fellow Christians, or friends. He has become a participant in Christ's life. The believer lives in Christ as truly as he lives in the atmosphere about him. Christ lives in the believer as truly as the air fills his lungs with the breath of life. For the believer has become "one spirit" with his Lord.
The Reality Of Oneness
How much we lose by taking substance to be shadow, by allegorizing the great truths of the Bible, by treating as mere orientalisms statements that otherwise
would startle us with their grandeur and open miraculous vistas of Christian living to the hopeless and despondent. The traveler in the desert sometimes sees upon the horizon waving palms and sparkling pools of water that lure him on and on, only to fade into thin air. But how much more tragic if he mistakes reality for mirage, and when he might press forward and be saved, sinks fainthearted upon the sand!
Oneness with Christ is a truth that baffles all description and confounds all philosophy. Intimations, foreshadowings of it there are, to be sure, in the world around us. The tree standing in front of my house depends on God. His power lives in it, sustains it, and he clothes it in a leafy robe. Yet God is not the tree. In cutting it down I should do no violence to God. And God lives in man's natural life. He gives me strength to think, to strive, to lead my daily life, while all the time not destroying my independence. My sins are mine, not God's. Yet how poor are all analogies beside the unique relationship which comes to pass when Christ enters into the human soul and makes it, not a Leyden jar, a mere receptacle for his energy, but a temple resplendent with his presence, a tabernacle for his personal indwelling!
This is the astonishing truth that our Lord set forth under the figure of the vine and the branches. A vine with leaves and branches, with arms stretched forth laden with fruit, may seem a thing far removed from the life and relationships of responsible and free men and women; yet our Lord never would have employed the figure had it not imaged forth the half-concealed reality behind it. A vine is a unity. Its branches are only individualized stock. Stock and offshoots together form one organism. One life pervades the whole; and the supreme "concern" of the branch is, as it were, to live in the uninterrupted power of the union on which fruitfulness depends. "Abide in me," Jesus told his disciples, "and I in you."
More impressive still is the vastly significant fact that Jesus likened his oneness with his disciples to his own oneness with the Father. "I in them," he prayed, "and thou in me" (John 17:23). That sets the thoughts soaring. Was our Lord's union with his Father not a life union? Nothing less, then, is his union with his followers. This is a mystery. It was to his disciples; these babes in understanding did not at once grasp even the fact of it. But a day of revelation was coming, Jesus promised, when they should know that he was in his Father, and they in him, and he in them (John 14:20).
"Christ In You"
The Apostle Paul stands out as the most potent human examplar of vital relation. He is the man God chose to put Christianity into the form in which it has won its greatest victories for nineteen centuries. How did Paul live his life and do his work? This same life union with the Master is the answer. Union with Christ is the secret of the life of Paul. It is the cornerstone of his theology, and the key to unlock all the mysteries of his epistles.
"In Christ," "in Christ," "in Christ!" How the phrase recurs on Paul's familiar pages. "I hope in the Lord Jesus to send Timothy to you." "I trust in the Lord to come to you." "I thank my God through Jesus Christ for you all." Is there anything this man thinks, feels, believes, prays, hopes, plans or remembers, except through the will and power of the One within him?
A discouraged evangelist, so Bishop Moule once told us, was making his way through a field in solitude, his forces spent, his obstacles and burdens mountainous and hopeless. Suddenly, as though Spirit-prompted, these words stole into his mind: "When Christ, who is our life, shall be manifested, then shall we also be manifested with him in glory." Then He came into view, of whose fulness we have all received, and who quickens whom he will. The burdens were rolled upon His shoulders, and a revived servant of God once more turned courageous steps into the path of surrender and faith.
Christ The Believer'S Life
How plain it is that our union with Christ is not "fidelity in the free imitation of the Master," as some would have it, to whom every soul is severely separate and discontinuous and a teaching like that of the vine and the branches nothing more than a figure for the moral harmony that should exist between the disciple and his Lord. Trees do not root themselves in the air. Souls are not self-subsistent. Christ is our life. Those are bereft indeed whose little systems will not allow for a vast underground relationship lifting the strain from life, discovering our true glory, and making our chief task the joyous experience of abiding and believing.
How plain it is, too, that to receive the "life of Christ" is to receive the Christ who lives it. Life has no existence by itself, as though it could be stripped from a person as a coupon is stripped from a ticket or a skin from an onion. Life is a property, a function, of someone. If it is imparted at all, it is imparted only in and with the person who possesses and lives it. Why then should we build these abstract barriers between ourselves and Jesus our Master? First we build them, and then we deify them. But if his life is in us, it is because he himself is within us, living that life as his divine and blessed function. It is because, whether our intellects penetrate to it or not, he and we are one in a union divine and indissoluble.
Results Of Oneness With Christ
Now if union with Christ is as wonderful as this, what of its results? Must they not also be wonderful? It is simply a question of the wealth and potency of the wonderful divine being we know as our Lord and Master. Paul hints at one result when he says, "If any man be in Christ he is a new creation. The old has passed away. Behold, the new has come." How could it be otherwise? What is the new birth but the beginning of the new life which now is come, revealed to the eyes of faith by the Spirit of the Lord dwelling within us?
Another result of union with Christ is hinted at when we read, "There is now therefore no condemnation to them that are in Christ Jesus," and we find that the law of the new relationship in Christ makes us free from the old law of sinning and dying. Nothing could be more triumphant than the assurances which meet us on every hand of an immediate, complete, and continuous deliverance, wrought by Christ within us, from the seductiveness and strength of long-entrenched sinful habits.
A lovely fruit of this union is disclosed in the unity of the spiritual life which springs up between all believers. Severally members of Christ, they become together the Church, the Body. Possessing Christ as individuals, they have this supreme experience in common. Only Christians understand one another and are truly at home with one another. The Epistle to the Ephesians sets forth the glory of the Church of which Christ is the head, and which, drawing from his inexhaustible life, enters joyfully into the length and breadth and depth and height of the purposes of God.
A crowning result of this oneness with Christ remains in the eternal life with which Christ even now blesses his followers. How shall I live forever unless I am joined to him who is "the Life"? Cut off from the source of life, the "well of living water," I shall surely die; but if I have trusted Christ, if I have cast in my lot with him, if I have become one spirit with him, then who shall separate me from his love? "For if we have become united with him in the likeness of his death, we shall be also in the likeness of his resurrection."
"Abide in me, and I in you." There lies the emphasis. What we yield to Christ is as nothing beside what he bestows upon us; and even our power to yield must be drawn from his storehouse of grace and power. Yet even this becomes possible because he abides in us.
To abide then, what is it? It is to give and to take. Both are absolute. Both are continuous, calling for daily and hourly renewal. We are entirely Christ's—that is the first step; we have deeded ourselves over, body and soul, with every faculty and power, to be his exclusively. And then he is entirely ours, with the wealth of his nature, with the riches of his wisdom and strength and love. We live for Christ, and Christ lives for us. We make the self-renunciation involved in the first. We claim the riches involved in the second. And we do both, because "Christ lives in us, the hope of glory."
END
Professor Norman C. Hunt occupies the Chair of Organization of Industry and Commerce in the University of Edinburgh. He is a Sir Edward Stern scholar and a first-class honors graduate in Commerce at the University of London and holds the Ph.D. from Edinburgh. He is a member of the British Institute of Management and a director of the Edinburgh Chamber of Commerce. An elder of Charlotte Chapel, the largest Baptist church in Scotland, he is also president of the Edinburgh Evangelistic Union and president-elect of the Inter-Varsity Fellowship of Great Britain.
Have something to add about this? See something we missed? Share your feedback here.
Our digital archives are a work in progress. Let us know if corrections need to be made.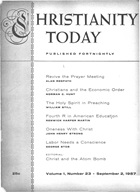 This article is from the September 2 1957 issue.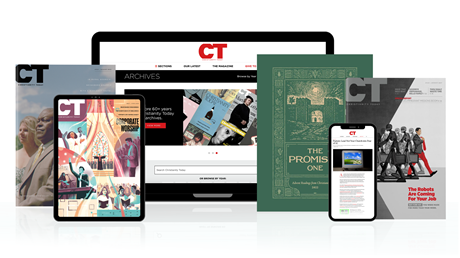 Annual & Monthly subscriptions available.
Print & Digital Issues of CT magazine
Complete access to every article on ChristianityToday.com
Unlimited access to 65+ years of CT's online archives
Member-only special issues
Subscribe
Oneness with Christ
Oneness with Christ