There was little startling about a statement last month from the Roman Catholic hierarchy in America recording its opposition to public assistance for promotion of artificial birth prevention. The declaration was only a logical extension of Catholicism's well-known stand against use of contraceptives. But timed for release on Thanksgiving morning, the 1,516-word statement (formulated a week earlier at the 41st annual meeting of U. S. Catholic bishops) won headlines across the country.
Within hours birth control had become a major U. S. controversy which soon took a political turn. Senator John F. Kennedy, leading Catholic presidential aspirant, said he thought it would be a "mistake" for the United States to advocate birth control in under-developed countries. President Eisenhower said this would never happen while he is in office.
Reaction from Protestant quarters found a division of opinion on the morality of birth control itself.
Among evangelicals, the hullabaloo perhaps served to crystallize some convictions. Prodded by controversy, many went anew to the Bible for a re-examination of views on the legitimacy of sex severed from its procreative role. Most evangelical leaders were willing to state beliefs even when these conflicted with convictions of fellow Christians.
Catholic Practice
What advice do Roman Catholic physicians give to married women who request contraceptives?
Among 244 U. S. Catholic physicians who responded to a survey, 29 per cent flatly disagree with the dogma of their church and say they recommend contraceptives.
Another 24 per cent say they agree with Catholic teaching that such methods of birth control are immoral but will give advice to a patient who asks.
The remainder—47 per cent—say they refuse to give the patient, even if she be a non-Catholic, any advice on avoiding conception by means other than continence and the "rhythm method."
The survey was conducted by Drs. Sydney S. Spivack and Jerald T. Hage of the Bureau of Applied Social Research at Columbia University. Their report was presented to the 1959 convention of the American Sociological Society.
Dr. Herbert E. Mekeel, president of the National Association of Evangelicals, said he is "firmly against any form of birth control."
"God has never revoked his great command to 'be fruitful and multiply,' " Mekeel declared.
Dr. Oswald C. J. Hoffman, speaker on radio's "Lutheran Hour" (Missouri Synod-Lutheran Laymen's League), stated:
"It is a moral issue of such consequence that people have to decide for themselves on the basis of their own conscience and on the teachings of the Word of God."
Dr. P. Kenneth Gieser, president of the Christian Medical Society, also left it "entirely up to the individual."
"Some use of contraceptives is necessary," he added. "I do not see that they are harmful or unscriptural."
Professor Merrill C. Tenney of Wheaton College asserted that birth control must be a personal matter of "prayerful agreement and self-control rather than promiscuous use of chemical or mechanical aid."
Professor Bernard Ramm of California Baptist Theological Seminary characterized birth control as part of the "rational control of nature which involves risks and responsibilities."
He said man exerts similar control in such acts as the amputation of a limb or the damming of a stream, either of which can be done rightly or wrongly.
Professor Edward J. Carnell of Fuller Theological Seminary agreed that contraceptives have their place in the Christian home:
"I hold that the end of marriage is the total creative work of two lives that have been joined together to glorify God and to enjoy one another. The whole question of the marital relation is evaluated from within this created relation and no one from the outside of this relation can dictate by simple law how lovers can govern themselves. The question of contraceptives is simply one expedient within the creative possibilities of love."
Dr. Harold J. Ockenga, minister of Boston's Park Street Church, declared that "I don't think there's anything wrong with birth control per se."
Ockenga fears that in international sharing of birth control information, however, the data might get in the wrong hands. He sees the problem as one of "getting the information to the people who need it in order to check the "population explosion."
Dr. Samuel M. Shoemaker, rector of Calvary Episcopal Church in Pittsburgh, said: "As it would be wrong to foist birth control upon unwilling people, it is also wrong to keep the knowledge from ignorant people who seek this information to insure smaller families."
The Scriptures do not discuss birth control (avoidance of parenthood was unheard of in biblical times), so the position of evangelicals is one of the liberty of a good conscience before God.
Interestingly, the birth control controversy flared as the Christian world prepared once again to mark the Bethlehem birth of the Saviour. God's sovereignty over the human reproductive process, exhibited nowhere more strikingly than in the incarnation, fell into the background, however, as the debate wore on.
In Honor of Darwin
A brilliant array of scholars responded to beckonings of the University of Chicago for its Darwin Centennial Celebration, November 24–28, and the resulting galaxy was perhaps the most memorable feature of the gathering. Numbered among approximately 2,500 attendants from 27 countries was another Charles Darwin (grandson of evolution's bright light), who dolefully predicted that over-population and resulting complications would cause a return to hard conditions of life and the diminishing of human intelligence.
But it was another grandson of a famous British scientist who ran off with the headlines, and he did it with an old, old story. Sir Julian Huxley, scion of Thomas Huxley, predicted the disappearance of religion—a product of evolution like everything else—from earth, through "competition with other, truer, and more embracing thought organizations." He saw no "need or room … in the evolutionary pattern of thought … for supernatural beings capable of affecting the course of events."
There were many rejoinders. Dr. Jaroslav Pelikan of the University of Chicago's Federated Theological Faculty said that theologians now believe so deeply "in the task of science that they will not let scientists pose as theologians." Other indictments of Sir Julian from church spokesmen: "naive" and "old-fashioned."
Unfortunately the rebuttals seemed to come chiefly from religious leaders (who accepted evolution but not atheism—as did a participating Roman Catholic scientist) and not from science professors.
Christians tremble for the West as they see unbelief ensconced in high places of influence in their supposedly "Christian" society. Given a mushrooming of this influence through educational institutions, and who could question the divine indictment: "A plague on both your houses!"
F.F.
Protestant Panorama
• Sunday church attendance in Sweden averages little more than three per cent of the entire population, according to a newly-released report from the state Lutheran church to which 95 per cent of Swedes belong.
• The American Tract Society is distributing a new tract featuring the personal testimony of Gov. Mark O. Hatfield of Oregon.
• The executive committee of the Greater Seattle Council of Churches says it is against proposed licensing by the City Council of a commercial service designed to provide dine-and-dance companions for men.
• The National Labor Relations Board last month dismissed a petition by a Teamsters local to organize employees of the Baptist Sunday School Board in Nashville.
• A thief who broke into Baptist Editor Floyd Looney's car during a session of the Southern Baptist General Convention of California took not only a wardrobe of clothes but a 40-year collection of sermons.
• The Canadian Lutheran Council, at an annual meeting last month in Winnipeg, adopted a record budget of $71,000 for 1961.
• The life of Dr. Norman Vincent Peale will be the topic of a movie slated by Hollywood producers.
• The National Association of Evangelicals is sponsoring a "Universal Week of Prayer" January 3–10.
• The Board of Education of the Presbyterian Church in the U. S. turned down last month an offer of $250,000 cash plus land for a new building in Charlotte, North Carolina, if it would relocate there from Richmond, Virginia.
• The Assemblies of God Home Missions Department is mapping plans for 400 rallies throughout the United States in 1960 to promote organization of new churches.
• Gerald W. Dillon, chairman of the Association of Evangelical Friends, and Everett Heacock, Quaker businessman, completed a three-month, 40,000-mile tour of Friends missions this fall.
• Bishop Otto Dibelius of Berlin will visit England next month.
• A Baptist Press survey shows that most colleges and universities related to the Southern Baptist Convention are taking part in the student loan program established by the National Defense Education Act of 1958. Only three colleges said they would not seek loans because of possible church-state entanglements.
• A new school for evangelical missionaries' children is scheduled to open in Mexico City December 28.
• A group of Nashville Negro ministers protested last month the Tennessee Baptist Convention's refusal to lift racial bars in its three hospitals.
• Ground was broken last month for a science laboratory on the campus of Gordon College.
• Protestants in New York City are organizing vigorous opposition to Mayor Robert F. Wagner's proposal to legalize off-track betting.
• Asked for his formula for long life, Dr. Arthur Judson Brown, Presbyterian minister celebrating his 103rd birthday, quipped, "Don't die."
• The Delaware County Christian School won accreditation last month from the Middle States Commission on Secondary Schools.
• Publication of The Chronicle, student newspaper at Methodist-affiliated Duke University, was suspended by school officials following appearance of a fictional article about the Virgin Birth which "mingled the actuely obscene with the offensively sacrilegious." The officials said publication would resume after a staff reorganization.
• A modern, two-story "Center for the Study of World Religion" will be built by Harvard University near the institution's Divinity School.
Have something to add about this? See something we missed? Share your feedback here.
Our digital archives are a work in progress. Let us know if corrections need to be made.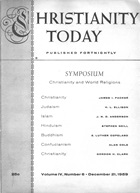 This article is from the December 21 1959 issue.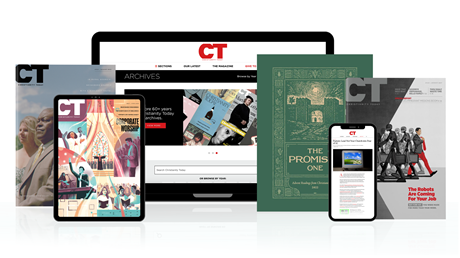 Subscribe to Christianity Today and get access to this article plus 65+ years of archives.
Home delivery of CT magazine
Complete access to articles on ChristianityToday.com
Over 120 years of magazine archives plus full access to all of CT's online archives
Subscribe Now
Evangelicals Face up to Birth Control Issue
Evangelicals Face up to Birth Control Issue