Homer E. Dowdy, staff writer for the Flint (Michigan) Journal, spent several weeks this fall travelling through the Caribbean with Dr. Henry R. Brandt, Flint psychologist who serves as consultant to some 12 mission boards. Most of their time was spent touring mission stations in Haiti, where the populace is fighting for survival against famine, drought and disease.
Here is Dowdy's report of what he found in Haiti, and an appraisal of how Christians are facing the crisis:
Unless long-absent rains return to northwest Haiti this winter, thousands of citizens of the second oldest republic in the Americas will die of starvation.
This is the major problem currently facing the Christian church in Haiti, not only from the standpoint of human tragedy in gigantic proportions, but from decimation of the ranks of some of the strongest and most virile evangelical congregations in the Caribbean.
Haiti's economy has never been on the plus side since the Negro nation won independence from France in 1804. Per capita income is believed to be about $50 a year, lowest in the Western Hemisphere. The nearly 4,000,000 population is growing rapidly, which is a major cause of food shortage and unemployment, and 90 per cent of the people are illiterate, with an almost equal number living in the rural areas, trying to coax a living out of steep-sloping mountains or overworked valleys.
It used to be that country folks were better off than their city cousins. But when Hurricane Hazel ripped through the island in 1954, much top soil was washed away and a mysterious tinge of salt was left in many areas. Diminishing rains since the deluge have prompted a number of farmers to leave the country for the towns only to find unemployment and food shortages.
Conditions in Haiti, just 2½ hours by air from the United States, hit a new low last summer and many people died of starvation.
Protestant missionaries and their national brethren joined with Roman Catholics to alleviate suffering in arid, stony northwest Haiti. Church World Service, CARE and Catholic Welfare distributed food to thousands of families. So barbaric were reactions to the early shipments of cornmeal, dried milk and flour that barbed wire tunnels had to be erected to channel frenzied mobs into the distribution center.
Conditions improved slightly in many sections this fall, but Ed Shreve, who in 18 months in Haiti for Unevangelized Fields Mission has gained more experience than many missionaries do in a full term, warns that winter rains of 1959–60 are all important. Says Shreve:
"Crops have failed consistently for nearly five years. Animals have had to be sold. There is nothing to fall back on. If the new seed fails to sprout because of blistering drought, the worst famine yet will be at hand."
The Haitian church is hit hard, with rain failing to fall on the just as well as the unjust. But believers are asking if God's hand is not being seen.
There is good spirit exhibited among Bible-based churches. They are filled and often there are as many wide-awake Eutychuses as there are worshippers crowded on the crude benches inside.
Where churches of the nationals are autonomous, buildings are rising as fast as the tithe of meager incomes can pay for materials and labor.
In increasing numbers, young men are being sent to Bible schools and other institutions of higher learning, although the tuition and board impel great sacrifices at home.
Revival is reported in the very heart of the drought-stricken northwest.
One group in an isolated village felt constrained to take the Gospel of Jesus Christ to a Voodoo center some 20 miles distant. As the result of a week's preaching mission and personal witness by members of the delegation, 70 were saved. Representatives of the 70 attended a believers' conference late in October. They told of receiving no real rain in four years, but of sight restoration, on conversion, for two who had been blinded by demonism. They spoke of a cotton crop of a single bag where 20 or 30 used to be harvested and they reported little opportunity for irrigation because they live downstream from other thirsty communities. But they also wanted all to know that even the hungry man—if he's a man of God—is not content to live by bread alone.
Their biggest need, they said, was a Bible trained pastor. "Send us one and we'll find a way to support him."
What is the answer to the tragedy of Haitian hunger? There have been those who have written off the bone-dry northwest but people like Ed Shreve, and the Haitians he lives and labors with, have been trying to find more of an answer than insufficient mass feedings.
Under Shreve's guidance, Christians near the village of Bombardopolis have formed a farm co-operative and on four acres they have tried to find the proper seed and methods for their soil and climate. They are now ready to take on 300 acres and hope to flow the waters of the Hate River over the property. At the moment, Voodooism stands in the way; the local witchdoctor warns of incurring the displeasure of the "master of the waters" if the river's course is changed.
But the Christians have asked God's help to show their unbelieving neighbors that the freedom that Christ brings not only liberates them from the bondage of fear and superstition, but also permits them to use the forces of nature for their benefit, not their defeat and death.
Inter-Faith Medium
There is an urgent need to keep open channels of communications among religious and ethnic groups throughout the country in the face of today's social problems, Dr. Lewis Webster Jones, president of the National Conference of Christians and Jews, said in an annual report last month.
Jones said this communication is essential to counteract dangers of regional isolationism, regional antagonisms and misunderstandings arising out of religious and racial differences.
This is more important now than ever, he added, in view of the fact that most thinking Americans are seriously troubled about social problems.
The report was presented at the NCCJ's 31st annual meeting. Founded in 1928, the conference has grown from a $10,000 a year operation out of a one-man office into a nation-wide organization with an annual budget of more than $2,700,000 and a modern, eight-story headquarters building in the heart of New York City.
The president's report cited NCCJ activities during 1959 to help find answers to religious and racial problems confronting the nation. These included:
—Camp conferences for high school youth in six states, college camp conferences in four states, year-round youth programs in 15 regions and one-day institutes for high school and college youth in 23 regions.
—Forty-nine human relations workshops at colleges and universities.
—State-wide institutes for teacher-educators in three states and institutes on "Rearing Children of Goodwill" in more than 50 communities.
A nation-wide program in police-community relations, including human relations training programs for local police officers in 60 cities.
—Programs dealing directly at the grass roots level with problems of intergroup relations caused by metropolitan growth.
—Programs for labor and management, including institutes on employer-employee relations.
—Brotherhood Week observances in some 10,000 communities.
Evangelicals challenge the NCCJ concept of man's togetherness as short of the biblical ideal. Many evangelical observers, however, recognize beneficial effects of certain NCCJ functions upon the American scene. Perhaps the best example is Religious News Service, the nation's only news agency which serves Catholic and Protestant, as well as Jewish, media.
The conference sponsors RNS to the extent of a $25,000 yearly subsidy. The rest of the agency's $200,000 annual budget is met through fees paid by its 750 clients—which include 100 daily newspapers, 350 religious publications and more than 200 radio and television stations.
RNS maintains offices in the NCCJ building in New York. Miss Lillian Block is managing editor.
Daily news reports are RNS's basic products, but the agency also issues weekly resumes of religious trends, syndicated cartoons, radio and television scripts, plus maintaining an extensive picture service.
RNS has a corps of 450 news correspondents in the United States, 150 foreign news correspondents, and 350 photo correspondents in this country and abroad.
Change of Mind
Staff members of three Methodist boards of social concerns, after a meeting in Washington last month, came out for unification of their agencies.
The move amounted to a change of mind by some who are connected with the Board of Temperance, the Board of World Peace, and the Board of Social and Economic Relations. It was known that there had been considerable opposition to consolidation into one board, likely to be called the "Board of Christian Social Concerns."
The proposed merger is expected to be a chief item of business before the Methodist General Conference when it opens April 27 in Denver, Colorado.
Taking Stock
Indiana church and government leaders, taking stock of Billy Graham's 27-day Indianapolis crusade, cite its impact upon religious and community life.
More than half the 9,320 decisions were made by teen-agers, according to campaign officials.
Governor Harold W. Handley declared that the impact of the crusade "has been tremendous," that Indiana was now "a better state, morally and spiritually."
Dr. Laurence T. Hosie, executive secretary of the Church Federation of Greater Indianapolis, noted that the crusade "has made a valuable contribution to Christian love and cooperation."
Methodist Bishop Richard C. Raines asserted that "this whole section of Indiana has been awakened to the fact that Christianity is still 'good news.' "
Among converts was an Indiana syndicated columnist who said he "came to the crusade for news stories but remained to pray."
Hospital No. 31
The Seventh-day Adventist Church will operate a 300-bed, $6,500,000 general hospital to be built near Dayton, Ohio, as a memorial to Charles F. Kettering, inventor and philanthropist.
Adventists operate 30 other hospitals in North America and 78 overseas.
It was the personal choice of Eugene W. Kettering, the scientist's only son, that the Adventists should operate the hospital.
The scientist's son will pay about $4,500,000 toward the cost of constructing the hospital, which will not open until 1961 or later. Dayton area civic leaders hope to raise $1,500,000 through a "limited campaign" among firms and individuals. A federal Hill-Burton grant of $500,000 is expected.
The hospital will be located in the Dayton suburb of Kettering on land where Charles F. Kettering once lived.
Geneva: Then and Now
"What a glorious ornament of the Christian religion is such a purity of morals," wrote Dr. Valentine Andreæ, who visited Geneva nearly 50 years after Calvin's death.
"All cursing and swearing, gambling, luxury, strife, hatred, fraud, etc., are forbidden," the Lutheran leader said, "while greater sins are hardly heard of."
Last month, Protestants and Roman Catholics joined in urging the Geneva cantonal government to ban striptease shows from the city's night clubs in order to "safeguard public morality."
Geneva is the only place in Switzerland where striptease is permitted. It has become a flourishing adjunct of the tourist trade.
To The Moslems
The Finnish Missionary Society is marking its centennial this year by opening a new mission field among Moslems of Pakistan.
Oldest and largest mission agency of the Finnish (State) Lutheran Church, the society will work in cooperation with the 56-year-old Danish Pathan Mission, which has missionaries in the far north of West Pakistan, near the Afghanistan border.
End of a Cathedral
East Berlin officials plan to raze ruins of the city's largest non-Catholic church.
The famous Protestant Cathedral, badly damaged in 1945, must give way for a new meeting hall, say the Communists. The cathedral seats 3,500.
Have something to add about this? See something we missed? Share your feedback here.
Our digital archives are a work in progress. Let us know if corrections need to be made.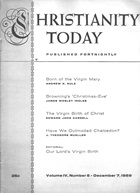 This article is from the December 7 1959 issue.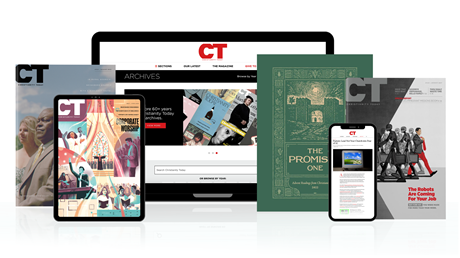 Subscribe to Christianity Today and get access to this article plus 65+ years of archives.
Home delivery of CT magazine
Complete access to articles on ChristianityToday.com
Over 120 years of magazine archives plus full access to all of CT's online archives
Subscribe Now
Revival amidst Famine
Revival amidst Famine