One Sunday morning during years of graduate study I went with friends to hear a preacher of international reputation. Each week people of all ages overflowed the large sanctuary to hear this pulpit master.
He spoke with disarming directness that was most appealing. Each well-modulated and carefully-chosen word held the vast audience in rapt attention. It would have been hard to have excelled his power of enunciation and words of articulate beauty.
The organization and illustration of his ideas made an intense impact upon all of us. With complete mastery of thought and bearing, he massed his ideas to move with accumulating power to a dramatic end. As a young student I knew that in the realm of communication, I was sitting at the feet of an artist. I felt great respect and admiration for the unparalleled skill with which he presented truth. Obviously his artistry had been perfected through hours of faithful preparation.
I came away from that memorable service saying, "What a man!"
That Sunday night, we went to hear another preacher of international reputation. He spoke with deliberate simplicity. He had pruned away eccentricity. He was earnest, honest, sincere, and full of conviction.
I can still see the simple but dynamically effective gesture with which he drove home a classic quotation from Shakespeare that made his point about Scripture truth unforgettable. At no place was there a false note. In construction and presentation it was flawless. What he said so simply and directly created an atmosphere of reverence. Our eager minds were fed with beauty and truth. The power of his utterance is seen in the fact that after several decades I recall it so vividly.
I came away from that unforgettable service saying, "What a message!"
After 30 years in the pastorate I recall those two men as I find myself asking again, "How does one preach with power?" I ask it because a plenitude of outstanding preachers in every denomination across the nation and the world has made so slight an impression today upon the steady trend of division among nations.
If thousands of pulpits, large and small, were week by week preaching with biblical power, would the condition of our world be as serious as it now is?
Millions of people sit in church pews each Sunday and listen to varying degrees of competent preaching. But if such preaching had been with Old Testament prophetic power, would not those millions have been shaken to the very core of their being? If such preaching had been in the New Testament power that Peter and Paul preached, would not millions of people have been prostrated with penitence in the churches? Would they not leave the sanctuaries like conquering spiritual giants? Would not true revival be a continuing experience week by week in every church, where young and old sought and found transforming redemption?
Why is it that with new churches being erected on every hand and an unprecedented church membership and attendance, there is an equally steady decline of good relations among nations? Would not great spiritual power generated each Sunday in our churches be reflected in new and sincere forms of conciliation among leaders and nations?
The Pulpit Last Sunday
As one who must acknowledge personal responsibility for his share in this state of affairs, I am forced to search my own heart in the face of the swift tide of world events. What power has emerged from my preaching?
Of the hundreds I received into church membership, a painfully small percentage have manifested in daily life the revolutionary influence of the redemptive grace of Jesus Christ.
I could defend myself by listing systematic hours of study I did each week. I could explain the care with which I persisted in organizing and writing out my sermons in detail. I could name the time I spent in going over sermons before delivering them in the pulpit, in order to present my thoughts with reasonable effectiveness. I could tell of hours of earnest prayer and devotional study of the Bible that was a background for sermon preparation.
But the fact remains that despite normal sincerity of effort and modest care in preparation, the numbers of individuals deeply shaken by my messages are not hard to enumerate. I never had anything happen as a result of my preaching comparable to the New Testament records of the early disciples. If what happened when Peter and Paul preached was a reproducible experience under any similar preaching, then to a measurable degree I should have been preaching with the same kind of power. But I know that I was not preaching with the power that the redemption of Jesus Christ demands. Why wasn't I?
Preaching For Converts
As I try to assess the reason for my failure to preach with power, I recall the preaching under which I was led to make my public confession of Jesus Christ. As a 15-year-old high school junior I had gone with boyhood friends to church and Sunday School. Often it was a social activity, and my response was indifferent.
Then two village churches brought an evangelist and his singing helper to our community for a five weeks series of special meetings. The large invitation sign outside the church where the meetings were to begin attracted only a passing glance from me. But because in that small town there was limited excitement, and because some of my friends were curious enough to attend, I went along.
The speaker was a humble man but deeply dedicated. And even as a skeptical lad, I could detect no hypocrisy in his manner or speech. He spoke with love and tenderness of the Saviour who obviously was the center of his affection and the power of his joyful life. As I write at this late date I can still feel the wholesomeness that radiated from his physical appearance, his calm presence, and his spoken words. His heart seemed so thoroughly clean, and it was something far deeper than the self-righteous "cleanliness" of a fastidious man. I did not understand then the commanding power of a Holy Spirit-filled life. But I could not deny its compelling attraction.
What he said troubled me. I concealed my sudden inner turmoil from friends and family, yet I continued to attend the meetings. The searching effect of his simple but powerful talks inwardly split me in two. I was getting a look at myself, such as I had never had, and what I saw inside was deeply disgraceful. I was not the self-sufficient, care-free fellow I thought I was. Vanity, pride, and conceit showed up in the mirror which that man held up to my life. I was in misery.
One Sunday afternoon I lingered at the church after the congregation had departed. My pastor was alert to my condition. He put his arm around me as we talked together in a church pew. Then before I knew it, we were on our knees together in that pew. My tortured spirit gave way before the Lord of Love. Penitent tears were followed by a flood of joy and peace which I could not then understand or explain, but which has never been swept from my life by succeeding years of crisis and decision.
I came away from church that day saying, "What a Master! What a God! What a Saviour!"
I had heard preaching with power!
Death And Resurrection
With deep contrition I confess how slow I have been through the years to grasp the secret of such power.
In daily life that modest preacher whom God used to open my eyes and heart to redemptive grace lived where Peter and Paul lived, which Paul explains in such detail in the New Testament. He lived daily in an abiding death and resurrection union with Christ.
This twofold message of the Cross that the old nature of man must abide in the death union with Christ at the Cross in order that he may abide in the resurrection power was natural to preach because he lived it.
Another apostolic element in that preacher's life was that he expounded Spirit-wielded Scripture. Though he had had training and learning, he made no effort to preach in the wisdom of man. The Bible was God's revelation, and since his own life was based on that unshakable conviction, he spoke in the pulpit with great humility and holy boldness. His "thus saith the Lord" carried spiritual power.
One other element in that man's presentation was redemptive-based prayer. He knew that power in prayer was not based on human need but upon the redemption of Jesus Christ. So when he prayed, the Holy Spirit winged his words into my heart and gave me the greatest blessing that a young man can know.
But, above all, in true apostolic succession, he made clear the meaning of the vicarious atonement of Jesus Christ. He proclaimed the truth of Scripture that Christ died for my sins, that Christ was my substitute upon the Cross, that his death was a substitutionary sacrifice, bearing the penalty of my personal sin. My acceptance, in penitence and faith, of this unmerited gift of Jesus Christ, the only begotten Son of God, was my regeneration. And then, joyfully, he proclaimed the bodily resurrection of Jesus Christ as the unshakable rock of my Christian faith.
If all of my preaching had been on those central apostolic truths of Christian grace, I know that today there would be more spiritual power to resist the tide of division and confusion in our distracted world. If such Bible-based preaching had been done in all our churches during the past decades, I have a strong conviction that much of the present division between nations would have been healed. I wonder what would happen now if all our churches returned to apostolic preaching?
END
Carlos Greenleaf Fuller holds the A.B. degree from Colgate University, the B.D. from Union Theological Seminary (New York City), and M.A. from Teachers College, Columbia University. At 62 years of age, he is presently a retired Presbyterian minister and a frequent writer on religious themes.
Have something to add about this? See something we missed? Share your feedback here.
Our digital archives are a work in progress. Let us know if corrections need to be made.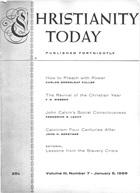 This article is from the January 5 1959 issue.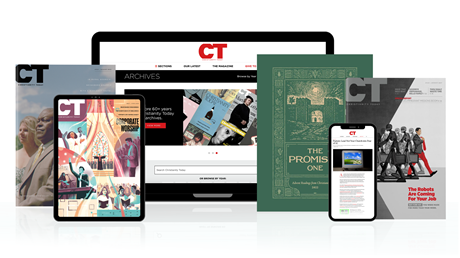 Subscribe to Christianity Today and get access to this article plus 65+ years of archives.
Home delivery of CT magazine
Complete access to articles on ChristianityToday.com
Over 120 years of magazine archives plus full access to all of CT's online archives
Subscribe Now
How to Preach with Power
How to Preach with Power