I have never sensed any conflict between my practice of psychiatry and belief in God. My chosen topic is "Christianity and Psychiatry" because it is far easier to correlate psychiatry with Christianity than with religion in general. Religion has so many meanings. There is the biblical one: "Pure religion and undefiled before God and the Father is this, To visit the fatherless and widows in their afflictions, and to keep himself unspotted from the world" (Jas. 1:27). There are of course dictionary definitions as well as others. But Christianity "is the power of God unto salvation to every one that believeth" (Rom. 1:16). It is a dynamic, forceful, constructive power that comes into our lives as the result of a contract between us and God. The terms of this contract include the understanding that we are powerless over sin … that our lives have become unmanageable and that in simple childlike faith in God we come to believe in the power of an infinite God bringing us salvation, eternal life—life after death.
This is a reality principle, a principle which recognizes the need for modification according to the requirements of external reality. For example, instinctual strivings may be modified in their expression according to the reality principle (The Neuroses in Clinical Practice, Henry P. Laughlin, M.D., p. 735). As such, this principle takes us out of the realm of psychiatry and out of conflict with it. It is, therefore, all the more necessary that we correlate the two.
PSYCHOLOGICAL IMPACTS
Psychiatry is the art and science of dealing with man's emotions, feelings, and the things that have a psychological impact. A Psychiatric Glossary defines it this way: Psychiatry is "the medical science which deals with the origin, diagnosis, prevention, and treatment of emotional illness and a social behavior."
When a man's feelings and fantasies depart from reality and he does not know it, we have an emotionally sick person known as a psychotic. If, on the other hand, emotional conflicts are internalized, they may be expressed in physical symptoms such as colitis, peptic ulcer, asthma, hypertension (high blood pressure), fatigue states, allergies, and so on. Where the etiology is not clear and there is a strong emotional component, such conditions often indicate a psychophysiologic or psychosomatic illness. The word psychosomatic is an adjective denoting the constant and inseparable interaction of the psyche (mind) and the soma (body). It is most commonly used to refer to illnesses in which the manifestations are primarily physical with at least a partial emotional etiology.
Such symptoms, although purely functional, may imitate almost any type of illness or may be combined with a real one. (I do not say that these symptoms could not also be organic in origin or have a large organic component.) A psychiatrist must be a medical doctor in order to understand and treat the basic underlying cause of an illness and not just the symptom. The psychiatrically-oriented general practitioner, internist, or other specialist will refer his patients to the psychiatrist for treatment of the emotional component. The psychiatrist, in turn, calls in the appropriate specialist or family doctor to handle the organic aspect of an emotional illness.
There is a third type of emotional illness that should be mentioned and that is the intrapsychic conflict, the intrapersonal one. (The psychotic's conflicts are external or interpersonal in his relation to the real world about him.) This type of illness is exhibited by anxieties, phobias, hysteria, asthenic states and the like, and is known as a neurosis or psychoneurosis. This may be defined as an emotional maladaptation due to unresolved unconscious conflicts.… A neurotic illness represents the attempted resolution of unconscious emotional conflicts in a manner that handicaps the effectiveness of a person in living" (A Psychiatric Glossary, p. 29). Such an illness should be treated as real, just as one treats tuberculosis, diabetes, cancer, or measles, and is as much in need of care as a broken leg. There are other categories of emotional illnesses which we may call the so-called disorders of personality, character disorders, situational and organic brain disorders.
INTRAPERSONAL RELATIONSHIPS
A definite relationship exists between the physical and emotional. Should one ask what this had to do with Christianity, I would say that if we consider interpersonal relations as a beam of light broken up into a broad spectrum, we find the emotional aspects in one sector and the spiritual in another.
There is the soma—the organic, biological part which is man in relation to his physical environment. And there is the spiritual—man in relation to his Creator and eternity (through the Logos, Christ, God's Word to us in terms of one who was both God and man). Then there is the psyche or the ego which is that part of a person that says "I will," "I do," "I did." It serves to make peace between the soma and the spirit, between the I want and the you can't. The Apostle Paul expressed it very aptly: "For the good that I would I do not: but the evil which I would not, that I do … when I would do good, evil is present with me" (Rom. 7:19, 21). If we really get any place in life, the ego must speak up and say, "you must, you will," in terms of his values and the steps leading to his goals.
That we have a physical body which relates to a physical world is certainly a reality, and this part of us is the province of the physician. But that there is a corresponding component, the spirit, which must relate to God, is also reality. This is the minister's province. The sector of spectrum between these two realities, the physical and spiritual, is the sphere of the psychiatrist. There is so much to be done by these three professions that there should never be any conflict or competition.
CHRISTIAN AID TO PSYCHIATRY
Now let us look at some of the similarities between the philosophy of psychiatry and the message of Christ in Christianity.
First, there is the stress upon the importance of the individual. All people have an inferiority complex, though in some it is buried so far beneath a compensatory superiority complex that it may be unrecognized. We are afraid that we do not measure up, that we are not "as good as the next one," that we do not live up to what our parents expected of us, that our children might be ashamed of us. We know that we are not perfect and that we cannot be perfect, yet we are ever attempting to be so. We may know that we are superior in many ways to the person we are in competition with, yet be distraught over the one or two things which we feel do not "measure up." Our realistic qualities and perhaps superiorities give us no comfort.
Our hardest taskmaster is our self. The need for perfection is a very important factor in the production of our anxieties, worries, and discomforts. It is one of the greatest obstacles to the development of a healthy self-image. We can accept intellectually that it is impossible to be perfect on our own, yet constantly be trying to achieve that on an unconscious level.
This is a very negative approach to life because we can measure our success only in terms of how far short we fall. We never really achieve the perfect. Fortunately, the minister can show that perfection with God, where it is really needed, is available to all by imputation "if we believe on him that raised up Jesus our Lord from the dead" (Rom. 4:24). How much better and more practical it is that we do the best we can with what we have today, try to improve tomorrow, and leave perfection to heaven and God.
This negative feeling about one's self is one of the first things the psychiatrist has to deal with in helping the individual. He must appreciate his importance to himself, that he has rights and privileges as well as responsibilities and obligations. In the interest of his own health, as well as that of others, it is important that he exercise his rights, realize his opportunities, and learn how to capitalize upon them. Next, he must learn how important he is to other people—what it would mean in the lives of those around him if he were suddenly taken out of the picture. This technique is known as strengthening the ego.
The matter of self-importance has a parallel in God's dealing with man. The Bible teaches that man is important to God. What can be more strengthening to the ego, or help a person appreciate himself more, than a recognition of the desire of the Infinite for fellowship with man? The fact that God is seeking man is one of the main themes of Holy Scripture. John 3:16 expresses this in clearest terms: "For God so loved the world, that he gave his only begotten Son, that whosoever believeth in him should not perish, but have everlasting life." This truth strengthens a man and enhances his realistic self-importance as no psychiatrist can do.
Now a second step in the work of the psychiatrist is to help the individual accept the realities of life, the things that cannot be changed. This saves one from "beating his brains out against a stone wall." The psychic and physical energies thus saved from dissipation in the hopeless attempt of denying reality may be utilized in changing what can be changed. This means giving up a negative, hopeless way of life for a positive, dynamic, fruitful, constructive approach that will improve one's situation so he can get at least some of the needed or wanted things of life.
Now let us apply this to what we find in the Word of God. First, note the hopelessness of our condition as we stand before God, and how this is reflected in our relations to our fellow men. Then in Romans 3:10 and 23 we read: "There is none righteous, no not one.… All have sinned and come short of the glory of God." Many other references in the Bible point to this same hopeless inability on the part of man to relate to God. The contract for our salvation is stated in clear and specific terms in Romans 10:9: "… if thou shalt confess with thy mouth the Lord Jesus, and shalt believe in thine heart that God hath raised him from the dead, thou shalt be saved."
The purpose of the contract for man is to be saved, to be restored to fellowship with God. The two conditions by which this contract can be made effective are
1. confessing Jesus as Lord, and 2. believing in the heart that God hath raised him from the dead. The completion of these two steps establishes the contract with God and one becomes a child of God.
Thus we accept what we cannot change about ourselves (but God can); we have the courage to change what we can after accepting the unearned gift of God, eternal life; our relationship with God is changed, and we thank God for giving us the wisdom to know what we truly are.
It is as important to be realistic spiritually as it is to be realistic psychiatrically or materially in everyday life. The minister helps his parishioners to be realistic about eternity and about moral values. The psychiatrist assists those who come to him in becoming realistic about everyday life, relationships to one's fellow man, and with one's self.
THE INTERPERSONAL WORLD
Today the world is looking for new experiences. Men seek horror movies, supersonic speeds, and make interplanetary plans and phantasies; and on every hand we note an increasing crime rate, alcohol consumption, highway carnage, and a tendency to marry in haste and repent at leisure. Yet this is my experience, that there is still nothing so rewarding as the basic relationship of the garden of Eden—the I-Thou relation of man to woman, and man to God. What emotional investments pay greater dividends than a sharing of mutual experiences, feelings, hopes, ambitions, and desires between two personalities? I find John 1:12 ("As many as received him, to them gave he power to become children of God") the threshold to the most wonderful experience of all—fellowship with the living God.
One may ask, Is this psychiatry or theology? Of course this is theology, but the realization of implications can be greatly enhanced by psychiatry because of the relationship between two personalities. It is the province of psychiatry to increase the understanding and enjoyment of healthy interpersonal relationships, and it is by the same principle that we accept God into similar relationship.
Our ability to make an emotional investment in other personalities is one of the best indications of emotional growth. To do this we must have self-knowledge, self-control, and the ability to accept the possibility of being hurt.
Another of the important points of interpersonal relationships is that of meeting another person's need. This does not mean treating everybody alike, as parents sometimes do with their children. Parents may feel they have done their duty by doing or buying the same thing for each child. But they fail in their efforts because each child's needs are different. The needs must be met equally, and this is a much harder requirement.
In our interpersonal relationships, we can greatly increase our own reward if we stop to think, "What is this person saying? What does he really mean? What is his need?" Could we not say that Christianity obliges believers in the Lord Jesus to help meet the needs of men, materially, socially, and emotionally, and where possible to prove a genuine interest in a neighbor's spiritual needs, the most important of all?
One more important consideration with regard to interpersonal relations is the matter of limits. We tend to think of a limit as something that stops, curtails, or prevents our enjoyment of life. Actually the reverse is true. Would we not easier accept limits if we realized that they were of the category of railings on the stairway, cable at the precipice's edge, guard rail along the road bank, or warning gates at the railroad crossing—something to keep us out of trouble, from getting hurt, actually for our own best interests?
It is in this area, perhaps, that we become most aware of God's love and care. God has given us a conscience and moral values and has cautioned us against violating his principles. He does not do this to curtail our enjoyment of life, but rather to prevent us from indulging in indiscretions, pitfalls, and catastrophies which would cripple us or load us up with guilt.
A psychiatrist's task is to help people understand the meaning and use of limits. This understanding is essential to developing interpersonal relationships that are rewarding, that avoid difficulties, and make progress toward maturity, effective living, and personal satisfaction. Is not this the job that each of us faces in his own personal life?
We may correlate Christianity and psychiatry then in this way: the psychiatrist helps us to know and understand ourselves and better relate to one another, and the minister guides us to better knowledge of almighty God and our relationship to him as heavenly Father.
Norvell Peterson is a psychiatrist in private practice, specializing in group and individual psychotherapy. He is a lecturer in practical theology at the Gordon Divinity School, a Commander in the USN, a Fellow of the Academy of Psychosomatic Medicine and American Scientific Affiliation.
Have something to add about this? See something we missed? Share your feedback here.
Our digital archives are a work in progress. Let us know if corrections need to be made.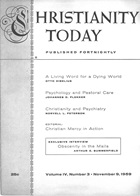 This article is from the November 9 1959 issue.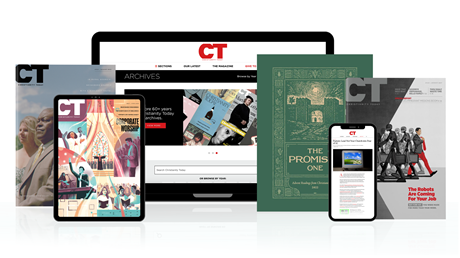 Subscribe to Christianity Today and get access to this article plus 65+ years of archives.
Home delivery of CT magazine
Complete access to articles on ChristianityToday.com
Over 120 years of magazine archives plus full access to all of CT's online archives
Subscribe Now
Christianity and Psychiatry
Christianity and Psychiatry