A recent edition of a leading Methodist journal reports: "Methodist membership is failing even to keep up with the population growth of the United States, and lags far behind the membership gain of the other major Protestant denominations. Methodists are slowly becoming a smaller and smaller percentage of the population of the United States." When one probes the reasons for this condition, he inevitably becomes aware of the widening trend toward ritualism and liturgy within the Methodist Church. The ritualist controversy was one of the major issues at the General Conference in 1952. It may well become so again at the Denver meeting of the 1960 General Conference.
Years ago R. N. Merrill, in the Methodist Review, said of the high church tendencies within Methodism, "We are hardly sure whether we have lulled the Church to sleep or have dressed it for burial." Even Harry Emerson Fosdick has been quoted as saying, "Throughout the history of the Church, Christians have tried to make their Christianity easy. They have done it by ritualism and sacrament." Certainly one could draw upon many illustrations to show that when spiritual life and righteousness disintegrate, ritualism is apt to receive more attention. The situation in the Russian Orthodox Church before 1917 was not an accidental development.
PRESENT WEAKNESSES
Roy L. Smith, long-time editor of the Christian Advocate, in his volume Why I Am a Methodist, lists what he considers the 10 present weaknesses of the Methodist Church. Two of the weaknesses are "ease of attaining membership" and "formality of worship services." He says, "As Nehemiah went back over the history of Judah he came upon a very interesting discovery that Moses had never ordered the observance of elaborate ceremonies.… Two facts are plainly evident to almost any observer of modern Methodism: the increase of ritualism and the need of a new baptism of spiritual power."
It has been claimed that John Wesley was a high churchman who leaned toward ritual in worship. It is true that Wesley drafted a comparatively simple form of liturgy in his younger days, but it fell into disuse, and there is no allusion to it in records after 1792. None of the great Reformers, not even Luther, placed a heavy emphasis upon form in worship. One of the most significant results of the Reformation, in fact, was the spiritualizing of worship by the drastic elimination of religious formalism. Can it be said of Wesley that he was one who insisted upon vestments, ornaments, candles, lights, incense, gowns, and printed prayers? Were these the stuff out of which he created the class meetings and societies that turned England upside down?
DIFFERENT ORIGINS
There are many fine Christians who enjoy and prefer liturgical forms of worship. Historically there are denominations which have always majored in these forms of worship. Ministers and laymen who prefer such ritual worship are privileged by living in a free country to unite with the denomination of their choice. They should not attempt to ritualize a church whose origins were cradled in a revolt against weak, barren, and empty formal worship. In an article entitled "Shall Methodism Go Gothic?" Bishop Selecman said, "If cathedrals could have saved the country, Europe would have been saved centuries ago." And if I may quote one more Methodist, Dr. F. C. Hoggorth has pointed out that "the major prophetic protest as heard in Amos and Isaiah was against the turning of religion into a pageant with no connection with life. It is elaborate ritual—apart from life—which has long been the taproot of European tragedy."
Let the liturgical revival flourish, but let it flourish in its own environment. And let the Methodist Church seek more earnestly to follow Jesus Christ, whose only requirement of worship was that it be "in spirit and in truth." Let her remember the common people who love their church for what she is, and not try to become something else.
Jacob J. Vellenga served on the National Board of Administration of the United Presbyterian Church from 1948–54. Since 1958 he has served the United Presbyterian Church in the U.S.A. as Associate Executive. He holds the A.B. degree from Monmouth College, the B.D. from Pittsburgh-Xenia Seminary, Th.D. from Southern Baptist Theological Seminary, and D.D. from Monmouth College, Illinois.
Have something to add about this? See something we missed? Share your feedback here.
Our digital archives are a work in progress. Let us know if corrections need to be made.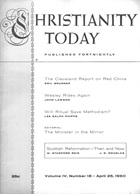 This article is from the April 25 1960 issue.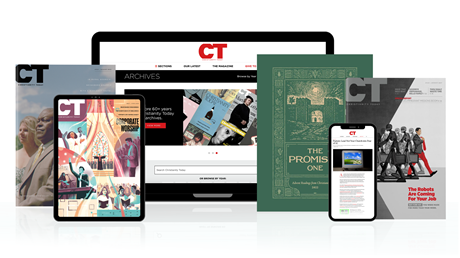 Subscribe to Christianity Today and get access to this article plus 65+ years of archives.
Home delivery of CT magazine
Complete access to articles on ChristianityToday.com
Over 120 years of magazine archives plus full access to all of CT's online archives
Subscribe Now
Will Ritual Save Methodism?
Will Ritual Save Methodism?