THE BIG DEBATE
These television debates of our presidential candidates leave me exhausted. Not even TV bowling requires so much body English. To avoid the bends when the pressure is released I find there is nothing better than a round or two of fist-fighting debate about the debate in my neighbor's recreation room. Of course we are all agreed on our aims; we support the same candidate. We differ only on the means—how he should campaign. When our discussions warm up it is just as well that we don't have to project a dignified image to several million observers.
Dr. Martin Luther Bauer dropped in during a lull in our last session. He is a great admirer of his namesake, and was soon describing the Reformer's debates with Eck at Leipzig. Television came too late. Those debates were spectacular, crammed with everything a TV cameraman could desire: ruling dukes, gowned doctors, crowds of partisan students. Even the lecture chairs were worth a close-up. The standard shot of a participant listening to his worthy opponent would have come alive when it caught Martin Luther smelling a carnation during Eck's first attack.
Luther and Eck did not debate in the vacuum of a television stage. The live Leipzig audience reacted all around them. The university professors slept, either from policy or from professional boredom; the students rioted; Duke George shouted on occasion. Even long hours of Eck's scholastic quibbling could not make the occasion dull. Any U.N. cameraman would have known how to fill in the time with views of scribbling secretaries and snoring professors. The microphones might even have picked up from the back benches of the Romanist side the Latin cry Dā eis Eccum!
Debates are much milder now, which is a blessing. The explosive combination of politics and religion which surrounded Luther detonated in religious war. Refugees from the aftermath in Europe found and formed religious liberty in America. It is difficult to preserve religious liberty both from and for those who don't believe in it. In America it seems even harder to preserve both liberty and religion. Christ forbade his disciples to fight for him, but called them to die for him.
EUTYCHUS
WINE REPLIES
October 4, 1960
Your letter of Sept. 6, 1960, referring to your intention to publish the "Open Letter" of Dr. Charles Clayton Morrison and informing Senator John F. Kennedy of an opportunity to reply thereto, was inadvertently misplaced in the flood of mail.
Senator Kennedy has asked that I acknowledge receipt of your letter and to indicate that he believes his remarks expressed to the Greater Houston Ministerial Association on September 12, 1960 are substantially responsive to the questions posed in the "Open Letter." Accordingly, there is enclosed a copy of the full text of the Senator's remarks on that occasion. This is to be considered as the reply to the "Open Letter" identified above.
JAMES W. WINE
Special Asst. to Senator Kennedy
Washington, D. C.
• The text enclosed by Mr. Wine, reproduced by the Democratic National Committee from an Associated Press dispatch in the Washington Post for September 13, has been publicized across America in past weeks by television, radio, and printed news media. Copies are available from the Democratic National Committee, 1001 Connecticut Avenue, Washington 6, D. C.
ED.
THE SUPRA-PARTISAN LEVEL
Charles Clayton Morrison's masterly letter to Senator Kennedy (Sept. 12 issue) lifts the religious issue to the high supra-partisan level where it belongs. Your voter readers will all hope that the distinguished Senator will give Dr. Morrison's pointed questions the kind of answers they deserve.
DANIEL S. ROBINSON Director Emeritus
School of Philosophy
University of Southern California
Los Angeles, Calif.
I have just finished reading the … "Open Letter to Senator Kennedy." In my judgment this is the best article I have seen on the very vital issue confronting the American people today. If this article is to be reprinted in pamphlet form I should like to order one thousand copies.
May I say that I thank God for such a magazine as yours. I read each issue from cover to cover.
EARLE R. HARVEY Director
Fresno Area Migrant Ministry
Division of Home Missions
National Council of Churches
Fresno, Calif.
Could this possibly be available in reprint for distribution? Not so much to convince my Roman Catholic friends (although some of them would do some "self-thinking" on the matter), but to awaken, all too many, broad-minded Protestants!
MRS. CHARLES SCHENK, JR.
Beacon, N. Y.
• Reprints are available at five cents each or $2.50 per hundred.
—ED.
The instinct of evangelical Christians that there is an important religious issue in the current political campaign for president of the United States is sound. Unfortunately their efforts to articulate these issues are often clumsy and backfire with the charge that they are made by "bigots." A high percentage of statements released have cut with a dull knife, but Dr. Morrison uses a scalpel. He defines the issues both clearly and carefully.
Obviously Senator Kennedy will not respond to this "open letter" since its form is that of argument rather than inquiry. I doubt that the device of an "open letter" measures up in integrity and cogency of Dr. Morrison's argument.
It is because I think the issue now at the forefront of the American mind is not the religious issue itself but religious bigotry that I caution and urge that the entire position of evangelical Christians be stated with precision and that all clever devices and political trickery be avoided. I am convinced that there are religious issues which deserve the attention and may well determine the vote of millions of Americans.
I am afraid that political strategists have developed a flanking movement to counter the genuine religious issues. By screaming about religious bigotry they are able both to solidify the Roman Catholic vote for their candidate while also shaming evangelical Christians into silence if not into voting for him.
This will explain my support of Dr. Morrison's statement of the issues and my demurrer with reference to the form he has used.
DUKE K. MCCALL
President
The Southern Baptist
Theological Seminary
Louisville, Ky.
There is a notion in the air about us that it is incongruous to "inject" the Roman Catholic issue into the Presidential campaign, the implication being that it is a pseudo issue.
If this be the case, one is left to wonder why a man of William E. Gladstone's calibre could ever have been so ill at ease about an earlier aspect of the matter. The infallibility of the Pope had then recently been decreed by the Vatican Council (1870). Rightly or wrongly, the inference was drawn by Gladstone that loyalty to an "infallible Pope" by a Roman Catholic was inconsistent with the latter's loyalty to a civil state like Britain. Gladstone aired his views in a pamphlet entitled, The Vatican Decrees and Their Bearing on Civil Allegiance (1874). The issue proved to be so real, that necessity was laid upon none other than John Henry Newman to answer the great statesman who had raised it. While obviously feeling that Gladstone's assertions may have been motivated by a spirit of controversy, Newman nevertheless did not simply dismiss them as matters of bigotry. His answer, published in 1875 under the title, Letter to the Duke of Norfolk, turned out to be a meaty 200-page book to which he had applied the best of his wit, persuasion and scholarly rhetoric. The plain fact is that even today Senator Kennedy could hardly find a better source book to present his own case, should the need arise. The growing contention, I understand, is that it should not arise. With this contention I disagree.
Surely this country would claim to be as democratic as was England around 1874–75. We believe in freely discussing problems that bear upon the life and destiny of our nation, especially when the selection of our President is at stake. Whatever our religious allegiance may be, it is unworthy of us to shyly push under the rug an issue whose implications were deemed real enough to bring face to face such giants as Gladstone and the man who was soon to be elevated by Pope Leo XIII to the dignity of Cardinal.
EMILE CAILLIET
Professor Emeritus
Princeton Theological Seminary
Princeton, N. J.
Why should it be considered an "alien phenomenon" that Catholics want their children to hear of God and Christ in a non-public, non-secular parochial school?
Is it now American or democratic to dissever and divorce religion and education (religion and five days a week of the student's life) so that for 25 hours a week he hears nothing about God, Christ, Bible or Christian heritage—even Christian hope or ethics? Such atheism-aiding, socialism-aiding education is further backed by the presence in public schools of the God-opposing theories, the anti-Christ ideologies (evolution, etc.). Why should not Protestants have Christian schools instead of public? Why condition the children against God?
Are Catholics more smart, Christian, and loyal to the children's deepest needs than we are?
LEROY VICTOR CLEVELAND
Westminster Congregational Church
Canterbury, Conn.
Are we as mere mortal men in such a position today that we can say that the election of Sen. Kennedy is not the will of God?… With the "anti-Catholic" things which are being said and written in regard to Sen. Kennedy's campaign, are we following Christ's teachings in "The Sermon on the Mount"? Did our Lord say, "Spread hatred among your friends, turn your back on your enemies"? Minneapolis, Minn.
SAM BARINGTON
There is no suppression of freedom in the Catholic Church. If one does not agree with its teachings, all he has to do is leave the Church. There are plenty of religions wherein there is no head and the reason there are so many religions today is because someone not liking the teaching of his church has started another. So if a Catholic feels that he is suppressed he can do the same. Or does your mind tell you he would be roped and held? When little men begin casting long shadows, the sun is setting on a nation.
… In the twenty states where nuns are teaching in so-called public schools, why are you referring your question to Mr. Kennedy? That situation does not exist under a Catholic president. Why are those nuns teaching? Because the State has no schools in those communities. Would you charge that to the Catholic Church? Your statement reminds me of a thought expressed by a non-Catholic friend some time ago. She wondered why most orphanages were run by Catholics. Any knowing non-Catholic would know that they have no dedicated people to run orphanages.
KATHERINE JANSEN
Chicago, Ill.
Dr. Morrison's open letter to Senator Kennedy is both enlightening and irrefragable. If his running mate can cry religious intolerance after reading it, he is selling his birthright for a mess of pottage.
FERDINAND A. SAUNDERS
Nedrow, N. Y.
This is a very excellent article, and presents matters relating to a Catholic president in a most helpful, Christian way. I shall be waiting to see if the Senator accepts and uses the opportunity to reply to it; and, if so, what his reply will be like.
MARVIN E. PARRISH
First Pentecostal Holiness Church
Radford, Va.
This is a superb and balanced expression of my uneasy feeling about Kennedy and the Roman issue.
VERN L. KLINGMAN
First Methodist
Billings, Mont.
A most wonderful letter—should go to every American.
JOSEPH S. LONG
Grace Methodist
Billings, Mont.
The fullest and keenest contribution to date on the important matter of Romanist President.
MICHAEL M. MCDIVITT
Pittsburgh, Pa.
It is a masterpiece. It is one of the most comprehensive and thought-provoking discussions on the religious issue that I have read.
GLENN I. FORD
First Church of the Nazarene
St. Paul, Minn.
If we have a Catholic president after the first of the year …, we can lay the blame at the door of the Protestant churches and the religious press.
A. W. OSBORN
Berea, Ky.
There is bifurcation in Protestantism. The Christian Century came out against Norman Vincent Peale for questioning Sen. Kennedy's ability to preserve the separation of state and church. And who poses far more severe questions in the "open letter" published in CHRISTIANITYTODAY? None other than Charles Clayton Morrison, former editor of the Century. Brother, where are the "party lines" these days?
RUDOLPH F. NORDEN
Broadview, Ill.
May we elect a president of the United States who believes all marriages are legal and offspring from the same legitimate.
BERTRAM JENKINS
Portland, Ore.
Kennedy, going through the ritual of a Roman Catholic, apparently rebels against the encyclicals and pronouncements of the popes whom he acknowledges, by being a Catholic, are authoritative and sometimes infallible. Will he then, while going through the protocol of the presidency, actually deny or rebel against that encyclical of U.S political history—the Constitution?
This "religious question" is a political issue, not so much in gaining or losing votes, but because it is tied to political freedom. Many of us, labeled "bigots" by other bigots, frankly are worried about hell—a political purgatory of deprived personal freedom on this side of the curtain of death. The specter of Galileo still haunts and the ashes of Savonarola still burn the religious dissenter in Italy, Spain, and Colombia. With Catholicism in power the only valid argument against the "it can't happen here" attitude would be geographical! Then freedom wouldn't even have time on its side.
ALBERT E. CRAMER
London Bible Institute and Theological Seminary
London, Ont.
AT ST. ANDREWS
As a member of the General Board of the National Council of Churches and the Central Committee of the World Council of Churches, I regret to say that it has seemed to me that CHRISTIANITY TODAY has generally reported the meetings of both bodies in such a way as to put the worst possible construction on most of the things done at those meetings, and has generally exhibited a negative attitude toward the ecumenical movement so far as it is embodied in the National and World Councils of Churches. For that reason I am more than happy to be able to write this word of appreciation for the way in which the St. Andrews meeting of the Central Committee of the World Council was reported and interpreted. By and large, I think it was a fair report.…
More and more it has come to be for me a matter of deepest concern that between those whom Dr. Carnell fittingly described as the "classical orthodox" and those who in varying degrees take a more "liberal" position, a great gulf seems to be fixed and lines of communication fail. The gulf is always widened when those in either category question the basic devotion of the others to the Lord and Saviour whom both seek to serve.
JAMES E. WAGNER
President
Evangelical and Reformed Church
Philadelphia, Pa.
J. T. MUELLER
Best story I have read on the Council.… Concordia Seminary
St. Louis, Mo.
IN CENSURE OF CELIBACY
Mr. Lund's piece on "The Protestant Parsonage Today" (Sept. 12 issue) was thoughtful and helpful. He referred to certain writers—a dean of a large theological school in eastern United States and to an Anglican divine—who have made arguments for a celibate clergy in the Protestant Church. Mr. Lund evidently does not agree with such absurdity but one wished that he might have given necessary "treatment" to the unscriptural nonsense of these writers. Of course Paul's statement that the bishop shall be the husband of one wife means only one but it does show the custom and make the implication of married ministers. And we know that Peter was married, and the evidence makes it almost certain that Paul had been married. He said that he gave his vote … against the Christians. If that statement is literal, then Paul had been married because only married men could be members of the Sanhedrin.
Then, so-called "celibate" clergy are not celibate after all. Dr. W. B. Bagby, who began our Baptist mission work in Brazil and labored some fifty years or more, told me that he had been in hundreds of priests' homes and was introduced to their wives whom they called "companions." It was the common custom. The priests all had these concubines and made no bones of it.…
People in distress, especially women where delicate matters are involved, cannot talk to an unmarried man as they can and will to a married man.
… As long as preachers have sense they will marry good, cultured Christian women, the greatest power next to God that ever comes into their lives, and will pay no attention to the twaddle of theological professors about a celibate clergy.
L. E. BARTON
Montgomery, Ala.
Have something to add about this? See something we missed? Share your feedback here.
Our digital archives are a work in progress. Let us know if corrections need to be made.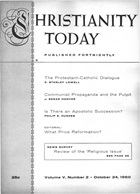 This article is from the October 24 1960 issue.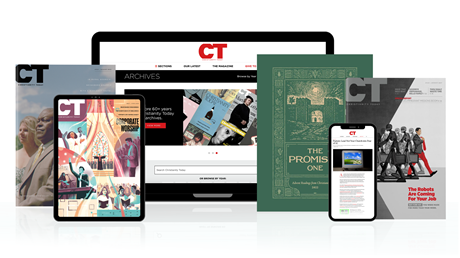 Subscribe to Christianity Today and get access to this article plus 65+ years of archives.
Home delivery of CT magazine
Complete access to articles on ChristianityToday.com
Over 120 years of magazine archives plus full access to all of CT's online archives
Subscribe Now
Eutychus and His Kin: October 24, 1960
Eutychus and His Kin: October 24, 1960