SOVEREIGN IN CHAOS
To take world chaos as a matter of course is a deadly danger. Those of us who are older remember times when there was a fair degree of stability in governments and in international relationships, but the generation now assuming control in world affairs has never known an era of real peace.
At the opening of the 87th Congress, Speaker Sam Rayburn solemnly told its members as he swore them into office that never since the time of Christ had the world faced dangers so great as now.
After only ten days in office, President Kennedy stated publicly that in that short time he had been staggered by the magnitude of the dangers we face abroad.
We live in the smallest world man has ever known, a world shrunken in size by prodigious feats in the area of communications. In 1916 the writer crossed the Pacific by boat, taking 19 days for the storm-hindered trip. A year ago we made the same trip by jet, high above storm involvement, in ten and one half hours. And we have not yet come to the end of speed potentials.
Other peoples besides ourselves are increasingly aware of the world in which they live, and envy, nationalism, and the insidious prodding of an ever-active communism adds both tension and danger to the situation.
With only few exceptions, we in America are living in a fool's paradise, and are regarding ease, comfort, entertainment, and the general pursuit of happiness as our rightful heritage and the imperishable American way of life. World unrest is often regarded as merely an annoying phenomena which threatens our state of ease.
One wonders whether it will take a national catastrophe to awaken us. We have permitted the world to hypnotize us by her soul-deadening philosophies We have become indifferent to God's plan of salvation or amended it to suit our own puny and sin-obsessed minds.
The sovereignty of God is a fact which few of us consider. He has not left himself without a witness and he will hold us responsible for how we receive and use his offer of redemption in Christ.
There are two contending forces in the world—the realm of Satan and the realm of Christ. Strange to say even in the theological world there are those who deny the existence of Satan as a personality, and those who go on to humanize Christ and deify man.
Rightly has Professor Emilé Cailliet said: "One of the neatest tricks Satan has ever perpetrated has been to convince so many that he does not exist."
But he does exist, and Christ exists, and the sovereign God will prevail. The question then of overwhelming importance is whether we are in the circle of God's will for us? Have we accepted his Son as our own Saviour and made him the Lord of our lives?
This is not a matter on which we may be casual or neutral, for we can in no way escape our own personal responsibility. We are either for or against Christ, and in one of these two positions rests our niche in eternity.
God, speaking through his servant Isaiah, says: "I am the Lord, and there is no other, beside me there is no God." Again and again he asserts his sovereign right and power, while his redeeming love is offered to all. Is there greater folly than ignoring or denying him?
We hear much talk today about the mission of the Church. Some of it is so obscured by words that none can understand the meaning; or, the mission and message of the Church is changed to a human concept and a human program.
One wonders why the simple affirmations of holy Scripture are not taken at face value. Paul states the outline of the Gospel in the first four verses of 1 Corinthians 15—the preaching of Christ's death for man's sins according to the Scripture, and his resurrection from the dead according to the Scripture. Strange that these two essentials are so often lacking in the preaching of sophisticated theological circles today!
Our Lord gave two commands to his disciples—to love one another, and to go out and preach the Gospel to all creatures. How lacking we are on both counts! How often the "christ" that is preached is not the Christ of the Bible!
But let us never forget this: we are all held accountable by the sovereign God, and he will judge us as surely as he will judge all men in the light of what we have done with his Son.
With one sure foundation already laid, are we not utterly foolish to ignore it in favor of something more appealing to the intellect or flattering to the ego?
God has given us the motive for preaching, teaching, and living the Gospel—this is the uniqueness of Christ as man's only hope and the certain guidance, power, and blessing of the Holy Spirit in making him known.
God has also given us the methods of witnessing for him, which consist of the preaching of the Gospel by word of mouth and by consecrated daily living. Sometimes we forget that "after that in the wisdom of God, the world by wisdom knew not God, it pleased God by the foolishness [the folly of what we preach] of preaching to save them that believe." Sometimes we apparently think that men can be won by clever words, but it is the "simplemindedness of the Gospel message" (Phillips) which, by the power of the Holy Spirit, brings men to a saving knowledge of Christ.
Furthermore, God has given us the means of making him known. While the Gospel message never changes, the means of making it known change from generation to generation. For the purposes of preaching Christ, science has rendered valuable and effective avenues of communication through press, radio, film and television. How tragic it is that there are increasing pressures to eliminate vital Christianity from these tools of expression.
Education, one of the foundation channels of imparting Christian truth, has in recent years often become an aggressive anti-Christian influence. This phenomenon too stands under the judgment of God, and some day institutions which were once Christian will be asked, "What have you done with the Christ in whom once you had faith and that faith was the very foundation of your learning?"
We see on every hand effect of two worlds in collision. We feel striving within us the urges of Satan and the yearning pleas of the Saviour. Saved by the grace of God we are nevertheless responsible for those acts of the will whereby we accept or reject him.
The sovereignty of God is too frequently brushed aside today in favor of the dominance of man. But this folly on the part of man neither vacates God from his rightful place nor does it change one iota God's sovereign plan and will.
We cannot be neutral in our attitude. Either we align ourselves with Christ and accept him in simple faith as Saviour and Lord, or we remain aligned with Satan, the enemy of our souls. How much better it is to choose him who is sovereign now and for eternity!
L. NELSON BELL
Have something to add about this? See something we missed? Share your feedback here.
Our digital archives are a work in progress. Let us know if corrections need to be made.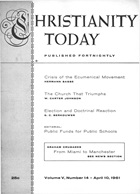 This article is from the April 10 1961 issue.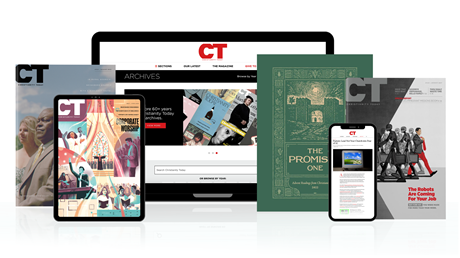 Subscribe to Christianity Today and get access to this article plus 65+ years of archives.
Home delivery of CT magazine
Complete access to articles on ChristianityToday.com
Over 120 years of magazine archives plus full access to all of CT's online archives
Subscribe Now
Are You Breathing?
Are You Breathing?