It is in many ways a healthy sign that the past year has been especially fruitful in the historical and theological fields. In a survey it is inevitable that only a selection should be given out of the great number of titles, and even selection is difficult in view of the many significant works. Here, however, are some which seem to make a real contribution in the different areas.
CHURCH HISTORY
In church history, the 400th anniversary of the Scottish Reformation naturally produced some interesting work, and it was a particular pleasure that Principal J. H. S. Burleigh, Moderator of the Church of Scotland for the year, should publish his Church History of Scotland (O.U.P.). In addition, Gordon Donaldson, Reader in Scottish history at Edinburgh, made a twofold contribution from the Episcopalian angle with his valuable Scottish Reformation (CUP) and a more popular general history, Scotland: Church and Nation through 16 Centuries (SCM)
In the more general field, Professor Kenneth Latourette pursues his massive series on Christianity in a Revolutionary Age, and Volume III on The Nineteenth Century Outside Europe (Harper) is on the present winter list. Another valuable study in a complicated area is William R. Cannon's History of Christianity in the Middle Ages (Abingdon). More specialized studies which deserve notice include Franklin Hamlin Littell's The German Phoenix (Doubleday), in which an account is given of the results of the church struggle against Hitler, and a fresh account of the history of Bible translation into English in God's Word Into English by Dewey M. Beegle (Harper). The latter is especially timely in view of the impending publication of the new British revision. Nor should we forget to mention Professor Herbert Butterfield's International Conflict in the Twentieth Century (Harper) as an attempted Christian evaluation of modern history by a historian of real Christian conviction.
Various useful texts have been printed or reprinted during the past year, and although some of these are primarily for students or specialized readers, there are others of more general appeal. Thus, together with additions to larger series, we may take note of the Centuries by Thomas Traherne and Selected Letters of Francois de Sales (both Harper), as also of the Bridlington Dialogue, a twelfth century commentary on the rule of St. Augustine (Mowbray). The Latin text of Ambrose On the Sacraments (Mowbray) has also been edited, and a fine new addition to our knowledge of eighteenth century German thought is made in the strange but pregnant utterances of J. G. Hamann, the famous Magus of the North, as presented in the English Selections of Ronald Gregor Smith of Glasgow (Harper). Perhaps this is the point where we might also mention a new edition of the monumental Patrology of B. Allaner (Nelson).
CHRISTIAN MISSIONS
Two books of particular interest may be noted out of the growing literature on Christian missions. First, there is a new edition of the established Progress of World-wide Missions by Robert Glover (Harper). Second, the well-known English writer J. C. Pollock, a contributing editor of CHRISTIANITY TODAY, has given us a vivid and informative account of a recent tour of mission fields in Earth's Remotest End (Macmillan).
BIOGRAPHY
Larger biographies are not perhaps so popular as they ought to be, but some notable additions have been made in the biographical field which readers would be foolish to ignore. Students of church history in its earlier stages will be grateful for a fresh account of Eusebius of Caesarea by Wallace Hadrill (Mowbray). Anglican evangelicals in particular will welcome an account of that great stalwart Bishop Mowll (Hodder and Stoughton), the late archbishop of Sydney and primate of Australia; and indeed, evangelicals of other persuasions might profit from this story as unfolded by Marcus Loane. Mention of Australia reminds us that there is an informative story of Billy Graham's Australian Crusade in Light Beneath the Cross by Stuart Babbage and Ian Siggins (Doubleday). The famous gloomy dean of a previous generation is depicted in the Dean Inge of Adam Fox (John Murray).
PRACTICAL THEOLOGY
Turning to practical theology, we may note that to the recent prison sermons of Karl Barth (Deliverance to the Captives) there have now been added sermons by Emil Brunner, I Believe in the Living God (Westminster), and Rudolf Bultmann, This World and the Beyond (Scribner's). It is well that our theologians should be preachers as well as academic instructors, and, whatever we may deduce from it, the preaching is in general better than much of the instruction. Other notable sermons are found in the volume Our Heavenly Father by Helmut Thielicke (Harper) and Stand Up in Praise to God by another contributing editor, Paul Rees (Eerdmans). Essays in applied theology are to be found in The Providences of God by Georgia Harkness (Abingdon) and the present writer's Christian Ministry in the useful Pathway Series of Eerdmans. Perhaps we should put in the same category the rather different and challenging new book of J. B. Phillips, God Our Contemporary (Macmillan).
SYSTEMATIC THEOLOGY
More systematic theology has also added its quota. Continuing interest in the neglected doctrine of the Holy Spirit is reflected in Lindsay Dewar's provoking study, The Holy Spirit and Modern Thought (Harper). Stephen Neill, who has also written engagingly on some great ecumenical leaders in Brothers of the Faith (Abingdon), has given us an interesting work on Christian Holiness (Harper). A warm welcome will be given to the new edition of Bishop Lesslie Newbigin's Reunion of the Church (SCM). Another small but valuable work contains two reports of the Faith and Order Commission under the title One Lord, One Baptism (SCM). To those who know the ecumenical movement mostly at the Life and Work level, these reports will offer a new aspect of theological work at the deepest level which deserves the most careful study and assessment. Sacramental theology is represented by R. S. Paul's The Atonement and the Sacraments (Abingdon), and the doctrine of predestination is the subject of lively discussion in a welcome translation of Pierre Maury's Predestination and Other Papers (SCM)
More generally, we may note a new edition of L. Harold de Wolf's Theology of the Living Church (Harper), though unfortunately the revision brings no beneficial shift in perspective. An attempted evaluation of the modern position is found in New Accents in Contemporary Theology by Roger Hazelton (Harper). A more basic note is sounded in the translation of the Dogmatics of Herman Diem of Tübingen (Westminster), and we again welcome an evangelical symposium in The Word for the Century: Evangelical Certainties (Oxford), to which many well-known evangelical scholars have contributed.
Rather strangely, there is little new from the pen of Karl Barth, who is now hard at work on the last part of Volume IV and on Volume V of his Church Dogmatics. In English, the volume on anthropology (III, 2) made its appearance during 1960 (T. & T. Clark), and the volume on providence, angels, and demons should be ready early in 1961 (III, 3). At long last, a rendering of Barth's Anselm has now become available to the English-speaking world. Whatever its value as an exposition of Anselm, this is a critical work in Barth's own turning from Kierkegaardian subjectivity to the attempted objectivity of the Dogmatics.
There remain the great Reformation and evangelical reprints and new editions, and in this area 1960 was a truly magnificent year. Addition was again made to the great Luther translation, this time in the form of the Lectures on Genesis. The Banner of Truth Trust and the Sovereign Grace Book Club have continued their excellent work in reproducing older classics, more particularly in the Puritan range. Above all, however, the new Calvin translations have now made their appearance. In two volumes of the Library of Christian Classics (XX and XXI, Westminster) we now have a completely new and far more scholarly rendering of the Institutes which no serious theologian can afford to ignore. In addition, we also have the first fruits of the revision of the Calvin Commentaries (Eerdmans) in which the obscurities, errors, and crudities of the original translation are finely corrected. In both these ventures there has been a brilliant deployment of scholarship to produce English texts which are both more accurate and more readable, and which should serve to introduce Calvin to a wider circle of readers who have not yet learned to appreciate his greatness.
Sometimes we take a gloomy view of the progress of the faith in our age. Certainly there is no cause for complacency. Even some of the books mentioned give grounds for uneasiness. On the other hand, there are obvious compensations in the growing works of true academic and evangelical worth, and we certainly need not be too pessimistic in relation to a year which can produce the scholars, the publishers, and, we hope, the readers for such great new editions as those of the Calvin Institutes and Commentaries.
Samuel M. Shoemaker is the author of a number of popular books and the gifted Rector of Calvary Episcopal Church in Pittsburgh. He is known for his effective leadership of laymen and his deeply spiritual approach to all vital issues.
Have something to add about this? See something we missed? Share your feedback here.
Our digital archives are a work in progress. Let us know if corrections need to be made.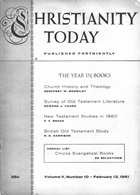 This article is from the February 13 1961 issue.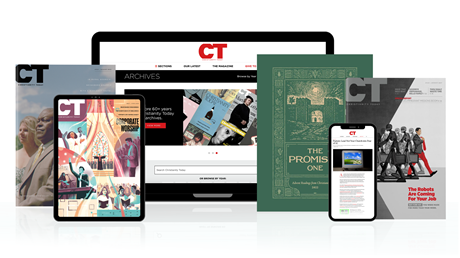 Annual & Monthly subscriptions available.
Print & Digital Issues of CT magazine
Complete access to every article on ChristianityToday.com
Unlimited access to 65+ years of CT's online archives
Member-only special issues
Subscribe
The Year in Books: Church History and Theology
The Year in Books: Church History and Theology