In his presidential address to the National Free Church Council in 1916, the Reverend J. H. Shakespeare, one of the outstanding free church leaders of those days, spoke these ominous words: "You know that for years there has been a decline in members and Sunday school scholars, and that, unless it can be stayed, the free churches must slowly bleed to death."
Forty-five years have passed since those words were uttered, and the free churches in England and Wales are still alive. That does not mean that any of us are satisfied with the state of the free churches, for "continuous decline" in the membership of some of our major denominations has gone on to this day. But the result is not quite so catastrophic as some of the pessimists were inclined to prophesy.
At the time Mr. Shakespeare spoke, the free churches were a political force in the land and governments took careful note of the resolutions sent to them by the free church council. But this era has ended and we are not likely to see it again. The cynic used to say that "the Church of England was the Conservative Party at prayer," and others added that "the free churches were the Liberal Party at prayer." With the Right Honorable David Lloyd George, the Liberal Prime Minister, as a vice-president of the National Free Church Council, it was inevitable that people should associate the free churches with the Liberal Party and link up the decline of the former with the almost total extinction of the latter.
CAUSES FOR DECLINE
But this would be a superficial and wrong judgment. There are other and more serious causes for the decline of the free churches. The first World War with its complete change of habits of millions of men, women, and children, plus a loss of faith in God which beset many hearts, caused a grievous wound in the Body of Christ in this land from which it has never really recovered. It has been calculated that nine people out of ten hardly ever darken a church door (of any denomination) in England. Who are the nine, and why do they not come to church?
Most of these are decent law-abiding citizens with no antipathy to the church (in fact, they all like to have a church near their own home where their children can be baptized, their daughters married, and their old folks buried), but with an impregnable wall of apathy and indifference surrounding them. If questioned, they would all say they are Christians, but they see no necessary connection between that and attending church regularly. Their usual excuse is that there are so many denominations that they are confused and don't know which one to attend. "Why don't the churches get together?" they ask rather petulantly.
But in districts where the churches have come together and have formed a united community church with no denominational label, the attendances are little better and sometimes worse! Now, this does not excuse our slowness in breaking down the barriers between us. Kagawa used to say that he spoke English very badly, and when he tried to say "denomination" it sounded more like "damnation"! Certainly the slowness with which the free churches have debated the matter of union, without getting any further, has bedeviled our witness in the eyes of the ouside world.
FIGURES AND FALLACIES
Because figures can be very deceptive, comparisons of figures between denominations can lead to snares and delusions. Professor Highet of Glasgow University (who has done a great amount of research in church statistics) is constantly pointing out the fallacy of comparing Roman Catholic and Protestant figures. The Roman Catholic church, for example, counts every baptized child as a member, while the Protestant churches only count as members adults who have made a profession of faith and have confirmed their baptismal vows. This strictness tends to depress the numbers on our church rolls and thus give quite a false impression. There are some parts of the Highlands of Scotland in which the free churches (or "Wee Frees") have a majority. Their membership rolls may show only 50 names, but attendances on Sunday may average 500. Such is the fear in the Highland heart of "eating and drinking unworthily" that many postpone the act of joining the church until they reach the sere and yellow leaf, while most do not join the church at all although they attend faithfully.
With this caveat, let us look at the facts and figures of the free churches in England and Wales. Undoubtedly, the figures are disturbing and show a slow but steady decline over the last 50 years. The idea that all churches were crowded to the doors 50 or 60 years ago when "everybody went to church" is a figment of the imagination. The fact is that 50 years ago the free churches had sittings for 8 million people, while the membership was only just over 2 million. In those days when the motor car was in its infancy, radio and television were unknown, and Sunday cinemas and other counter-attractions were nonexistent, there were some churches in London and throughout the country which were crowded to the doors. Today, when it is no longer fashionable to go to church, and when there are innumerable counter-attractions on Sundays, there are still some great preachers who can draw "capacity" congregations. In London, the City Temple (Congregationalist) and St. Columba's, Pont Street (Presbyterian) have closed-circuit television built in to cope with their overflow congregations, while churches like Westminster Chapel (Congregationalist) and some of our suburban free churches are crowded Sunday by Sunday.
The four major free churches in England and Wales are the Methodists (with 733,658 members), the Baptists (with 242,000 in England and 93,000 in Wales), the Congregationalists (with 212,017 in England and 111,864 in Wales), and the Presbyterians (with 71,039 in England and 138,655 in Wales).
In round figures, there are 23,000 free churches, 17,000 Anglican churches, and 3,000 Roman Catholic churches in England and Wales.
Each denomination has its quota of problem churches, where the population has changed its character or moved away, so that the closure and sale of downtown church buildings is a common experience. On the other hand, each denomination has its own church extension policy that reaches out into new areas, and new churches are constantly being opened. For some years now there has been an understanding between the major denominations that only one church is opened in each new area to serve all the free church denominations. Unbridled competition in church building has gone. The day of co-operation has dawned.
Fifty years ago there were (in round figures) 2,150,000 members in the free churches and 3,250,000 Sunday school scholars. Today the numbers are 1,550,000 members (a drop of 25 per cent) and 1,225,000 Sunday school scholars (a drop of 60 per cent)—and it must also be remembered that, so far from standing still, the population has increased by some 30 per cent during this period: a fact which aggravates the situation still further. Thus, while the churches in the United States have been growing by leaps and bounds to unprecedented heights, we have been steadily declining in numbers. The landslide in our Sunday school numbers has been catastrophic.
MITIGATING FACTS
Over against these figures there are one or two mitigating facts. One is that there are hundreds of thousands of "adherents" in our free churches who will not allow their names to go on the roll, but who attend one church or another. If asked point-blank what they are, they would say Methodist, Baptist, Congregationalist, or Presbyterian, as the case might be. So there is, up and down the land, a very wide public of free church people, well-disposed towards the churches but who cannot be tabulated or counted.
Then the recent movement of Christian Stewardship, which has affected most of our churches, while not producing more members, has deepened the meaning of membership. We now have a more responsible type of member, ready to worship more faithfully, give more generously, and serve the church and community more readily.
One more mitigating fact is that since the 1944 Education Act became law, every day-school in the land must begin the day with an act of worship and with the teaching of Scripture.
But when every explanation has been given, and every excuse made, the fact remains that the revival, for which so many of us have prayed and worked for decades, shows no sign of coming to our land. When the Spirit tarries, we must wait for Him; but many Christian hearts in Britain today cry out: "How long, O Lord, how long?"
Samuel M. Shoemaker is the author of a number of popular books and the gifted Rector of Calvary Episcopal Church in Pittsburgh. He is known for his effective leadership of laymen and his deeply spiritual approach to all vital issues.
Have something to add about this? See something we missed? Share your feedback here.
Our digital archives are a work in progress. Let us know if corrections need to be made.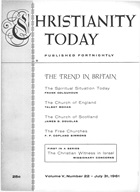 This article is from the July 31 1961 issue.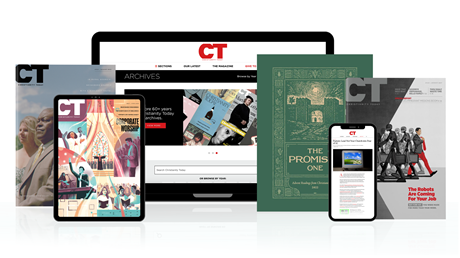 Subscribe to Christianity Today and get access to this article plus 65+ years of archives.
Home delivery of CT magazine
Complete access to articles on ChristianityToday.com
Over 120 years of magazine archives plus full access to all of CT's online archives
Subscribe Now
Free Churches: England Wales
Free Churches: England Wales