ACROSTIC
After reading your discussions of modern theology I decided that what we need is simplification and dramatization. How about a Miracle Play for Children's Day? I have space only for an introduction to set the stage.
Hi there, dear neighbors,
We're here to present
Modern response to
Redemptive event.
Each of our stories
Has meaning for you:
This is the viewpoint
That makes them all true.
If you should think that
We really believe
Miracles happen,
Then you'd be naïve!
Let us recall that
Psychologists know
Faith is assurance
Of what isn't so.
Simply relax if
You feel any strain
This is all true on
A different plane.
Give up the thinking
That tends to restrict a
Full field of play for
The myths of geschichte.
Even if we are
Not perfectly clear
Just where this leaves us—
We know it's not here.
So, with this verse to
Declare our intention,
We must be off to
Another dimension.
Carefully choosing
From J, E, and P,
Legends and sagas
Of pre-history,
Here we present for
Your edification
Tales that were spun out
In campfire narration.
If you're confronted,
Confused, or just dense,
Hear our recital
To meet existenz!
Even in German
A word ends at last;
That's our acrostic,
Now let's have the cast!
EUTYCHUS
CONFIRMING THE CRISIS
I speak to … your fine review section on "A New Crisis in Foreign Missions?" (Apr. 24 issue).… To disavow the limitations of human reason and assume the opinionated role of small gods who proclaim the absolute character of the Christian revelation by giving it the exclusive blessing of God is to fumble and fall in the face of penitent humility which alone preserves the Christian from an arrogance which separates him from the world and gives him shelter with only those of his own kind.
JOHN C. HEIDBRINK
The Fellowship of Reconciliation
Nyack, N. Y.
I still get the feeling that you as many other evangelicals will be unhappy unless millions of souls are damned, that unless millions are damned you would not be happy in heaven!
DANIEL L. ECKERT
Danville, Ill.
Students of political science had their Das Kapital and their Mein Kampf. They were late in recognizing the revolution in political government, until it is now too late, and we have our Red China and our Red Cuba. As we so glibly give up our freedoms to a World Council of Churches to screen out and to send missionaries suitable to their likes to the foreign fields, we may look forward to the destruction of the work of our missionaries of the last two hundred and seventy years. We can look forward to a parallel chaos to that which we have in the political sphere, as authoritarian bureaucracy and world church government is the accepted modus operandi.
JOHN C. HANSE
Peoples' Park Reformed Church
Paterson, N. J.
MORAL RE-ARMAMENT
Re little being known of MRA (News, Apr. 24 issue): There are factual reports on its birth and development year by year. One of these is Remaking the World, first published by Robert M. McBride and Co., N. Y., 1949. Another is Report on Moral Re-Armament, edited by R. C. Mowat, Senior Lecturer in History at the Royal Naval College, Greenwich, first published by Blandford Press, Ltd., London, 1955.
… Statements on MRA doctrine need an answer. Let me quote from Dr. Buchman, speaking at Caux, Switzerland … 1960. " 'The blood of Jesus Christ cleanseth us from all sin'—until you reach that place with men, you haven't begun." This fundamental truth is at the heart of everything planned and done in MRA.
MRS. J. S. NICKERSON
Arcadia, Nova Scotia
TRANSLATING THE PRONOUNS
Current translations of the New Testament use a rule which applies thou and thee to God and you and your to men. In the light of this rule, which are the preferable pronouns for Christ? What are the Christological implications of the first five books of the New Testament and which pronouns better translated these implications?
According to the Gospels, Jesus conceives of his own conduct as God's goodness in action calling near to him sinners who apart from him would have to flee from God. "His transcendent claim stands behind his every word and each of his deeds" (J. Jeremias). His receiving sinners to the eschatological meal is a parable of God's grace bringing salvation (Luke 15). His calls for decision with regard to his own person are at the same time words of promise, of grace. Or, as Barth, Church Dogmatics, IV/1/161, writes, "There is no discernible stratum which does not in some way witness that it was felt that there should be given this man, not merely a human confidence, but that trust, that respect, that obedience, that faith which can be offered only to God."
He is the embodiment of the Kingdom of God in conflict with the forces of Satan entrenched in the scribes, the Pharisees, the Sadducees, the Herodians, and the iron hand of Rome. In the face of this tremendous opposition only those who are moved by the supernatural grace of God answer his call for decision, confess his messiahship, and supplicate his mercy. As only the Son knows the Father, so only the Father knows the Son (Matt. 11:27). And only as Jesus is revealed by the Father, or his Holy Spirit, is he confessed as the Christ, the Lord, the Son of God (Matt. 16:17; 1 Cor. 2:11; 12:3). Suzanne de Deitrich recognizes the issue (God's Unfolding Purpose, p. 181): "This is a crucial decision, for between human admiration for the person of Jesus, and faith in Jesus as the Son of God and Saviour of the world, there is all the difference between heaven and earth, between a divine revelation and a human sentiment. Only the grace of God enables us to recognize this difference, by revealing the Son of God to us (Gal. 1:15–16; 1 Cor. 12:3).
Now when this revelation is proclaimed and this confession is made, ought it not to be phrased in terms which indicate that the same is not mere human admiration but faith in Jesus as the Son of God given by the revealing work of the Father? Ought not Peter's confession be read, "Thou art the Christ, the Son of the living God?"
By the resurrection, their companion of former times has "become the Lord," he before whom men bow and adore (John 20:28; cf. Matt. 28:17; Luke 24:52). From now on, the difference between Jesus and his disciples is the difference that separates men from God," ibid, p. 193). Ought not Jesus then, even more after Thomas' confession, be addressed as thou? Yet in the blinding, theophonic appearance from heaven, the recent versions make Saul address the ascended Christ as you. And this despite the ego eimi language of deity used by the Lord of Glory in this encounter: "I, even I myself, am Jesus of Nazareth whom you are persecuting."
The first four books of the New Testament are not biographies composed to satisfy the curious. They are Gospels written from faith for faith. Through the reading and the preaching of the Gospels and of the Acts, as well as of the Epistles, the Lord Jesus Christ proclaims himself and calls men to the decision of faith in him. Accordingly, the English-speaking fellowship of faith is responsible for authorizing only those translations which present our Lord and Saviour with pronouns appropriate to faith's portrayal of him in the Gospels and Acts—as also in the other Scriptures of the New Testament.
WILLIAM C. ROBINSON
Columbia Theological Seminary
Decatur, Ga.
DIVISION OF THE HOUSE
The proposal for realignment made by G. Aiken Taylor in The Presbyterian Journal, April 5, 1961 … is a very practical suggestion and deserves full consideration in any proposals for church union considered by the Presbyterian Churches (News, Apr. 10 issue).
E. CROWELL COOLEY
Calvary Presbyterian Church
Norfolk, Va.
My fundamental faith recoils at such little immature concepts of His Church which is both ecumenical and evangelical … Ecumenicity means to me at least that we put people primary in our preaching, and such things as programs, policies, politics, principles, processes, possessions, products, and presbyterians are secondary considerations!
WILLIAM ALBERT SMITH
Luxemburg Presbyterian Church and Berkshire Valley Presbyterian Church
Wharton, N. J.
If no such readjustment can be made in the near future I fear for the continued existence of the Presbyterian and Reformed faith. For while extreme ecumenists are as yet, I believe, in the minority in the United Presbyterian and Southern Presbyterian churches, yet the ceaseless propaganda and tireless activity of this minority will eventually prevail. Such tactics carried on tirelessly for twenty years finally succeeded in engulfing the United Presbyterian Church of North America, and silencing her unique testimony to the complete inspiration of the Holy Scriptures and the true deity of our Lord Jesus Christ, which for one hundred years she unwavingly held and faithfully proclaimed. San Diego, Calif.
JAMES A. GORDON
ETYMOLOGY AT WORK
A simple etymology can help us to see the distinction between Historie and Geschichte. Geschichte (which definitely does not, for Barth or anyone else, "denote that which is above history") comes from geschehen, to happen, and means "that which happened in the past." Historie comes from the Greek historein, to inquire, to narrate what has been learned by inquiry, and means "a present narration of such facts about the past as can be obtained by critical methods." It is unfortunate that our English word "history" can mean both, either "the past as such or "a book about the past." (R. H. Fuller in Kerygma and Myth, p. xi, suggests making the distinction in English between historic = geschichtlich and historical = historisch.) One may or may not accept the distinction, but to fail to recognize it in others is to abandon any attempt to understand them. The result can only be … a travesty of Barth's and Brunner's theology.…
For example, the resurrection of Jesus Christ is not an "historical" event at all, but it definitely is for all believers the most important "historic" event of all history. That is to say, the most an historian using all the means of critical inquiry can say about it is that the early church pointed to certain witnesses who said they had seen Jesus after his death (1 Cor. 15:3 ff.). In the light of Matt. 28:15, he could also say that it is probable that the tomb was empty. But only the Christian can say with Peter (Acts 2:24; 3:15; 4:10, etc.) that God raised Jesus Christ from the dead. Our certainty of this historic event is not based on the probabilities of the historians but on the revelation of God in the appearances then and in the witness of His preachers and the internal witness of the Holy Spirit now. We cannot prove it, for even an eyewitness of this event could have given it his own unbelieving interpretation, but we can believe it and confess it.
LLOYD GASTON
Hightstown, N.J.
NCC SOCIAL ACTION MANUAL
It is not fair for Mr. Anderson to cry out so sharply (Eutychus, Feb. 27 issue) against the recommendations of a book which in the nature of the case can only cite a limited number of case studies. If he were to consider the book more carefully … he would doubtless discover … that the results of its use have thoroughly justified the work of its author.
MALCOLM E. PEABODY
Retired Bishop of the Episcopal Diocese of Central New York
Cambridge, Mass.
LOGIC OF THE SADDUCEES
I was shocked by the lack of objectivity and twisted logic of John F. C. Green's letter (Feb. 27 issue). To make only one point in answer: To argue that the Confessing Church under the Nazis, and Dietrich Bonhoeffer as one of the leading figures of that movement, simply represent a "power-block" in defiance of government and church and to conclude: "Their martyrs—at least a number of them—deserved to be executed for collaborating with the enemy of the country: one of them Bonhoeffer," is to follow the precise logic of the Sadducees who threatened Peter and John, favored the stoning of Stephen, and nailed Christ to the Cross for insisting on the principle, "We must obey God rather than men."
KARL T. SCHMIDT
Wartburg College
Waverly, Iowa
Have something to add about this? See something we missed? Share your feedback here.
Our digital archives are a work in progress. Let us know if corrections need to be made.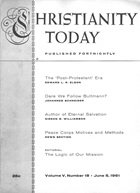 This article is from the June 5 1961 issue.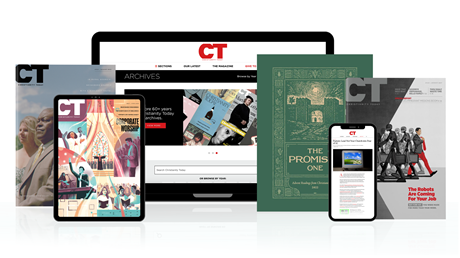 Subscribe to Christianity Today and get access to this article plus 65+ years of archives.
Home delivery of CT magazine
Complete access to articles on ChristianityToday.com
Over 120 years of magazine archives plus full access to all of CT's online archives
Subscribe Now
Eutychus and His Kin: June 5, 1961
Eutychus and His Kin: June 5, 1961