I SAY IT NOW
In one sense this is a "last will and testament." In another it is a letter to old friends, acquaintances, and to thousands of others it shall never be my privilege to meet.
This is written in an effort to make up for the multiplied times I should have spoken a good word for my Lord and failed to do so.
It is written because of an impelling desire to share with others some of the blessings which God in his goodness has poured out on me through His Son—blessings that are current and that will last through eternity.
"But What Is the Hurry?" you ask. The hurry is that this is the most important thing I can ever say to you.
Because, in my frequent contacts with you where banter, trivialities, or idle chatter have been the usual thing, I have failed to mention the most important subject in all the world.
Although I may never have shown it as I should, I love you as a friend of long standing, or as a casual acquaintance, or as one of millions I have never met but for whom I have a genuine concern.
Where personal friends are concerned, I have so often hidden the Christ who means everything behind my own facade of pride, selfishness, and trying to "sell" myself instead of the One who is my Saviour.
And because I have done this, you have seen a sinner (saved by grace—yes, but nonetheless a sinner) who should have led you to see Him, the sinless One.
I say this now because you may at times have imagined you saw in me some measure of "goodness" when as a matter of fact that goodness was, in God's sight, nothing but "filthy rags." Anything which is truly good and right is the radiant goodness of my Lord which he gives to his own and for which all of the glory and honor are his own.
The prophet Isaiah speaks to the veneer of "goodness" in these words: "But we are all as an unclean thing, and our righteousnesses are as filthy rags."
I am writing to you because in my own heart I know there have been times when I have tried to steal God's glory and in so doing have denied and dishonored him. Our Lord has warned us about this: "Let your light so shine before men, that they may see your good works, and glorify your Father which is in heaven" (Matt. 5:16).
In our contacts we have seen each other, but I want you to see God as revealed in his Son. How fatal it is if we fail to appreciate this fact—"I am the Lord, and there is no other, beside me there is no God."
I write this now because sooner or later I will die and then it will be too late for me to bring these things to your attention. Others may do so but I will have failed in my duty and privilege of witnessing for my Lord.
I also write this because for me there is no fear of death. I know that through the love, mercy, and grace of Christ who died for my sins, cleansing me by his life's blood, and rising again from the dead for my justification, I am thereby saved to live with him for all eternity.
The Bible is full of words of promise and assurance, none more familiar than the words of John 3:16: "For God so loved the world, that he gave his only begotten Son, that whosoever believeth in him should not perish, but have everlasting life." I know I am included in the "whosoever," that I believe in him and that as a result I have eternal life.
And I write this because I want you to have this same hope, peace, and assurance in your heart, and you may have these through a simple act of faith—accepting what Christ has done for you.
God's way of salvation is so vital to know.
For all men—yes, you too—are sinners in the sight of God, sinners by birth, by choice, and by practice. The fact that "all have sinned and come short of the glory of God" (Rom. 3:23) is just as inclusive and real as is God's offer of forgiveness and salvation to all who will believe.
Again, whether you or I like the idea or not, the consequences of sin are death—eternal death with separation from God—because God is holiness personified and it is impossible for anything sinful to come into his presence. "The wages of sin is death," and these wages are always paid.
But there is a glorious alternative to death, and that is eternal life. The same Bible verse which tells us that the wages of sin is death goes on to say, "but the gift of God is eternal life through Jesus Christ our Lord" (Rom. 6:23).
This alternative, eternal life instead of eternal death is based upon the love of God. He knows our sinfulness and its consequences, and he did something about it (John 3:16).
Fortunately for us, God has not told us to do something to save ourselves; he has told us to believe what he has done for us. "Not by works of righteousness which we have done, but according to his mercy he saved us," and, "by grace are ye saved through faith; and that not of yourselves: it is the gift of God," remind us that salvation is not a matter of human merit but of humble believing.
The Apostle Paul and his companion were asked by the frightened Philippian jailor, "Sirs, what must I do to be saved?" And their answer was not that he should go out and start leading a good life, important as moral rectitude is. Rather their reply to him was, "Believe on the Lord Jesus Christ, and thou shalt be saved, and thy house."
How was this accomplished? When Christ the eternal Son of God died on the Cross, he made a perfect atonement for sin. The holiness, righteousness, justice, love, and mercy of God were vindicated and revealed. We cannot explain all that took place, nor can we understand all of its implications; but this we can know and believe—Christ died for our sins, in our place, and opened the way for us into God's holy presence. If only the death of the Son of God could solve the sin problem, how great then was that problem!
All of this is background for my telling you the effect of knowing Christ as my Saviour.
I have peace in my heart—peace with God and the peace of God.
Fear of death is gone for death will be nothing but a transition into his glorious presence.
Faith in Christ brings assurance, confidence and hope. In my soul there is the witness that it is true. With the Apostle Paul I can say, "For I know whom I have believed, and am persuaded that he is able to keep that which I have committed unto him against that day" (2 Tim. 1:12).
And finally, because of this assurance of my Saviour in my heart, I am no longer worried about the contingencies of life. I know that Romans 8:28 is true: "And we know that all things work together for good to them that love God, to them who are called according to his purpose."
L. NELSON BELL
Have something to add about this? See something we missed? Share your feedback here.
Our digital archives are a work in progress. Let us know if corrections need to be made.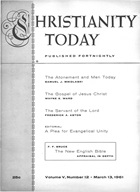 This article is from the March 13 1961 issue.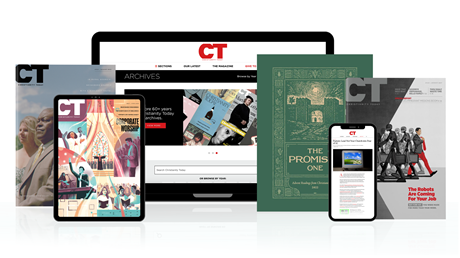 Subscribe to Christianity Today and get access to this article plus 65+ years of archives.
Home delivery of CT magazine
Complete access to articles on ChristianityToday.com
Over 120 years of magazine archives plus full access to all of CT's online archives
Subscribe Now
I Say It Now
I Say It Now