YOGA
Dear Eutychus:
At last I am on the verge of something vast. Really. Here in Paris I came across the most breath-taking little group. They gather on weekends in a secluded villa to practice Christian yoga. Their guru, or teacher, is a yogi barely my age, but a great adept. He is a Hindu, but the group regards him as a resource person; their purpose is to adapt this age-old technique for our ecumenical life. When I first saw him, he was meditating in the lotus posture, enigmatic and withdrawn. I could feel the mind of the East.
Of course I am the merest beginner. The yogi indicated I was not yet ready for the breath-control exercise they are working on. It is just as well; I have a head cold, and couldn't manage the long exhalation through one nostril.
In my own room I have been practicing concentration, however. I fix my eyes on my forehead, hold my breath, and think the syllable OM. I know I'll break through into the supra-conscious state soon. I heard bells on my third attempt. And to think my trip will take me to India!
In Integral Oneness, I Am,
Albert Ivy
Dear Eutychus:
You needn't have sent that nasty book. I don't need second sight to discern your motives. Much you care about "assisting me toward total liberation." You simply wanted to appeal to my Western prejudices by exposing me all at once to yoga hygiene. The Paris group did not inhale strings or swallow wash cloths, not to speak of those other rituals of cleansing.
I don't know how you guessed that most of the group were Americans. Why should that be hard on the guru? "How many can your yogi bear?" you ask. Well, as a matter of fact, he did leave. But for different reasons. Actually, he eloped with a charming New Haven debutante with whom he had developed the most sympathetic mental emanations. It seems he was from Brooklyn himself. In India I hope to pursue my researches on a new level.
Yours truly,
Albert
FOR THE DARK HOURS
"And Preach as You Go," by Floyd Doud Shafer (March 27 issue) was superb. Every seminary should incorporate these demands into the essentials of the curriculum. Every pulpit committee should anticipate finding these qualities and every board of deacons should demand them in their pastor. Then would the world once again be able to turn to the church and hear the voice of God in its darkest hours.
EDWARD T. BARRAM
Conservative Baptist
Foreign Mission Society
Woburn, Mass.
Ouch—but Amen!
LESTER E. PIPKIN
Appalachian Bible Institute
Bradley, W. Va.
I get a little weary at being told what a terrible job I'm doing as a minister; what a dullard I am; how little I know of the Word of God; how irrelevant I am to real life and what a worm I am in the eyes of the Great Big Sophisticated World! This is the theme that every religious magazine and most books on the ministry seem to harp on.
We, as a group of clergymen, criticize ourselves to pieces, yet we know that most of us do the best job we know bow to do—with the limited tools of intellect, wisdom and dedication which are ours. What to author Shafer is "insipid morality" may well be a most sincere attempt to follow the Saviour; what he calls "supine intelligence" will turn out to be, most likely, the results of what he calls for in the early part of his article: 40 hours alone with typewriter, books and Bible; and what he labels as "broadmindedness which is only flat-headedness" could easily be an attempt to reconcile theology with the overwhelming life situation that we all live in.…
I may be burned at the stake for such irreverent views, but I'm not perfect.
H. BRAYTON GIFFORD, JR.
The Glen-Croft Baptist Church
Glenolden, Pa.
This wonderful article fortified some of my own beliefs and tore down some misconceptions. A copy of it should be in the hand of every evangelical minister in the world.
WAYNE E. VARNER
Haymarket Baptist Church
Haymarket, Va.
It was an article that got down where most of us live and challenged us to say, with Paul, "For me to live is Christ."
Now, if he would just write another article suggesting as caustically as his challenge to preachers, that seminary professors and the writers of the leading articles in CHRISTIANITY TODAY learn the English language as it is spoken and understood by the majority of us.… What does the word "kerygma" mean? First Baptist Church
H. H. SAVAGE
Pontiac, Mich.
Slam-bang, excellent article.… How exhilarating … to read such a hearty, personal exhortation.
NIELS NIELSEN
St. John's Lutheran Church
Fresno, Calif.
Excellent—excellent—excellent!
FRANK P. STELLINC
Oakland, Calif.
A GROWING THREAT
Your editorial, " 'Push Button' Riots Now Promote Communist Goal," (Mar. 13 issue), is both timely and factual. It is refreshing to note that we have at least one religious publication aware of a growing threat to the breakdown of law and order as was evident in San Francisco last May. The communist agitators work best in such an atmosphere of mob hysteria.
WILLIAM H. MOSS
National Hdqrs.
National Chaplain
The American Legion
Indianapolis, Ind.
At present the weight of evidence here makes significant Communist sponsorship of the riot appear dubious, at best. "Operation Abolition," the Committee's propaganda piece, is circulating widely and turning millions of uncritical viewers into nothing less than dupes of the Committee. To those who have considered a reasonable amount of information bearing on the riot, there appear to be ten or more well-substantiated errors or distortions in the piecing together of the film, rather than the three the Committee itself recognizes.
ROBERT B. SMITH
Berkeley, Calif.
You seem to imply that "Operation Abolition" was filmed in heaven, produced by St. Peter, and narrated by the Archangel Michael, even though it carries no credit lines. The tremendous furor over its authenticity—raised by many reputable and responsible people—would seem to be sufficient evidence to alert all morally-minded people at least to question, if not denounce, it.
LEE C. MOOREHEAD
Indianola Methodist Church
Columbus, Ohio
Last evening … Dr. F. Schwarz spoke in San Francisco. He is executive secretary of the Christian Anti-Communism Crusade. After a showing of the film, "Operation Abolition," he defended the accuracy and the thesis of the film. It is our belief that his defence of the film was sound and convincing.
JACK STULP
Moorpark Christian Reformed Church
San Jose, Calif.
DOUGLAS L. NEFF
Bible Chapel
San Jose, Calif.
JAMES L. AUSTIN
Bethany Baptist
Cupertino, Calif.
HENRY W. CORAY
First Sunnyvale Orthodox Presbyterian
Menlo Park, Calif.
CHRISTIAN EDUCATION
Your February 27 issue on religious education does a distinct service in pointing out the tremendous danger of secularized education. I am quite in agreement with T. Robert Ingram when he writes that "teaching cannot be separated from religion." But as a member of a denomination (Christian Reformed) which has by conviction operated Christian day schools for over fifty years, I am acutely aware of the fact that in our plea for Christian day school education we must not sell ourselves short by simplistically and categorically stating that this is "the key to the whole matter." In our enthusiasm for a return to religion in teaching we must not defeat our own cause by overlooking the fact that in order to be truly Christian it must also be the very best teaching possible.
… Simply because one is a fine Christian does not prove that he will be a good educator.… Then too, the fact that there are many "best educated" and "most intelligent people" willing to become teachers does not prove that they will be "very capable teachers."
… It will not do to reject all modern methodology as "Deweyism" in the name of a truly Christian Education. In fact, unless one is prepared to deny completely the scientific status of educational methodology, it must be argued that Christian Education cannot be completely Christian unless it makes use of the valid data of modern educational methodology.… The adjective "Christian" will not be true if there are inexcusable deficiencies in its noun "Education."
DENNIS HOEKSTRA
Grand Rapids, Mich.
The Education Department of Calvin College passed a motion at a recent meeting of the Department commending CHRISTIANITY TODAY and … [its] editor for your very fine Christian education edition.… The leadership of your very fine periodical will do much to clarify the issue before Protestant Christianity today.
I want to take occasion personally to tell you of my great appreciation for your courageous and capable interpretation of the problems before us as Protestants today. The articles are well selected, clearly written, and relevant.…
CORNELIUS JAARSMA
Chairman, Department of Education
Calvin College
Grand Rapids, Mich.
Christian day schools are as becoming to many of us Missourians as an air tank to a skin diver. We maintain a nine grade school in our little congregation of 300 communicants. And yet, having we did not have and seeing we did not see. It remained for Episcopalian Ingram to say superbly what we should and would like to have said. To fix, revise, disguise, adjust, accommodate, or qualify Christ's command to feed his lambs … teaching them, because they are few in number, or because the state has "taken over" education, or because of cost, or the lack of an all-purpose room, etc., is sheer disobedience.
FRED H. WEBER
Trinity Evangelical Lutheran Church
Missouri Synod
Wisconsin Dells, Wisc.
I have recently taken the requisite courses to qualify me to teach in our public schools. I took work both in a denominational (Presbyterian) college and a State University. Dewey doesn't cut much of a figure any longer, and I found nothing in the "modern methodology" that ran counter to Christian values or which pretended to be a substitute for them. As for "Church people, who should be far more concerned to have Christians for teachers than experts in Deweyism and modern methodology," they ought to become better acquainted with the people in our public schools who are teaching. To presume them to be anything but people guided by the finest Christian ethics and beliefs, is to deceive oneself.
RICHARD HULBERT
Minneapolis, Minn.
Especially do I underline the historical note on the rise of tax-supported, public schools at about the same time the United States government first levied a tax on a person's income.… The solution to the present muddle of trying to separate religion and education lies in awakening America to its original practice. As a Missouri Synod Lutheran I rejoice, even allowing for confessional differences, in the rapid growth of church schools among the Reformed churches. When I entered the ministry about 90 per cent of the Protestant schools were Lutheran. Today only about 51 per cent are Lutheran. The decrease is in percentage only.…
KARL L. BREEHNE
Our Redeemer Lutheran Church
Greenville, Ill.
Early Christians in the days of the Roman Empire were persecuted for a number of items, one of which was a refusal to patronize the Roman school system which was unmistakably pagan.
Christian parents today find themselves in something of a parallel situation. Fortunately the opportunity is ours to own and operate Christian schools. The public school in America has been an anomaly from the beginning, based upon the proposition that the prime responsibility for educating the children rests with the state.
GORDON OOSTERMAN
Pantego, N. C.
Psychology is the rage, we know, and Sigmund Freud was its oracle. But surely it is not necessary to attribute to him, as was done by Graham R. Hodges, the age-old insight of Horace. If Freud ever really said, "Throw nature out with a pitchfork and she'll come right back every time," he was merely translating the poet's words: "Naturam expellas furca, tamen usque recurret." There is still validity to the pre-Freudian but scholarly injunction: "Verify your references."
W. EDWIN COLLIER
Philadelphia, Pa.
I greatly appreciate the reading suggestions in the "Christian Education Library." I was, however, disappointed in not finding in this list … a recommendation of a collection of speeches by H. Van Riessen (the Netherlands), A. L. Farris (Toronto) and H. E. Runner (Grand Rapids) in Christian Perspectives: 1960 (Pella Publishing Co.). This little volume packs many powerful ideas on a Christian philosophy of science and education within a brief compass.
BERNARD ZYLSTRA
Law School, '61
University of Michigan
Ann Arbor, Mich.
I was sorry to see that … you omitted a very significant volume—Audio-Visuals in the Church, by Gene A. Getz, Moody Press, 1959, 255 pages. Since this is about the only significant work on the subject of audio-visuals by an evangelical author, I feel it should have had a place in your listing.
WAYNE BUCHANAN Supervisor
Audio-Visual Dept.
Moody Bible Institute
Chicago, Ill.
The article in the February 27 issue states that the Bible institute has come of age. I think perhaps it has become feeble, but I don't believe age is so much a factor as compromise and conformity to the world, particularly the academic world. I attended [a] … Bible institute for a year and a half, from January, 1958, to June, 1959. To me, all this academic self-consciousness meant that a formal knowledge about God was achieved at the sacrifice of knowing him personally. It takes more than saying prayers before classes or even studying the Bible to make education truly Christian. It takes a deliberate cultivation of the Spirit of God, a vital acquaintance with Deity. Yet the increasingly burdensome academic load left less and less time for the prayerful, meditative assimilation of the tremendous truths that were taught.…
This is an age in which the church of Jesus Christ ought to stand up and denounce the feverish pace of a society which no longer knows how to meditate and reflect; which is concerned about education for its utilitarian value; and which, for all its learning, has forgotten how to think.… Is it so important that we have credentials that the world will approve? If so it is an advantage that the early church didn't have and evidently didn't need.… I don't think I am an obscurantist, nor am I anti-intellectual, any more than I would be anti-cow, for instance, if I refused to enter my cow in a horse race.
ROBERT W. MEARS
Chicago, Ill.
Have something to add about this? See something we missed? Share your feedback here.
Our digital archives are a work in progress. Let us know if corrections need to be made.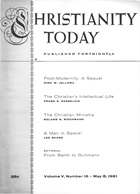 This article is from the May 8 1961 issue.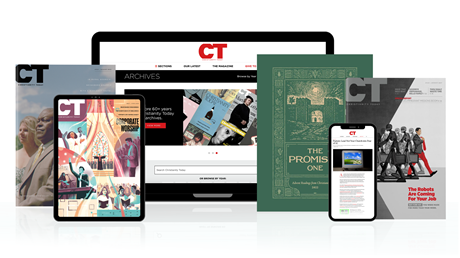 Subscribe to Christianity Today and get access to this article plus 65+ years of archives.
Home delivery of CT magazine
Complete access to articles on ChristianityToday.com
Over 120 years of magazine archives plus full access to all of CT's online archives
Subscribe Now
Eutychus and His Kin: May 8, 1961
Eutychus and His Kin: May 8, 1961