Hereafter April 12 will appear on our calendars in large red letters! On that date, there was dancing in the streets of Moscow; and in the corridors of Washington's Pentagon there were grim and bothersome questions.
In a span of one hour and 30 minutes, man opened a new frontier. It all began at 9:07 with a five-ton vehicle soaring off a launching pad somewhere in Soviet Russia. For 89 minutes that vehicle whipped along at a speed of 17,000 miles an hour, in a path of travel, 188 miles beyond the earth. This "beyond-the-earth sphere" in which the object moved was one which from the dawn of time until that special 89 minute segment of April 12, had been "without a traveller."
Aboard this earth-orbiting vehicle was a 27 year-old Soviet peasant who, after riding 89 minutes with history, put down on a predetermined piece of soil, and stepped from his "sky scooter" with the light of distant stars in his eyes … the first man to travel in space!
It was this event that brought the dancers to the streets of Moscow, that works a color change to our calendar and pales the glory that was Columbus and the grandeur that was Lindbergh. A man in space!
Mr. Khrushchev has said of his cosmonaut that he had achieved immortality. Obviously this top Communist and atheist did not mean that this first space man is now unliable to death, that 89 minutes in space performed for him what union with Christ performs for the Christian. He simply meant he had captured an enduring fame. His is one of the names born not to die.
We will have to go along with that judgment. Like any "first" for man which is frought with extreme hazard to life, this feat excites all of us to salute the heroism, courage, and gallantry of this young space man. His daring and dedication has earned him a big page in the future history books. He has inched every one of us to the edge of tomorrow. Even now I wonder: how long will it take man, with this space breakthrough, to get around to all the planets and stars and stand astride the most distant galaxy one day crying "Alas, there are no more worlds to conquer?" No question, Mr. Gagarin has achieved enduring fame. But this is more than the achievement of one hardy and brave man. This is an accomplishment of many people's dedication. Back of those Wednesday headlines that a man had been successfully launched into space and returned are miles of chalked figures on miles of blackboards, small armies of people perfecting the science of aerodynamics, cybernetics, and electronics; men with jaws determinedly set and far away horizons in their dreams. These men have travailed until now in their laboratories and out of their travail they have brought triumph in a great enterprise. And because these are of another nation is not sufficient reason to withhold our gratulations. A deserved salute then to the young Soviet cosmonaut and his scientific colleagues!
CHRIST'S ASCENSION INTO HEAVEN
While we are all agog with the event of this past April morning, we should remember an event of another morning long ago. This is not the first time there has been a man in space.
It happended on a bit of soil outside the ancient walls of old Jerusalem when without booster rockets, launching pads, or gadget-equipped vehicle, without algebraic equations or armies of men in laboratories, without one piece of electronic equipment, without headlines or dancing in the streets, without space suits and helmets—with just one ordinary cloud—suddenly, there was a Man in space!
"And when he had spoken these things, while they beheld, he was taken up; and a cloud received him out of their sight. And while they looked steadfastly toward heaven as he went up, behold, two men stood by them in white apparel; Which also said, Ye men of Galilee, why stand ye gazing up into heaven? this same Jesus, which is taken up from you into heaven, shall so come in like manner as ye have seen him go into heaven" (Acts 1:9–11).
Two men in space! Asks a friend of mine, "What is wrong with us that we latch our destiny so much to this modern man in space, and ignore this other Man in space, at whose return "every eye shall see Him"?
Two men in space! And what is the essential difference between them?
For one thing "this other Man in space" did achieve a real immortality, an undyingness, not a mere unperishing fame. Victim of a wicked plot that terminated in death on a cross, He stormed back, by the mighty "thrust" of God from the cold, stagnant regions of death and hell into vibrant eternity which he had possessed with the Father before the foundation of space. His "going up" beyond the earth was to "sit on his throne," at the right hand of God.
While the modern space man's success is measured by the fact that he accomplished his mission by remaining alive, this "other Man in space" accomplished His mission by becoming "obedient unto death"; by dying "He abolished death and brought life and immortality to light."
The accomplishment of last week by Russia's space man has definite overtones of war and destruction in it. Many have observed the military possibilities of "manned space platforms" from which atomic missiles could be launched, thus speeding up time from launching to target. Are we too far amiss to predict that "he (Gagarin) hath abolished life and brought death and mortality to light"? If this breakthrough follows precedent, it will make war a little more hellish.
Two men in space! Through one the purposes of a sovereign state attained; through the other the purposes of a Sovereign Lord fulfilled. One man's feat threatening annihilation; the other promising eternal life. One ending up the "man of the hour"; the other the Lord of history!
TWO DIMENSIONS OF POWER
Another essential difference in these two space men is the power involved. I know very little about propellants, booster rockets, energy, thrust. I do know that to hurl five tons of material loose from the fingers of gravity takes a staggering amount of power. Having admitted that the power called for in putting a man in space is fantastic, I must not overlook those other much, much larger objects, and so far away that I must speak of them in terms of light years, orbiting in space. I know Somebody had access to power that makes Russia's look puny. We are not getting out special editions of our newspapers to herald the accomplishment we see every night above our heads. But well we might, for there is power; if it were not so familiar to us, it would awe us to our knees. And this awesome power is the power of that other Man in space!
Those objects blinking off the starboard of your ship Mr. Gagarin, His fingers launched them! And on your port, that mighty galaxy, He telleth their number and calleth them all by name. Down below, through the blue haze is hail and storm and vapor; down there is mountain and hill, cattle and creeping things; down there are kings and princes and peasants like yourself … "all these things were made by him and without him was not anything made that was made." Even now from his place at the right hand of God he holds all things you see from this vantage point, and much more you can't see, together. Great is our Lord in space, and of great power!
So, while we are extolling the power that launched a man in space, we must not miss the power that has launched a universe and season after season keeps it all on course. Mr. Khrushchev, Mr. Gagarin, and anybody else throwing a hat in the air to celebrate an exhibition of your power, we must remind you that the weakness of our Christ is stronger than anything you can wheel out to your launching pads and hurl into space. And your wisdom for all of its concerning equations' computers, and propellents—why, the foolishness of God has more sagacity in it!
THE LORD OF SPACE
Two men in space! Another essential difference between them is that of sphere. Russia's man in space is now, and was in those historic 89 minutes, spacially bound, still dependent on the resources of this world, still exposed to the mercies and providences and judgments of God.
Not so the other Space Man. He has, according to the record, "ascended into heaven." The ascent of the modern space man placed him, for a brief span, in a segment of space, and only a tiny portion of it. But the ascent of the other Space Man placed Him in the sphere of the spirit. He is neither 188 miles or 188 light years from the earth. The sphere of the spirit surrounds, sustains, and penetrates the sphere of space and time. Thus Jesus ascending did not remove him galaxies away, but put him "closer than breathing and nearer than hands and feet." "Lo, I am with you always," he assures us.
The heaven to which Jesus ascended is at our elbows, and if only we were not so time-bound, so materialistic we might catch glimpses of the hem of his garment, or gleams of the world he rules as Lord over all. In him heaven walks into our living room, touches down at our desk in the office, rides the 8:10 commuter. So close does this realm of the spirit impinge on the physical world since that Man went "up into heaven," that some have been able to declare most convincingly, "Christ liveth in me!"
"It is expedient for you that I go away," he told his disciples. It was his going away "into heaven" that made possible his coming into every heart. His ascent loosed him from spacial bounds. No longer spatially bound he is closer to us as we eat our bread than when the five thousand ate with him on a Galilean hillside. He is with us more intimately than he was with them because he "ascended into heaven."
Two men in space! There is one last but tremendous difference between these two men in space. This difference is at the point of re-entry of the earth. When Russia's space man unstrapped his gear and walked again on his home soil, he was the same person; his country and world unchanged. The same tears and heartache prevailed. The same pain and death reigned everywhere. The same delinquency and crime, the same nightmare of human history with war and rumors of war; the same character, the same sins!
THE DAY OF RE-ENTRY
Not so when the other Space Man makes his re-entry of the earth. One day He too shall return to this earth. That curtain which holds back the realm of this spirit from our eyes shall be torn open and eternity shall come pouring through the rent into time. This breakthrough will be led by Jesus Christ and when it is accomplished the structures of history will be shattered, a new earth and a new heaven will arise wherein dwelleth righteousness. The travail of history will be over and the kingdoms of history shall become the kingdoms of our Lord.
At his re-entry the conflicts will be resolved, the imperfections ended, pain and sorrow, sin and death swept into discard, disobedience and defection and indifference challenged and dealt with. With his return "everybody will be brought on stage for the grand finale," everybody to receive the verdict of life or death.
When this other Man in space re-enters it will be with the materials of a solemn examination; which materials he now gathers out of our doing from day to day.
Dr. Thomas Chalmers, the great preacher of the Free Church of Scotland, closes one of his sermons this way: "And along the whole of this perspective, there seems no event, the contemplation of which is more fitted to still the spirit into seriousness, or bring it up to high resolves than the coming advent of the Saviour—an event on one side of which lie all the recollections of time, and on the other side all the retributions of eternity. Meanwhile, and ere he take the decisive movement from the mercy seat which he now fills in heaven, to the judgment seat which he then will occupy on earth, he bids you all flee from the coming wrath—he holds out even to the guiltiest of you all the scepter of an offered reconciliation—he plies you alike with the overtures of pardon and calls of repentance; a pardon sealed by the blood of a satisfying atonement, in which he invites you to trust.… O kiss the Son, lest he be angry, and while he is in the way—for blessed only shall they be who have put their trust in him."
Yes, why do we latch our destiny on to the modern man in space and ignore this other Man in space? Does not the apostle Paul have the only plausible answer? "The natural man receiveth not the things of the Spirit of God: for they are foolishness unto him, neither can he know them, because they are spiritually discerned" (1 Cor. 2:14). Two men in space! Lest we be enamoured of the modern space man, and ignore the other man, let us be sure we have the Spirit of God.—A sermon preached by Dr. LEE SHANE, pastor of National Baptist Memorial Church, Washington, D. C.
We Quote:
BOGUS HISTORY—You cannot take Jesus Christ and his influence out of our culture. So very rarely do you hear Christian people make this point in argument with non-Christians, and make it securely. The influence of Christ is deep and real in spite of all the failures of the Christian Church. Jesus Christ did, in fact, bring certain new ideas into the world, and history cannot be as if Christ had never been.
We complain about the Communists twisting history. I am opposed to the falsification of historic proof because it's a very serious matter. This twisting of history happens in democracy too.
The thing I constantly have to do in your universities and in England (but very much so over here, because so many of you seem to me to have little historical sense) is to make them understand that these ideas of Jesus were new. This is an objective fact in history. We're so used to these ideas now that we divorce them from their source. We're living on borrowed capital and are not knowledgeable enough to acknowledge our debts. In fact, one of the books for required reading in Stanford University, and I think in many other universities, is a certain book on Western civilization. It's for first year students, and many of my friends tell me that this book is utterly unfair because it leaves out the influence of Christianity on our Western civilization. In other words, it's a bogus history. Some of your students are having bogus history forced on them.—Canon BRYAN GREEN of Birmingham Cathedral, in an address at the Layman's Leadership Institute.
Have something to add about this? See something we missed? Share your feedback here.
Our digital archives are a work in progress. Let us know if corrections need to be made.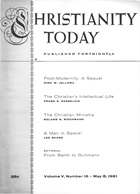 This article is from the May 8 1961 issue.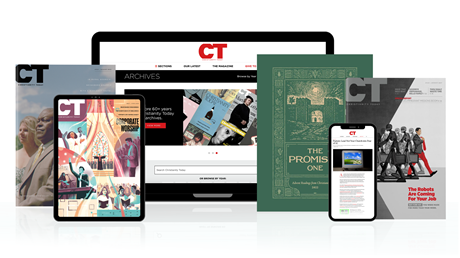 Subscribe to Christianity Today and get access to this article plus 65+ years of archives.
Home delivery of CT magazine
Complete access to articles on ChristianityToday.com
Over 120 years of magazine archives plus full access to all of CT's online archives
Subscribe Now
A Man in Space!
A Man in Space!