The recurring debate over mass evangelism always raises questions about financial policies, emotionalism, sensationalism, follow-up procedures, public invitations, and other techniques. Though important, these tactical concerns are far less significant than the basic strategic issue: Does mass evangelism have a legitimate and an effective place in the overall evangelistic strategy of the Church?
Any church or pastor contemplating the support of an evangelistic campaign must face this problem. "Will this pay off?" is one approach. "Does God will it?" is quite another. Surely we must grant that in the work of God's kingdom not success but obedience is the only valid criterion for action.
Yet the pastor faces a quandary. "I cannot do everything demanded of me. Shall I do this particular thing? Shall I do it now? What spiritual dividends can I rightfully expect from the invested time, money, and effort? Would God's cause benefit more if we applied our energies at this time in some other direction?"
Like the pastor, the evangelist has his questions also. "Is this work the will of the Lord for me? Or could I more effectively devote myself to some other task?" Such probing involves frequent, agonizing re-appraisal.
What, in truth, are the values of mass evangelism? Actually, an evangelistic crusade helps a church both directly and indirectly. First of all the stir and impact made by the collective effort of Christian churches can break through the spiritual indifference of a community. Reports of great crowds, talk of spiritual things, widespread publicity, the news value of a religious event in the mass media, the power of united prayer, and the hovering of the Spirit of God—all these factors cut a deep swath into apathy. A God-conscious atmosphere may overtake a community, may give local Christians unusual opportunity to talk about the things of Christ with their fellows.
Mass evangelism also highlights the essential unity in Christ of many Christian groups. The beneficial effects of such oneness in purpose cannot he overestimated. Cynical unbelievers who usually scorn divisions among Christians now see such groups standing shoulder to shoulder in efforts to call men to faith in their one Lord. Many Christians, aware of their limited spiritual influence in the neighborhood, or on the job, or through their little church, return from the meetings with a new perspective of the wider fellowship of Christ's people.
And certainly evangelistic campaigns have their indisputable conversions—some thrilling and exciting, some quiet but just as real. Many "harvested" for Christ through a crusade have been prepared by the more regular ministries of the church.
While such results bring joy they do not, however, meet the fundamental question: "What is our strategy in evangelism, and what place, if any, does mass evangelism play in it?"
Principles of Evangelistic Strategy
Three strategic principles must underlie any program:
1. The evangelization of the world is the goal.
2. The whole Body of Christ is the instrument of evangelism.
3. Convincing and equipping the "layman" to meet his responsibility as soul-winner and witness is the most immediate and urgent task.
Mass evangelism must be evaluated in the context of these principles, not as an isolated episode.
William Temple said that "the evangelization of those without cannot be separated from the rekindling of devotion of those within." This is where mass evangelism can be uniquely useful.
From a mass evangelistic effort should come four specific results that prepare the entire church constituency, and particularly the "lay" members, to fulfill their strategic role in world evangelism.
Evangelistic Concern
First, such a crusade kindles concern for evangelism. Daily doctrinal preaching of man's sin and of God's salvation impresses hearers with the theological convictions that undergird evangelism. Christians are morally quickened and fashioned into effective divine instruments. Participation in informal prayer groups and in the meetings themselves results in renewed devotion. The very act of engaging in evangelistic activity is the surest way of fanning into flame the smouldering spark of evangelistic ardor.
In Dornakal, South India, three-fourths of all Christians annually give up a week's work and pay to take part in a concentrated time of witness. The effect of this week, according to the late Bishop Azariah of the Church of South India, is greater on the Christians than on the non-Christians, for in the demands of witnessing the Christians are driven to deeper devotion and to greater consistency of life.
In Glasgow, Scotland, a minister had tried several years without success to enlist his people for visitation within their parish. On the last Sunday of the Billy Graham Crusade in 1955, he asked those who had committed themselves to Christ both inwardly and outwardly at the meetings in Kelvin Hall to meet with him the following Tuesday evening to plan evangelistic work in their area. More than 70 responded!
Another result of a united evangelistic crusade is the conversion of persons already identified in some way with the churches. Occasionally one is amazed at the indignant reaction of a minister who discovers some of his "best people" have gone forward to profess conversion or to reaffirm their faith. Is such a man so ignorant of his own soul and that of men in general that he forgets God alone knows the human heart?
An increasing number of churchmen across the theological and denominational spectrum are convinced that "a large number of church people also need to be converted, in the sense of their possessing that personal knowledge of Christ which can be ours only by the dedication of the whole self, whatever the cost" (Towards the Conversion of England, p. 37). Dean Homrighousen of Princeton considers the church the greatest field for evangelism today. E. Stanley Jones maintains that the foremost need is turning "second-hand Christians into first-hand Christians." Elton Trueblood calls for "conversion within the church." And Tom Allan warned that "it is idle to speak of the lay apostolate to men and women who have no first-hand knowledge of the meaning of Christian experience."
New approaches and methods in evangelism are useful and desirable. But the evidence is that it still pleases God by the foolishness of preaching to save those that believe (1 Cor. 1:21). People are converted not by virtue of techniques, but through the preaching of Christ Jesus in the power of the Holy Spirit. In a remarkable way the evangelistic crusade has been used to lead people into conversion.
Mass evangelism yields a third important contribution—the formation of small corps of spiritually-concerned people. It is generally acknowledged that a serious need in the church structure is for small informal groups of believers who fellowship, study, pray, and share together like the "house churches" of early Christianity (Acts 2:46; 5:42; Philem. 2). The average complex church today has little room for such face-to-face and heart-to-heart openness of fellowship. The vital need of Christians for mutual sharing, confession, encouragement, exhortation, and edification is often frustrated in our spectator-like programs where participation for most persons is limited to listening to a sermon or a lecture. Perhaps the time is ripe for co-ordinating mass evangelism with the development of small, disciplined groups or cells that regularly meet to share, study, pray and witness. In fact, unless such a union takes place the best effects of mass evangelism may well be dissipated.
Although George Whitefield was in some ways a greater evangelist than Wesley, Wesley's ministry had the most enduring results. Said Whitefield: "My brother Wesley acted more wisely than I. The souls that were awakened under his ministry he joined together in class and so preserved the fruit of his labors. I failed to do this, and as a result my people are a rope of sand." Wesley's famous "class meetings" across England were spiritual homes for the babes in Christ born into the Kingdom under his ministry, and provided the atmosphere of fellowship for growth. Today we need a similar reformation within the Church, and the appearance of such fellowships in the aftermath of evangelistic crusades. This would be in line with the pattern set at Pentecost, where those converted and baptized as a result of Peter's sermon "continued steadfastly in the aspostles' doctrine and fellowship, and in breaking of bread, and in prayers." Evangelistic crusades can stimulate such groups if pastors are ready for them.
Finally, mass evangelism gives opportunity for "on-the-job" training in the work of evangelism. Many Christians definitely desire to witness but are uncertain about how or where to begin. An evangelistic campaign provides such persons excellent training and opportunity for first-hand experience in prayer, visitation, and personal counseling.
Preparation for any crusade should include a preliminary series of classes in Christian life and witness, an item firmly established and followed in the Billy Graham crusades. After attending such a series, a pastor friend who is a leader in evangelism both in his church and denomination, said to me, "I am convinced that the greatest opportunity in the Christian church today lies in the field of counselor training." And a young Methodist layman declared, "These counseling classes have given me a training and an incentive to witness that I have been waiting for all of my Christian life!" A prominent minister asserted that as far as his church was concerned the finest results of the crusade in his city were among many of his members who served as counselors. When the crusade was over, these persons continued witnessing and winning people to Christ! We learn evangelism best not by reading about it or hearing about it, but by doing it.
For multitudes of Christians the evangelistic crusade not only provides basic training and experience in personal evangelism, but also the challenge for unabating growth in spiritual life and witness.
The impetus created by a crusade is like water piling up beyond a dam. The water-power is harnessed by channeling it into a number of turbines to furnish electrical energy. So the spiritual energy built up through mass evangelism may be channeled through renewed churches, through awakened groups, through revived and regenerated persons, to provide spiritual power for continuing mission.
LEIGHTON FORD
Associate Evangelist
Billy Graham Evangelistic Association
Minneapolis, Minnesota
Have something to add about this? See something we missed? Share your feedback here.
Our digital archives are a work in progress. Let us know if corrections need to be made.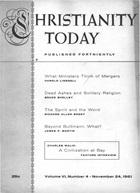 This article is from the November 24 1961 issue.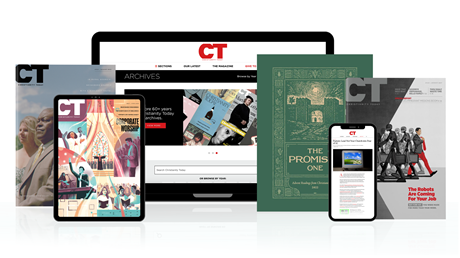 Annual & Monthly subscriptions available.
Print & Digital Issues of CT magazine
Complete access to every article on ChristianityToday.com
Unlimited access to 65+ years of CT's online archives
Member-only special issues
Subscribe
The Strategic Role of Mass Evangelism
The Strategic Role of Mass Evangelism