At an assembly of Protestant editors earlier this year, the chairman asked for a show of hands to determine how many had college journalism training. About 10 per cent responded. "All young fellows," the chairman observed.
Neglect of education in Christian journalism is probably one of the key factors behind the somewhat inferior character of the contemporary Protestant press. No evangelical college in the United States has as much as a department of journalism. Only a handful of texts deal with religious journalism, and gaps abound.
It is only to be expected, therefore, that not a single religious periodical has enough popular appeal to be available on the average U. S. newsstand. Even the current religious boom has failed to achieve such a breakthrough. No one seems to be able (or willing) to put the Christian message into a context that would sustain the interest of a mass reading audience.
Evangelical publications in North America circulate almost exclusively within the evangelical constituency. They assume no appreciable evangelistic role in secular society. Their language and format confine their success for the most part to the evangelical sphere. Creativity is scarce.
By design or otherwise, a great number of religious periodicals operate virtually at the mercy of special interests represented by advertisers or publishers. Super-commercial orientation and provincial editorial policies make for a vapid publication. "Puffs" for advertisers ultimately backfire because the reader-consumer eventually recognizes them as editorial payola.
Some denominational papers tend to deteriorate to the house organ status. Even large circulations may be attributed less to quality content than to high-pressure promotional campaigns which prey on church-versus-church competition, denominational loyalties, and the local minister's reputation in the eyes of ecclesiastical superiors. Church publication editors are constantly faced with the dilemma of settling for uninteresting editorial content to avoid the risk of more important controversial matter. The easy way is to echo attitudes which are in vogue with the denominational leadership.
CHRISTIANITY TODAY has helped to usher in a new era of religious journalism which holds denominational allegiances in high esteem while transcending these in devout loyalty to the biblical witness in a readable, scholarly magazine attractive to ministers and lay leaders of varying persuasions. This new era might yet see the establishment of a religious news-feature weekly with grass-roots, newsstand appeal. Be that as it may, this much is certain: Literary and technical talent must be developed, and wider recognition achieved of the evangelistic potential of religious journalism.
For readers interested in this field, a bibliography in religious journalism follows. The list was compiled by Miss Marjorie Shelley, a missionary who recently earned a master's degree in the religious journalism sequence of Syracuse University School of Journalism. Miss Shelley is now training Christian journalists and assisting in literature production in the Ivory Coast.
RELIGIOUS JOURNALISM BIBLIOGRAPHY
BACKGROUNDS IN COMMUNICATIONS
BOYD, MALCOLM, Crisis in Communication: A Christian Examination of the Mass Media. Doubleday, 1957, 128 pages, $2.95. A clergyman in the Episcopal Church, Boyd studies mass media as channels of Christian communication. He was formerly in advertising, television, and radio and is qualified to show how the media can be used for the highest ends.
DEWIRE, HARRY A., The Christian as Communicator. Westminster, 1961, 198 pages, $4.50. With Moreau's Language and Religious Language, this book emerges to initiate the Westminster Studies in Christian communication. Westminster undertook the series because it felt that the "Christian faith needs to be made relevant to persons in the modern world in terms of the dynamic nature of the faith itself and the channels that are capable of conveying such a faith."
DILLISTONE, F. W., Christianity and Communication. Scribner's, 1957; London: Collins, 1956, 156 pages, 12s. 6d. The author discusses the principle of effective communication of the Christian message into the new technological age. The volume will prove valuable to missionaries concerned with communicating across culture barriers.
MOREAU, JULES LAURENCE, Language and Religious Language. Westminster, 1961, 207 pages, $4.50. See DeWire's The Christian as Communicator above.
NIDA, EUGENE, Message and Mission: The Communication of the Christian Faith. Harper, 1960, 253 pages, $5. Covering some fundamentals of communication theory and linguistic science, Nida uses the methodological approach to relate theology and culture.
SCHRAMM, WILBUR, Responsibility in Mass Communication. Harper, 1957, 391 pages, $4.50. (Series 9 on Ethics and Economics of Society originated by a study committee of the National Council of Churches; foreword by Charles P. Taft; introduction by Reinhold Niebuhr.) In a thorough study of the ethics of the press, Schramm reanalyzes standards of press performance and considers the philosophy of public communication. The book is well documented and offers valuable references for further study.
EDITING
FERGUSON, ROWENA, Editing the Small Magazine. Columbia University Press, 1958, 271 pages, $4.50. Oxford, 36s.; Toronto, $5.25. This book offers practical guidance in each step of the editorial process for those editing small religious magazines.
PUBLICITY
BRODIE, WILLIAM A., Keeping Your Church in the News. Revell, 1942, 125 pages, $1. A practical guidebook, this work tells pastors how the press functions and how they should prepare copy and pictures as they submit church news.
BRODIE, WILLIAM A., Keeping Your Church Informed. Revell, 1944, 125 pages, $1.50. As a companion volume, this book deals with religious journalism in the church. It discusses direct mail, church papers, kinds of church literature and production of small mailing pieces. It is still valuable though outdated.
BROWN, RICHMOND O., Practical Church Publicity. Broadman, 1953, 174 pages, $2.25. Geared to help those who know nothing about church publicity to do a good job, this book catalogues publicity methods.
HENRY, CARL F. H., Successful Church Publicity. Zondervan, 1943 (2nd ed.), 332 pages, $2. Some religious journalism is included although the main body of the book is concerned with church publicity.
LEIDT, WILLIAM E., Publicity Goes to Church. Seabury, 1959, 122 pages, $2.75. Oxford (Toronto) $2.25. An executive in the Episcopal Church describes methods of printing, gives means of evaluating printing jobs, and generally justifies the use of publicity by the church.
STOODY, RALPH, A Handbook of Church Public Relations. Abingdon, 1959, 255 pages, $4. After discussing the church's functions, the author surveys means by which television and radio serve the church.
STUBER, STANLEY I., Public Relations Manual for Churches. Doubleday, 1951, 284 pages, $3. Stuber covers a broad outline as he writes about the church's defense before the world and then discusses techniques available to make it known.
WOLSELEY, ROLAND E., Interpreting the Church Through Press and Radio. Muhlenberg, 1951, 352 pages, $3.75. Problems facing local, area, denominational and international church leaders responsible for publicizing their groups are listed in part of the book. Techniques for using the press and radio are offered as well.
GENERAL SUMMARIES OF TECHNIQUES
BROWNE, BENJAMIN P., Christian Journalism for Today. Judson, 1952, 252 pages, $3.50. The book includes addresses delivered at The Christian Writers and Editors' Conferences at Philadelphia, Pennsylvania, and Green Lake, Wisconsin, 1948–1951.
BROWNE, BENJAMIN P., The Writers' Conference Comes to You. Judson, 1956, 424 pages, $5. These are lectures given at various writers' conferences. Topics include possibilities in the field of Christian journalism, how to write for religious markets, specialized writing fields, and related topics.
BROWNE, BENJAMIN P., Techniques of Christian Writing. Judson, 1960, 382 pages, $5. Lectures from writers' conferences of the past three years, this volume challenges the writer, outlines some how-to-do-its for fiction, article writing, writing for juveniles, and other areas in religious journalism.
OSTEYEE, EDITH T., Writing for Christian Publications. Judson, 1953, 206 pages, $3. Mrs. Osteyee gives advice on preparation of material for religious publishers. She bases her comments on her experiences and lessons she taught in the correspondence course of the Christian Authors' Guild.
WOLSELEY, ROLAND, ed., Writing for the Religious Market. Association, 1956, 304 pages, $4. This is a practical guidebook developed from contributions of 18 prominent practitioners in specialized fields of writing. Protestant, Jewish, and Catholic authors offer their advice on "how-to-do-it."
SPECIALIZED FIELDS
BACHMAN, JOHN W., The Church in the World of Radio-Television. Association, 1960, 191 pages, $3.50. This is an outgrowth of work by the National Council of Churches' study commission on radio, television, and films.
GREENE, ROBERT S., Television Writing. Harper, 1952, 276 pages, $3.75. Although not geared particularly to the religious market this book offers a practical discussion of writing related to the television field.
GRISWOLD, C. T. and SCHMITZ, C. H., Broadcasting Religion. National Council of Churches of Christ in the U.S.A., 1954, 103 pages, paper, $1.50. This volume deals with the possibilities in religious broadcasting. Both authors are experienced in the field.
LAUBACH, FRANK C. and LAUBACH, ROBERT S., Toward World Literacy. Syracuse University Press, 1960, 335 pages, $4.75. For missionaries, workers with American illiterates, and writers who want to clarify their writing, this book offers a description of the famous Laubach literacy techniques but the last half is devoted to writing for new-literates. Readability scales and techniques add to its usefulness.
PARKER, EVERETT C., ELINOR INAMAN, and ROSS SNYDER, Religious Radio. Harper, 1948, 271 pages, $3. After covering the place of radio in the communication of ideas, the authors discuss writing and producing radio programs.
PARKER, EVERETT C., Religious Television. Harper, 1961, 244 pages, $4. This is a similar work for television.
WRITERS' HELPS
GOSNELL, JANICE and ALLEN, MARY, editors, Christian Writers Market Handbook. Christian Writers' Institute, 1956, 79 pages, $2, (being revised). A practical guide containing tips on how to write articles and other religious materials. It gives a listing of markets for each of the specialized fields.
WOLSELEY, ROLAND E., Careers in Religious Journalism. Association, 1955, 116 pages, $2.50. This survey of religious journalism as a vocation answers many questions about requirements and opportunities in careers with religious publications, TV, and radio stations and allied groups.
SECULAR BOOKS FOR WRITERS
ARTICLE WRITING
BIRD, GEORGE L., Article Writing and Marketing. Rinehart, 1955, 506 pages, $5 (revised ed.). A thorough work dealing with procedures in getting ideas for articles, outlining the article, markets, procedures to follow in sending material to editors, and techniques and tools essential to the craft.
STEIGLEMAN, WALTER A., Writing the Feature Article. Macmillan, 1950, 435 pages, $3.75. A volume offering techniques and principles of article writing.
EDITORIAL WRITING
WALDROP, A. GAYLE, Editor and Editorial Writer. Rinehart, 1955, 511 pages, $5, (revised edition). Editor-writer relationships are discussed to a degree, but the value of the book is its help to those who want to write editorially.
JUVENILE MATERIALS
LEDERER, WILLIAM J., Spare-Time Article Writing for Money. Norton, 1954, 268 pages, $3.75. The section on juvenile writing deserves special mention.
LEWIS, CLAUDIA, Writing for Young Children. Simon and Schuster, 1954, 115 pages, $3. Special problems and techniques of writing for children and an underlying comprehension of their needs and peculiar interests are all noted.
SHORT STORY WRITING
MOWERY, WILLIAM BYRON, Professional Short-Story Writing. Crowell, 1953, 273 pages, $3.50. Discussing plot, theme, scenes, and other short story techniques, the author offers a thorough guide to the craft of fiction writing. A writer could follow through step by step and having completed the procedure check his writing by the standards analyzed here.
Samuel M. Shoemaker is the author of a number of popular books and the gifted Rector of Calvary Episcopal Church in Pittsburgh. He is known for his effective leadership of laymen and his deeply spiritual approach to all vital issues.
Have something to add about this? See something we missed? Share your feedback here.
Our digital archives are a work in progress. Let us know if corrections need to be made.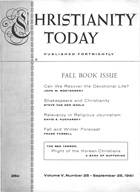 This article is from the September 25 1961 issue.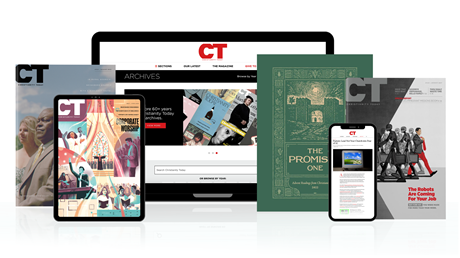 Subscribe to Christianity Today and get access to this article plus 65+ years of archives.
Home delivery of CT magazine
Complete access to articles on ChristianityToday.com
Over 120 years of magazine archives plus full access to all of CT's online archives
Subscribe Now
Relevancy in Religious Journalism
Relevancy in Religious Journalism