Sickness admits us into one of the greatest of all world fellowships, the fellowship of those who suffer or have suffered pain. Our world is full of suffering. But when illness comes often, a person feels separated or cut off from those who are well. This tendency allowed to continue can lead to a feeling of futility and depression which affects or delays recovery.
Suffering and pain which have meaning can be endured, as our Lord so well demonstrated. It can even be entered into with joy. "For he himself endured a cross and thought nothing of its shame because of the joy he knew would follow his suffering; and he is now seated at the right hand of God's Throne" (Heb. 12:2, Phillips). The pastor as a shepherd to his people is constrained out of love for all men to visit and share the burdens of the sick. The love of Christ becomes the motivation to go and comfort them with the assurance that the Lord has not promised to keep us from suffering, but to sustain us in the midst of it.
In Luke we read, "The Spirit of the Lord is upon me, because he has anointed me to preach good news to the poor. He has sent me to proclaim release to the captives and recovering of sight to the blind, to set at liberty those who are oppressed, to proclaim the acceptable year of the Lord" (4:18, RSV). In other words, God has chosen to make himself known amidst the loneliness and desperation of the sick. And we find Christ active in the suffering of humanity.
The four letters of "Acts" are a blessing and inspiration to us when we look at them this way:
A should stand for AIM FOR ACTION. Helpful visitation to those who are sick does not just happen. It is a blessing to the sick when it comes from hearts motivated by the love of Christ.
Through a program we have organized in our church, called OPERATION SHEEPFOLD, our Board of Deacons has the responsibility of certain specific areas in the city and surrounding countryside. Each deacon has a definite number of families (not more than 15) as his responsibility. Out of this group he may select one person to be his assistant. Any illness, information, or changes within the families are, as soon as possible, conveyed to the pastor for his personal attention. Ideally, families should let their deacon or his assistant know ahead of time if hospitalization or confinement is anticipated. In cases of emergency, of course, this is impossible. But the pastor is always as near as the telephone. Such a plan has made the members more mindful of each other's needs and has strengthened ties of concern for each other in Christ.
C could stand for COMMUNICATE UNDERSTANDING. Unless it is an emergency, as soon as I am aware of forthcoming hospitalization I make an effort to personally see the one involved as well as the family. It is at times like this that a person will ask the most soul-searching questions. The fact that we are faced with requests that do not lend themselves to easy or cut and dried answers drives us to seek support and strength beyond our own.
There are other times when no questions are asked, in fact the patient's condition is such that there is no need to talk. I have found from personal experience it is better not to talk too much. In fact, the most important thing is to be there and listen. Our very presence in the name of Christ says more than the words of our lips. Though the person who is ill may not know you are there, the family will. (There have been times in my own ministry when there wasn't any of the family present.) Your presence will speak to the nurses and hospital personnel, as well as to the attending physician.
Many fine booklets or tracts available to any pastor can be given before one enters the hospital and for reading during the days of recovery. These are available at denominational or religious book stores.
T should stand for TRAINING FOR LEADERSHIP. Personal experience has taught me that true love in Christ puts us into bonds of consideration for each other. Operation Sheepfold provides for the deacons and their assistants the kind of opportunity which will help them grow in their appreciation of the opportunity to minister and be helpful to the sick.
Every pastor has often heard someone who has been ill say, "I never knew how many friends I had," or, "I will never forget the many deeds of kindness and helpfulness shown to me during my illness." Out of such expressions from those who have been ill may come new and dedicated leadership if properly nurtured.
S will then mean SUSTAINED FOR SERVICE. Those who suffer or are in pain will find new strength and, though limited physically themselves, will be a great blessing to others. A person I knew was confined to bed for over seven years, but she was so thankful for the assurance of God's sustaining grace and love that she used every opportunity to write letters of encouragement and inspiration to others.
Many a person has found deeper and more significant purpose in his life through suffering and illness. It is not what happens to us but what happens through us that can be a source of blessing to others.
I have learned from experience to carefully watch the following DO's and DON'TS:
1. Always be kind and friendly.
2. Demonstrate the Christian virtue of "doing unto others as you would have them do unto you."
3. Assure the patient of your continued prayer and the interest of other Christians.
4. Find out if the patient would like you to pray or read Scripture. Sometimes quoting Scripture encourages and blesses, especially when done by a pastor, whom the patient cherishes and loves.
5. Guard carefully confidences shared with you.
Here are some further suggestions:
1. Don't stay too long.
2. Don't talk or pray too loud unless the patient is hard of hearing; then speak into the patient's ear or hearing aid, if one is used.
3. Don't walk into a patient's room with a closed door without first checking at the chart desk with the supervising nurse.
4. Don't awaken a patient without first speaking to a nurse or some responsible person. The patient may have been awake many hours and only now just beginning to rest. It is much easier to come back later. The patient will appreciate your thoughtfulness. Where it may not be possible to see the patient again for some time, leave a written note or a spoken message with the nurse.
5. Don't ask detailed information about the nature of his illness or surgery.
6. Don't sit on the patient's bed, even though he may invite you to do so.
Faithful visitation of the sick and those who suffer sensitizes our witness for Christ in such a way as to make those who are ill more conscious than ever that we are made for God and each other. In a time when so much emphasis is placed on success, I feel we ought to remember what the Scripture says about our Lord, "He was faithful unto death." Any pastor can and will be a blessing to his people if he is faithful, regular, and kind in his visitation.
We Quote:
WANTED: Minister for Growing Church. A real challenge for the right man! Opportunity to become better acquainted with people!
Applicant must offer experience as shop worker … office manager … educator (all levels, including college) … artist … salesman … diplomat … writer … theologian … politician … Boy Scout leader … children's worker … minor league athlete … psychologist … vocational counselor … psychiatrist … funeral director … wedding consultant … master of ceremonies … circus clown … missionary … social worker. Helpful but not essential: experience as butcher … baker … cowboy … Western Union messenger.
Must know all about problems of birth, marriage, and death; also conversant with latest theories and practices in areas like pediatrics, economics, and nuclear science.
Right man will hold firm views on every topic, but is careful not to upset people who disagree. Must be forthright but flexible; returns criticism and back-biting with Christian love and forgiveness.
Should have outgoing, friendly disposition at all times; should be captivating speaker and intent listener; will pretend he enjoys hearing women talk.
Education must be beyond Ph.D. requirements, but always concealed in homespun modesty and folksy talk. Able to sound learned at times, but most of time talks and acts like good-old-Joe. Familiar with literature read by average congregation.
Must be willing to work long hours; subject to call any time day or night; adaptable to sudden interruption. Will spend at least 25 hours preparing sermon; additional 10 hours reading books and magazines.
Applicant's wife must be both stunning and plain; smartly attired but conservative in appearance; gracious and able to get along with everyone, even women. Must be willing to work in church kitchen, teach Sunday school, baby-sit, run multilith machine, wait table, never listen to gossip, never become discouraged.
Applicant's children must be exemplary in conduct and character; well behaved, yet basically no different from other children; decently dressed.
Opportunity for applicant to live close to work. Furnished home provided; open-door hospitality enforced. Must be ever mindful the house does not belong to him.
Directly responsible for views and conduct to all church members and visitors; not confined to direction or support from any one person. Salary not commensurate with experience or need; no overtime pay. All replies kept confidential. Anyone applying will undergo full investigation to determine sanity.—A "classified advertisement" prepared by Robert M. Boltwood, head of the technical writing division of Chevrolet Engineering Center, General Motors, and a teacher at Wayne State and Michigan State Universities. Mr. Boltwood is a member of First Baptist Church of Birmingham, Michigan, and the "advertisement" was first read at a Laymen's Sunday program. (Reprinted by permission from Crusader, American Baptist Convention publication.)
Have something to add about this? See something we missed? Share your feedback here.
Our digital archives are a work in progress. Let us know if corrections need to be made.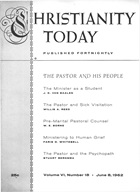 This article is from the June 8 1962 issue.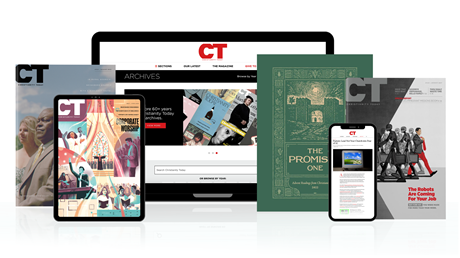 Subscribe to Christianity Today and get access to this article plus 65+ years of archives.
Home delivery of CT magazine
Complete access to articles on ChristianityToday.com
Over 120 years of magazine archives plus full access to all of CT's online archives
Subscribe Now
The Pastor and Sick Visitation
The Pastor and Sick Visitation