Our culture faces an extremely critical problem: how to use the ever-increasing hours of leisure time. In his book Philosophy of Recreation and Leisure, Jay B. Nash goes so far as to say, "To use leisure intelligently and profitably is a final test of civilization."
History, obviously, cannot help us much with this problem, for until this century only a few who were wealthy had leisure time. But now within one generation the workday of almost everyone has shrunk from twelve and sixteen hours to eight, seven, or even fewer.
The homemaker, too, knows greater freedom. Mechanical conveniences, by decreasing the hours once required for ironing, cooking, cleaning, and so on, provide a free use of time of which her ancestors could never have dreamed. What hours she does spend in her work are made pleasant by radio, hi-fi, and even television.
This problem of leisure time confronts children and young people also. The urban rather than rural society in which we now live requires few chores of children. Further, child labor laws make it impossible for young people to get jobs that fill their time constructively. Sometimes a young person must wait until the early twenties to work. With a great deal of leisure and few responsibilities, young people—like their elders—face the critical test of free time.
Other factors besides the Industrial Revolution have made free time available to us. Advances in medical science have increased man's life span about a third. There is even talk about doubling life expectancy within this century. Moreover, the retirement age is steadily being lowered. Retirement is no longer something only for the rich or for those in their sixties; employers are imposing it even on those in their forties. After completing a prescribed period of service many civil and military personnel find themselves suddenly among the "retired," and all too often are lost for want of constructive use of time and energy. Leisure time is an unavoidable part of our way of life. The average man today has free time that a century ago was unknown even to kings.
Man has always dreamed of a day when he would have time to do what he wanted. This, he felt, would bring happiness. This, at least in part, motivated our forefathers, too, who gave all their time and energy to conquering the frontiers of opportunity. The whole family, in fact, worked from sunup to sundown to make a living, or even to survive. They built houses, produced their own food, made clothing, cut wood, carried water, and fortified themselves generally against the ravages of nature.
Today's situation is far different. Automation, labor laws, medical science, and early retirement give us ever-increasing amounts of leisure time. But leisure time for what? According to Nash, we have no philosophy of leisure time for the simple reason that this generation is the first to be so involuntarily overwhelmed by leisure time. How we meet this problem may well decide the fate of civilization. "The only thing worse than having too much to do," someone has said, "is having too little." In other words, "Idleness is the devil's workshop."
Now that we have our longed-for leisure time, we must decide what to do with it. Unless deep spiritual convictions and training help us use this bonus for building the kingdom of God and for the good of our fellowman, our free time may easily become a curse.
God's Word clearly and solemnly speaks about those times when men shall indulge in selfish, sinful living. Such practice portends the end of the world. "… In the last days," says the Bible, "perilous times shall come. For men shall be lovers of their own selves, covetous, boasters, proud, blasphemers, disobedient to parents, unthankful, unholy, without natural affection, trucebreakers, false accusers, incontinent, fierce, despisers of those that are good, traitors, heady, high minded, lovers of pleasures more than lovers of God" (2 Tim. 3:1–4). This passage and others indicate that if leisure time is used to multiply evil, then it may very well be true, as Nash indicates, that "to use leisure intelligently and profitably is a final test of civilization."
Have we the character and spiritual vitality to make our free time a power for good and blessing in the world If not, the so-called bonuses of our modern living will bring inevitable destruction and ruin.
J. Edgar Hoover, director of the Federal Bureau of Investigation, says concerning this problem: "Unfortunately, leisure in itself is not always inductive to productive development. As a law-enforcement officer I have seen, time after time, the distortion of leisure, the use of leisure as a springboard for crime, tragedy, and despair. Those extra hours of free time, after coming home from work, on the 'day off,' during vacation, have been spent conniving and perpetrating crime. Leisure put to this use is leisure misused—leisure becomes the highroad for the warping of the individual personality and the injuring of society." He notes, however, that "the intelligent use of leisure, in large measure, is the key to happy, worthwhile living."
This age of material benefits and security of one kind or another has encouraged selfish indulgence and spiritual indifference. "Each man for himself and the devil for us all," is a characteristic attitude.
Jesus once spoke of a certain rich man who "thought within himself, saying, What shall I do, because I have no room where to bestow my fruits? And he said, This will I do: I will pull down my barns, and build greater; and there will I bestow all my fruits and my goods. And I will say to my soul, Soul, thou hast much goods laid up for many years; take thine ease, eat, drink, and be merry. But God said unto him, Thou fool, this night thy soul shall be required of thee: then whose shall those things be, which thou hast provided? So is he that layeth up treasure for himself, and is not rich toward God" (Luke 12:17–21).
Secure in his wealth this rich man nonetheless died. And in death he was found wanting in God's great balance scales of judgment. He had failed during his lifetime to use his time and blessings to the glory of God.
With our prosperity and abundance of leisure time we are not unlike the rich man of Jesus' day. How our generation meets the test of entrusted resources and privileges—particularly that of leisure time—may well determine the future of civilization.—B. CHARLES HOSTETTER, speaker on the international Mennonite Hour broadcast.
Have something to add about this? See something we missed? Share your feedback here.
Our digital archives are a work in progress. Let us know if corrections need to be made.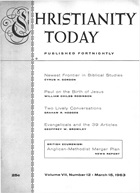 This article is from the March 15 1963 issue.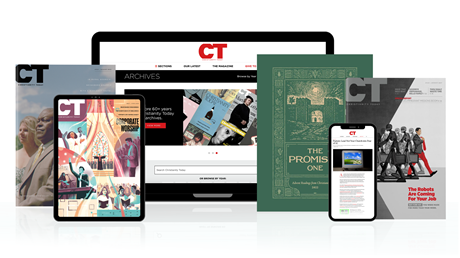 Subscribe to Christianity Today and get access to this article plus 65+ years of archives.
Home delivery of CT magazine
Complete access to articles on ChristianityToday.com
Over 120 years of magazine archives plus full access to all of CT's online archives
Subscribe Now
The Life of Leisure
The Life of Leisure