CHRISTIANITY TODAY'Sstaff of correspondents rings the globe, but does not include coverage of the world of demons. This inside report of activities in the regions below comes from the Rev. Graham R. Hodges, a Watertown, New York, minister, who somehow has gotten inside information about their strategy.
On the facing page Mr. Hodges contributes a second essay which imaginatively sketches a conversation in the religious hierarchy of New Testatment times.—ED.
Scene: Briefing room in Hades
HEAD DEVIL: We'll now hear from the commander of the Division of Councils-Conventions-Conferences, whose work will be all-important in the sixties. Gentlemen, General Concern.
GENERAL CONCERN: (clearing his throat deeply) Before I begin I want to pay some overdue recognition and introduce to you two of my assistants who have burned the midnight brimstone these past few months—Major Address and Private Lukewarm. Actually, they've done most of the work while I just sat back. (applause as the two stand)
I do want to say, as our chief has indicated, that the sixties have started out in high gear in our CCC division of the Church. We are proud to report a 219 per cent increase of church meetings, with a 150 per cent average increase in national and international gatherings since 1955. We look forward to the day when the repeater delegates and employed staff will either be attending or going or returning to or from a meeting. Wash-and-wear shirts, suits, and underwear now make even a brief trip home unnecessary.
HEAD DEVIL: You might mention, General Concern, how the jet age helps.
GENERAL CONCERN: Indeed, sir. A bit of background. In the old slow days of railroad and steamship travel delegates could reflect and plan or even read advance reports as they journeyed to an occasional meeting. Jet planes eliminate any time for thought, thus making for completely planned sessions. Jets have made possible even what you might call "advance minutes" of the meeting delegates attend. Upon registration they are given a complete set of minutes containing all business, motions, secondings, and votes of the sessions they are to attend. This saves endless time and enables many a delegate who should be attending another meeting in a distant part of the nation or world to reboard his plane after initialing his "o.k." on the advance minutes.
ALL: Hear! Hear!
HEAD DEVIL: General, I am sure they would be interested in our new specialist, Technical Sergeant Fraze Maker.
GENERAL CONCERN: Pardon me sir, I was coming to him. Sergeant Fraze Maker, seated on my right, comes from the advertising world and heads our ever busy phrase-coining department. Because of mass media, theological phrases which formerly lasted for a decade or two are now used up within several years. The constant demand for religious phrases in lectures, periodicals, and books grows heavier each year. As you know, a phrase well turned and oft repeated becomes a perfect substitute for action, especially when used in resolutions and formal policy statements. Sergeant, if you wish you may say a word about your important work.
SERGEANT FRAZE MAKER: As the General has said, the demand for catchy phrases gets heavier each year. If a scholar can turn out a fetching phrase and get it attached to his name, he's a made man. When one gets worn out we give him another. It looks hard, but really isn't. We've got some experts who used to work for greeting-card companies and soap-company advertisers.
GENERAL CONCERN: Thank you, Sergeant Fraze Maker. I must not overlook the work of Major Vestments and Colonel Protocol, who succeed more than a few times in completely taking over religious conferences, crowding out the most important business. For example, Colonel Protocol has increased the time devoted to Fraternal Greetings in a major religious gathering from ten minutes in 1940 to three hours in 1961. (applause)
HEAD DEVIL: Could you speak of Major Address' work, General?
GENERAL CONCERN: Major Address, as you know, directs the all-important job of increasing the number and length of history-making religious speeches. We have working with us the natural inclinations of each speech-maker who is certain that his address is the most important one of the whole session and should be given adequate time. Again, we would like to report success, (applause)
HEAD DEVIL: General, as your entire staff must leave soon for an important gathering, could you remark briefly on Diversionary Funds and Diverted Attention efforts?
GENERAL CONCERN: Yes. Not the least result of the vastly increased amount of money spent on religious gatherings is the mission money diverted from its original purpose. Naturally it is hard to trace, but the final effect is lessened support for mission work.
As for Diverted Attention, which might be called the best result of all our work, we feel that local churchmen more and more regard the press reportings of religious gatherings the real work of the Church. Not what happens locally, but nationally, is the thing. Thus, the actual battlefront of the Church, namely, the local church, becomes a mere news outlet instead of news maker. But I must hurry, gentlemen, as I must see that the various jet planes converging on Rome and Geneva all get there safely. Their passengers are precious to us, and their briefcases are packed tight with policy speeches and original phrases, some never heard before. (applause)
The session breaks up.
END
Have something to add about this? See something we missed? Share your feedback here.
Our digital archives are a work in progress. Let us know if corrections need to be made.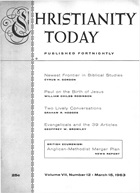 This article is from the March 15 1963 issue.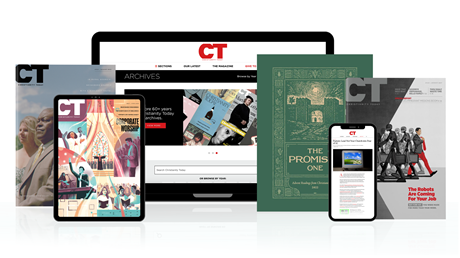 Subscribe to Christianity Today and get access to this article plus 65+ years of archives.
Home delivery of CT magazine
Complete access to articles on ChristianityToday.com
Over 120 years of magazine archives plus full access to all of CT's online archives
Subscribe Now
News from the Nether World
News from the Nether World