A sermon I heard over ten years ago has meant more to me than any other during the twenty-three years since I was a teen-ager.
As I recall it began with a story about a man who was so weighed down with problems that he was completely beside himself. One day while reading in the Psalms the burdened man came across these words: "By my God I have leaped over a wall.…" Comforted in heart, he got on his feet and "with God's help" found his way over his own particular mountain of difficulty.
I myself was at that time deeply concerned over numerous problems. In quiet prayer after that sermon, "By God's Help," immense burdens in my life were rolled away; I experienced a new confidence which even now is renewed regularly just by the reminder of this text.
This particular sermon impressed me so much that I urged the minister to develop it as a magazine article so that it could reach thousands of other people, too. As far as I know, he has never done this. The same is true of other ministers whom I encouraged to prepare their messages for wider distribution in print.
There were some who listened, however, like the man whom I also helped a bit to put his experiences and sermons into articles. For three or four years I lost track of him. Then one day as he was passing through our town he gave me a call. Imagine my amazement to hear that he was writing regularly and that year had supplemented his income with $1,500 from articles!
A few others to whom I spoke have also come through.
One has authored three books; another has written for various Sunday school publishers. But these cases are the exception and, it seems to me, far too few.
I am a layman and for seventeen years have been in the advertising and public relations business in Chicago, Pittsburgh, and Philadelphia. During this time I have attended a number of churches regularly, have heard a hundred or more ministers, and have listened to probably two thousand sermons. Some have been excellent, some good, some might have been better. But together these sermons add up to a powerful communication for good, as the world would view it, and for Christ and eternity, as the Christian would describe it, that is seldom matched by the work of any other profession.
But why—why have so few of these sermons gone into print? In my opinion there is something terribly wrong about this. These wonderful messages, over which a hundred ministers have toiled and prayed and wept, have been shared with small groups of people and no doubt have accomplished great good. But why have these sermons not been turned into articles to extend their usefulness even further?
Why Hide The Light?
A minister has the world's most important message. Why, then, should he hide it under a bushel, or why should he be satisfied with giving this unique message only to the faithful parishioners and a few of their friends?
Lawyers, doctors, advertising men, and teachers who feel they have something to say publish in national magazines all the time. Why don't ministers of the Gospel do so more often? Why have ministers today limited their service so one-sidedly to the "spoken word"? Whatever happened to the "written word"?
God spoke to men in days of old, and later to men through his Son. Was he satisfied to let it go at that? Suppose we did not have the written Word of God. Look back over the march of church history. Alongside the "spoken words" proclaimed from fiery pulpits are the songs of hymnwriters and the "written words" of theologians, evangelists, and pastors. Check them off yourself—John Wycliffe, Martin Luther, John Calvin, John Knox, John Wesley, Jonathan Edwards, Dwight L. Moody—to name but a few. Pulpit masters of a former day, they yet are known even to us because of their printed material. Centuries after their voices sounded from the pulpit their work continues to bear fruit, largely because of "written words."
Some Helpful Suggestions
In the early days of America, the Christian minister was often a scholar and writer of distinction as well as a pulpit master; today such examples are far too few. Likewise were men of God among the giants of early American literature. How many are there today? I suggest we could do something about this situation if we wanted to. It would not be easy; it would require, in fact, rigid discipline of mind and time. But if a few ministers would accept the challenge, the viewpoints of evangelical Christianity might be more frequently and fairly represented in the nation's press over the next decade. How can this be accomplished? One major forward step would be to convert ministers' sermon materials into articles.
From my own extensive experience as a free-lance writer I have learned a great deal about editorial requirements. What I suggest, therefore, grows from this experience.
We ought to remember that creative writing involves at least five steps. After (1) gathering, (2) assimilating, and (3) formulating the material for an article comes the actual (4) writing and (5) revising.
Suppose, then, you as a minister decide to turn your sermon notes or manuscript into an article of 1,500 or 1,800 words. What would you do? First of all, you definitely would not type out your thirty-minute sermon from text to benediction, for this would produce 3,000 to 4,000 words. Very few publications today use such complete sermons; in fact, not many use even condensed sermons. So it is obvious that this is not the answer.
Look again at the five steps mentioned above. Then consider the first one: gathering of material. Books, magazines, interviews, and personal experience are just some of a writer's sources of information. And the time spent in research and gathering material can easily be two or three times the amount used in actually writing an article. As a minister you are at a real advantage here; with perhaps 500 or more sets of sermon notes or manuscripts already in hand, you have most of your research behind you, stored in easily accessible form.
The next step then is assimilating. This means to absorb, to meditate upon, to think about these materials until you are able to construct mentally, or in a brief written outline, exactly what your article will say. This phase which takes place before you write is the creative aspect, in contrast to what follows later. Let your projected article percolate. Sleep on it. Mull it over in your mind. When it begins to take shape and your materials fall into place with a definite article in mind, you have moved through to the third stage.
This third stage, formulating, embraces a premise or theme; the right opening (it's hard to beat an anecdote here); points 1, 2, and 3 to establish your premise or theme; and the conclusion. This final thrust must be fast, strong—perhaps a clincher type of idea that aptly summarizes what you have said.
Not until now are you ready for the functional aspect of your project, the actual writing. Beginners often start by sitting down at a desk with pencil and paper; they try to write an article without first going through the preparatory steps of gathering, assimilating, and formulating. Trying to do this is as ridiculous as a woman's hoping to be delivered of a baby without going through the required period of pregnancy.
The last step, revising, is just as important as the others. Some journalism teachers say that good writing is not written but rewritten. And indeed, most manuscripts need to be revised at least two or three times.
These suggestions are merely skeleton guidelines. I hope they challenge you, however, to pursue the subject further. Read up on this business of writing. Books on such topics as news and feature writings, interviewing, and story telling all contain helpful ideas for developing your sermon materials into marketable articles. Why shouldn't you sell to national Christian publications, church-related magazines, and some day, perhaps, even to some of the leading secular periodicals? It has been done before, but not often enough. With work and persistence you can do something about it.
PREACHER IN THE REDFor each report by a minister of the Gospel of an embarrassing moment in his life, Christianity Today will pay $5 (upon publication). To be acceptable, anecdotes must narrate factually a personal experience, and must be previously unpublished. Contributions should not exceed 250 words, should be typed double-spaced, and bear the writer's name and address. Upon acceptance, such contributions become the property of Christianity Today. Address letters to: Preacher in the Red, Christianity Today, 1014 Washington Building, Washington 5, D. C.
DURABLE TROUSERS
Several of us, members of the Methodist Home for the Aged in Charlotte, N. C., were awaiting the call for breakfast, with the usual comparison of timepieces. Brother Keever, a retired Methodist preacher, pulled out his watch and remarked: "There's a watch I bought fifty-two years ago"; slapping his watch pocket in his trousers he added, "I've carried it in that pocket ever since." Whereupon another brother remarked. "That's a wonderful pair of pants you have, Brother Keever."—The Rev. PARK W. FISHER, Methodist Home, Charlotte, N. C.
Have something to add about this? See something we missed? Share your feedback here.
Our digital archives are a work in progress. Let us know if corrections need to be made.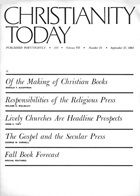 This article is from the September 27 1963 issue.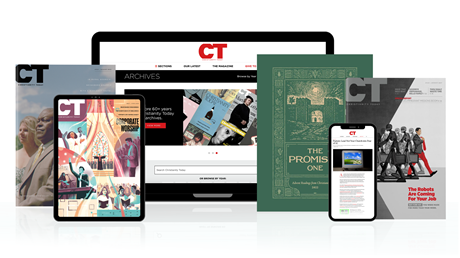 Subscribe to Christianity Today and get access to this article plus 65+ years of archives.
Home delivery of CT magazine
Complete access to articles on ChristianityToday.com
Over 120 years of magazine archives plus full access to all of CT's online archives
Subscribe Now
Why Don't More Ministers Write?
Why Don't More Ministers Write?