Professional boxing, the moral foundation of which has always been somewhat tenuous, tottered under religious controversy last month.
Key figure in the dispute was the 22-year-old Louisville Negro originally known as Cassius Marcellus Clay but more recently—since his announced identification with the Black Muslims—as Muhammed Ali or Cassius X. Clay, who dethroned Sonny Liston as heavyweight champion in February, says he will not answer the bell in future fights unless introduced by his new name.
Among the complicating factors is the philosophy of racial segregation espoused by the Black Muslims. Even more troublesome is the open break between Clay's friend, Malcolm X, and the American Black Muslim movement (which, in turn, is regarded by mainstream Islam as heretical). Malcolm X has urged in somewhat ambiguous terms that his Black Nationalist group arm themselves with rifles and shotguns in order to "fight back in self-defense." The Black Muslim movement has heretofore forbidden its members to carry arms of any kind.
Some observers had hoped that the dispute might be dissolved if Clay were taken out of the picture by being drafted into the Army. He failed his draft board's arithmetic test, however, and prospects of his going into uniform dimmed.
Clay's personal conduct, aside from his braggadocio, nevertheless contrasts sharply with that of many other professional boxers: he has no police record. Liston, on the other hand, has been arrested at least sixteen times and has served two jail terms. His most recent trouble may have cost him his career. Floyd Patterson, who lost the heavyweight crown to Liston, was also a delinquent in his early years, though his involvements with the law were not nearly so serious as those of Liston.
The religious overtones of the present controversy became even more distinct when Patterson offered to fight Clay for nothing "just to take the title away from the Black Muslims." But Patterson, a Roman Catholic, said his comment referred not to religion but to the Black Muslims' adherence to racial segregation.
Protestant Panorama
Delegates to the Lutheran Church of America convention in July will be asked to approve a "master plan" of theological education that recommends several seminary mergers.
In England, the Anglican bishops of Chichester and Bristol launched public appeals for funds to preserve their ancient cathedrals. The buildings, which date back to the Middle Ages, are badly in need of repairs.
Eight of the principal Protestant seminaries and Bible institutes of Bolivia organized a joint agency to coordinate accreditation efforts. The newly formed Bolivian Evangelical Theological Education Association will also compile comprehensive statistical data and will seek ties with similar organizations in other Latin American countries.
Ministers should not have the right to strike, according to a statement issued by the cathedral chapter of Uppsala, Sweden. The chapter made public its position in response to a proposal that the right to strike be given all salaried employees of the government. Unless they are specifically exempted, the measure would include Lutheran pastors inasmuch as theirs is the government-supported church.
Deaths
DR. RAY FRANCIS BROWN, 66, director of music at General Theological Seminary; in New York City.
THE REV. EMO F. J. VAN HALSEMA, 73, former president of the Christian Reformed Church Synod; in Grand Rapids, Michigan.
DR. JOHN W. FLIGHT, 73, professor of biblical literature at Haverford College; in Carmel, California.
Miscellany
Air Force Academy officials upheld their chapel attendance requirements for cadets, excepting seniors, but the policy is headed for review in Washington.
The government of Sudan threatens to expel all foreign missionaries. An official warning came following the expulsion of 300 Christian foreign missionaries from the southern region of the country. The expelled missionaries were accused of spreading "false allegations and slander about their alleged treatment while in Sudan."
Southern California churchmen organized their own motion picture company, to be known as Imperator Productions, Inc. First project is to film the life and times of Adoniram Judson.
Religious Heritage of America is sponsoring a series of three-minute radio programs to "analyze and interpret the moral and spiritual values which played such an important role in the nation's growth to greatness." The programs are being aired initially over a network of some 200 stations.
Personalia
Dr. Charles W. Ranson elected dean of the Theological School of Drew University.
Dr. Daniel A. Poling retired from his Sunday evening preaching post at Marble Collegiate Church, New York.
The Rev. B. Edgar Johnson elected general secretary of the Church of the Nazarene.
Dr. Neil A. Winegarden elected president of Judson Baptist College.
Dr. Otto A. Dorn elected president of the Protestant Church-Owned Publishers' Association.
Dr. B. E. Hardman appointed editor of the English Churchman.
Dr. Tom Allan resigned as minister of St. George's Tron in Glasgow, Scotland, to recuperate from a heart ailment.
Dr. D. G. Moses elected chairman of East Asia Christian Conference.
The Rev. Edwin H. Robertson named first executive director of the World Association for Christian Broadcasting.
They Say
"We want to build a society in which a person who undresses on a stage does not earn twenty times as much as a laborer."—Kwaku Boateng, Interior Minister of Ghana, quoted in Die Zeit.
Have something to add about this? See something we missed? Share your feedback here.
Our digital archives are a work in progress. Let us know if corrections need to be made.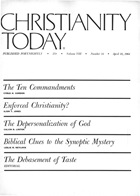 This article is from the April 10 1964 issue.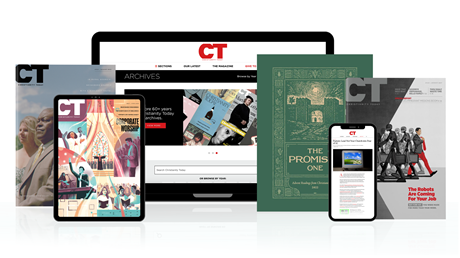 Subscribe to Christianity Today and get access to this article plus 65+ years of archives.
Home delivery of CT magazine
Complete access to articles on ChristianityToday.com
Over 120 years of magazine archives plus full access to all of CT's online archives
Subscribe Now
Religion in the Ring
Religion in the Ring