MEMORIZATION AND NOTE-FREE PREACHING
In preparing for the pulpit, as in all areas of learning, there is no escape from a certain amount of pure memorization. Perhaps half of the total effort is expended in "saturation"; another 40 per cent in "organization"; and a final 10 per cent in "memorization." The observance of a few simple rules will help enormously toward efficient memorization.
1. The use of visual aids in outlining. With most people, the visual memory is stronger than the oral memory, and perhaps stronger than the logical memory.
(1) Indentation. Subordination is instantly recognized by indentation. Let the sub-point be set to the right, about six spaces, beneath the point which it supports or elaborates. And let the illustration be similarly set in, as an addendum to the particular point that it illustrates.
(2) Underscoring. This is generally reserved for the title of the sermon, the "Intr.," the "Concl.," and the main points. Some have favored the use of different colored pencils for keeping the outline clearly in mind. Others definitely prefer one color. Too much underscoring will blur the visual image.
(3) Numerals, not letters. Use a Roman numeral for a main point, an Arabic numeral for a sub-point, and an Arabic in parentheses for further subordination—I, 1, (1). In enumerating points, the mind functions, not in terms of "Reason A," "Reason B," and "Reason C," but in terms of "the first reason," "the second reason," and "the third reason."
(4) Handwriting, not typewriting. For concise notation, handwriting affords greater flexibility, especially in getting a point on one line. Besides, the handwritten page, by the added effort involved and by its irregularities in penmanship, gives a stronger visual image.
(5) Points and cues, not paragraphs. A "cue" is a word or phrase which aims to bring a complete thought to mind; a "point" is the expression of the thought itself. A cue is often adequate for recalling an illustration, but for other uses a point is preferable.
2. Brevity of statement. Every line represents a paragraph; a paragraph normally runs to about one hundred words; and an outline for a thirty-minute sermon would run to about thirty or thirty-six lines. Abbreviations may be freely used, provided the meaning is clear; and words like "and," "the," and "soon" may often be omitted without obscuring the sense.
Brevity is not only a convenience; it is also an element of force. "Whatever can be said in fifty words and is said in seventy-five is weakened by about fifty per cent." The preacher who disciplines himself to the use of one side of one sheet of paper (8½ x 11 inches) for a sermon outline is not only helping himself toward a note-free pulpit delivery; he is at the same time developing two additional qualities that are desirable—accuracy and force.
Where the preacher is saturated with his subject, the sermon outline does not need to be elaborately spelled out. The briefest reference will bring back the full thought, much as a "cue" of two or three words will bring to mind an illustration, the telling of which requires two or three minutes.
3. Statement of parallel points in parallel form, wherever possible without obscuring the thought.
4. Limitation of points to a maximum of five in a series. There is no merit or sacredness attaching to any particular number of points, but the memory tends to bog down when there are more than five points in a series.
5. Observance of the natural laws of memory. The long-familiar formula calls for impression, association, and repetition.
Of superlative importance is the law of distributed effort or spaced learning. "The man who sits down and repeats a thing over and over until he finally fastens it in his memory is using twice as much time and energy as is necessary to achieve the same results when the repeating process is done at judicious intervals."
A practice that could be decisive in the attainment of freedom from notes, at least for Sunday mornings, is that of preaching the sermon to oneself the very last thing before going to sleep on Saturday night. Then, immediately upon awakening, think the sermon through again. It is often amazing how the whole sermon comes back.
One further precaution: Just before the time of speaking, go over the notes once more to refresh the memory; then trust God and go ahead!—Adapted from Expository Preaching without Notes, by Charles W. Koller (Grand Rapids. Mich.: Baker Book House, 1962). Used by permission.
Have something to add about this? See something we missed? Share your feedback here.
Our digital archives are a work in progress. Let us know if corrections need to be made.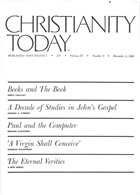 This article is from the December 4 1964 issue.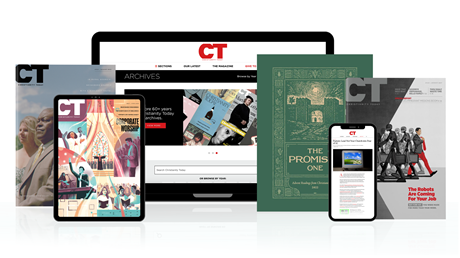 Subscribe to Christianity Today and get access to this article plus 65+ years of archives.
Home delivery of CT magazine
Complete access to articles on ChristianityToday.com
Over 120 years of magazine archives plus full access to all of CT's online archives
Subscribe Now
Minister's Workshop: December 4, 1964
Minister's Workshop: December 4, 1964