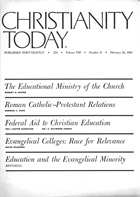 This article is from the February 28 1964 issue. Subscribers can read all of CT's digital archives.
In an editorial introduction to a recent issue of Columbia College Today featuring the place of religion at the college, George Charles Keller tells how an undergraduate asked him one day what this alumni publication was going to discuss. When told that the subject would be "Religion on the Campus," the student, obviously taken aback, exclaimed: "But, sir, there is none." The young man went on to say that, while some students attended church services, took religion courses, or belonged to religious clubs, their motivation came from anything but "a deep sense that they owed reverence to a God who created the world and is still involved in everything men do or try to be."
With this Mr. Keller expressed substantial agreement, saying, "Religion in the traditional sense of formally offering awe and gratitude to a mysterious, omnipresent being has departed for the most part from college campuses.… However, religion in a new sense is growing rapidly at American colleges." And he defined religion as "mainly a personal quest by young men for some reasonable guidelines for their own actions and clues to the meaning of history."
Unquestionably the place of religion in school and college is one of the livelier subjects of the time. The churches are probing it; witness Professor William Hordern's articles published simultaneously in Presbyterian Life, The Lutheran, and The Episcopalian. In the "Survey of the Political and Religious Attitudes of American College Students" that appeared in the National Review Protestant students in comparison with Catholic students made a poor showing in stability of faith, and one Protestant church college had the highest rate of apostasy of any college polled.
As for the public schools, the religious discussion ...
1
Our digital archives are a work in progress. Let us know if corrections need to be made.
Education and the Evangelical Minority
Education and the Evangelical Minority