The Supreme Court of the United States has within recent years rendered decisions that have no doubt contributed to a growing secularism in our country. To say that the Church must double her educational efforts and become a bulwark against secular forces is but to declare what is already known. The handwriting on the wall can be read by each member of the Church: a sound, comprehensive educational effort must become a part of every church program if the Church is to meet the needs of her people.
Although the public schools have manifested some degree of interest in character training (see Moral and Spiritual Values in the Public Schools, National Education Association, 1951), this has been nominal at most. After the home, it is the churches that must carry the primary obligation to train youth in moral values and develop the spiritual dimension of their personalities. Thorough Christian instruction has now become so urgently needed that the Protestant church must consider new techniques for laying a moral and spiritual foundation for both her youth and her adults. For years, Roman Catholic churches and Jewish synagogues have provided for their people, and particularly for their youth, just such programs, and with relatively good success. It is now time for those churches that claim the Protestant heritage to expand their educational programs far beyond their present offerings.
Despite past criticism of education in the Church—criticism aimed at ineffective teaching, inadequate facilities, poor curricula, and weak administration—increasing numbers of people have been reached for Christ. History will show that the educational arm of the Church has been a powerful instrument for building and strengthening the "household of faith." Whenever there has been faith in the ministry of education so that it has received strong support, the Church has grown; whenever faith in education has lagged, the Church has remained static or declined. The Apostles and the early Church placed great emphasis upon both the teaching and the preaching ministries (Acts 5:42; Eph. 4:11), and this emphasis is needed today no less than it was then.
One area to which church education should address itself without delay is family values and relationships. At one time Christian husbands and wives perceived their respective family roles clearly. But with the highly technological and medical advances experienced by our society in recent years, there are now more job opportunities for women, fewer domestic duties requiring skill and intelligence, and fewer children in the typical middle-class Protestant family. As a consequence, child-caring, dispersal of family monies, final authority in disputes, and the general division of labor have become serious, if not critical, issues in the home. Fearful of becoming dependent upon the other person, husband and wife compete for leadership in the home and thus increase the role-confusion in the minds of their children. Even those with a strong religious background appear to have encountered these problems in no small measure. In his Psychodynamics of Family Life (Basic Books, 1958), Nathan Ward Ackerman has spelled out the problems of many of our modern American families in very explicit terms.
Also, it has become painfully obvious to students of marriage and family life in our country that a moral revolution has occurred within the past twenty-five years. Subjects discussed only in doctors' offices a generation ago are now openly dealt with in magazines and newspapers and on radio and television. Juvenile delinquents now quote the Kinsey Report when apprehended by the police.
When lawyers, judges, and physicians turn to the Church for principles to help them in their counseling and decision-making, they are often faced, not with clear-cut guide lines, but with highly complex and individualized explanations that require the training of a doctoral candidate in theology to be understood. This is not to say that the Church should offer simple solutions for complex problems to those seeking assistance. The need, rather, is for a double offensive: (1) to teach Christians how to apply the biblical principles of morality to situations that are not necessarily complex, and (2) to press the search into the true nature of scriptural exhortations on the more difficult family and individual problems.
Challenge Of Mental Illness
Another area in which Christian education may function effectively is combating mental illness. In 1962 the Joint Commission on Mental Illness estimated that more than seventeen million Americans suffer from some form of mental disorder. Are church members immune to mental illness? It appears not. Richard V. McCann, in his report to the Joint Commission (The Churches and Mental Health, Basic Books, 1962), indicates that there is as much mental illness among those who attend church regularly as among those who do not. The significant factor is the home life.
Christians are subject to the same stresses in modern life as non-Christians. Some have a low threshold for withstanding pressures and become ill. This may be true of either adults or children; but children, especially, suffer from environmental forces and may feel the effects for years to come. Of this much we are certain: children from intact homes experience less general distress, fewer marital difficulties, and more marital stability than those from homes disrupted by either separation or divorce (but not by the death of a parent).
The point at which the educational program can contribute to the improvement of mental health is in helping parents build a positive Christian philosophy of life—one that will promote more stable families and foster attitudes and relations that lead to healthy personalities. Parents must be taught that underlying much (though not all) of a child's behavior is the desire to be accepted and loved. Biblical principles of understanding and forgiveness need to be explained in terms of specific situations. And the importance of helping a child toward independence and maturity so that he can be a responsible and self-directing adult must be emphasized.
The keen interest of the American people in assisting the mentally ill is evidenced by the fact that in an opinion poll in 1958 they declared themselves more willing to be taxed for this than for any other major public service, with the exception of education (Nina Ridenour, Mental Health in the United States—A Fifty Year History, Harvard University Press, 1961). The Church, through its educational program, can also demonstrate concern in this area by providing help to those in need.
The educational ministry also has, or should have, an evangelistic dimension, reaching out to the unchurched with the Gospel of Christ.
To say that Americans have become markedly church-conscious is not to say that the need for evangelism has passed nor that the American church is any more vital than it once was. All we can state is that a greater proportion of the population now claims church membership than in previous generations. In 1850, some 16 per cent of the population was recorded on church rolls. By 1950 this percentage had surged to 57 per cent, and by 1962 it had reached over 63 per cent. These statistics are not to be taken lightly, for they indicate the general religious orientation of our people.
Statistically, we should have cause for rejoicing. However, apart from the fact that some might question the validity of commitment of many of our church members, there remain the 37 per cent who have not allied themselves with any church. In a country of over 185 million, this means that 67 million people are a field for the redemptive news of salvation through our Lord.
If it is true that 85 per cent of all church members come out of the Sunday school enrollment and that the great majority of the uncommitted attending worship services have first taken part in the educational program of the church (J. N. Barnette, The Place of the Sunday School in Evangelism, Convention Press, 1945), then the crucial role played by the educational program for reaching those outside of Christ must be recognized.
Underlying the hesitancy of the unchurched to attend worship services are at least two factors: (1) they may not experience a sense of "belonging" to the church until they become members, whereas in the educational program they are given membership status after several weeks of attendance; and (2) they may not grasp what the people are like spiritually, intellectually, and emotionally as accurately as can be done in informal, interacting situations within the educational program. In short, they want to know what a "church family" is like before they decide to become part of it.
Toward Full Commitment
After an unchurched person has attended one of the educational groups of the church, he begins to understand not only what the people are like but also what they believe. The more he studies the Bible directly and witnesses the love and acceptance of Christians within the educational program, the more he is drawn toward full commitment to Jesus Christ as Saviour. After a time he probably will begin to attend the worship services to learn more about the church and its purpose until finally he makes full commitment to Christ and the church. In this fashion, the educational program makes its God-given contribution to the total evangelistic effort of the church in a very significant manner.
Pastors and laymen have asked, "But what can be done to recruit the needed leadership for an expanded educational thrust?" Many answers could be given. Perhaps the most important is this: An educational "climate" must be created within the church, so that people will become conscious of the teaching ministry as one of the important functions. This will require a long-range effort of at least three to five years. Why? Because new attitudes and motivations are not developed overnight: they take months and years to form. Once they make their appearance, however, they become stable and persistent and so provide their own momentum.
Thus it is essential for the pastor and other church leaders to give the educational task the time and consideration it deserves. If the church boards give only a minimum amount of time to the discussion of educational matters, if only a limited amount of space in the church bulletin is devoted to education, if laymen and pastors rarely give attention to the educational program in the announcements on Sunday, church members will develop, at least subconsciously, the impression that education is a relatively insignificant activity within the total church program. The outcome will be a general reluctance of members to serve in the teaching ministry.
However, if an educational atmosphere is created that complements the church's evangelistic program, then it will become much easier to approach lay people about serving in the church. Church members will recognize that the Church is truly the Body of Christ (1 Cor. 12) and that each person is responsible for carrying out the plan of God through service in his own local church. With laity and clergy working together, there is every reason to believe that the American churches can see a reversal of the secularism, materialism, and skepticism that have been steadily eating into the life of the Church over the years. And surely the spiritual renewal, increased attendance, and, most of all, additional commitments to Christ that result will bring glory to the One whom we love and serve.
Robert K. Bower is professor of Christian education at Fuller Theological Seminary. He is a graduate of Wayne State University (B.S.), of Northern Baptist Theological Seminary (B.D.), and of the University of Chicago (Ph.D.). Some material in this article will appear in his forthcoming book, "Administering Christian Education," which is scheduled for publication this year.
Have something to add about this? See something we missed? Share your feedback here.
Our digital archives are a work in progress. Let us know if corrections need to be made.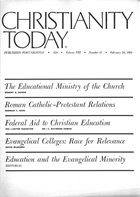 This article is from the February 28 1964 issue.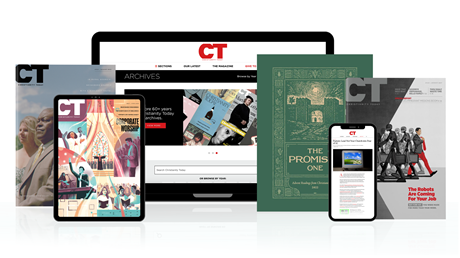 Subscribe to Christianity Today and get access to this article plus 65+ years of archives.
Home delivery of CT magazine
Complete access to articles on ChristianityToday.com
Over 120 years of magazine archives plus full access to all of CT's online archives
Subscribe Now
The Educational Ministry of the Church
The Educational Ministry of the Church